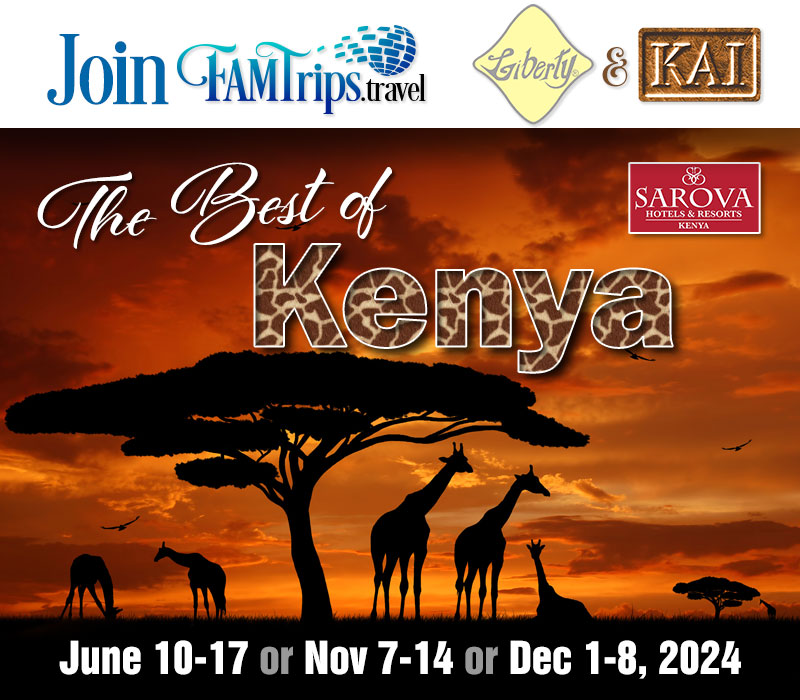 Join FAMTrips.travel, Liberty Africa Safaris and KAI Collection, and featuring Sarova Game Lodges, Hotels and Resorts, as we introduce you to the diversity of Kenya, Africa
FAMTrips.travel has worked side by side with Liberty East Africa Safaris to host 14 excellent educational FAM programs during the last ten years. Represented in the USA by KAI- Kartagener Associates, Inc. as part of their excellent collection of oustanding tour operators, fine lodging and destination management companies around the world, Liberty Africa Safaris has been highly endorsed for their attention to detail and excellence in handling group travel to Kenya.
This 8-day safari fam, which features both traditional safari lodges and a luxury tented camp experience, contrasts the Afro-Alpine scenery of the world-famous Aberdare National Park with the starkly arid beauty of the northern Samburu district of Kenya. It also showcases the renowned Masai Mara National Reserve and the glory of Lake Nakuru National Park, most famous for having the largest population of majestic rhinos, including the endangered Black Rhinos, in all of Kenya.
Kenya manages more than 20 national parks and national game reserves, where visitors can view some of the country's most spectacular wildlife, including the Big Five animals. Kenya is situated on the equator and is bordered by five countries: Uganda (to the west), Sudan (to the northwest), Ethiopia (to the north), Somalia (to the northeast), and Tanzania (to the south). Along its southeast edge, Kenya's tropical coastline connects the country to the Indian Ocean. If you are interested to extend your trip, Liberty Safaris Africa and KAI Collection can assist with your optional pre or post stays if requested far enough in advance so that they may assist with the best accommodations to meet your individual interests, as well.
Day By Day Itinerary 

DAY 1: Arrive to Nairobi

Today, as you arrive to Nairobi on the first day of the fam, you will be met and greeted by Liberty Africa Safaris in the international arrivals area of Jomo Kenyatta International Airport. If you are electing to come in earlier than the start date of the fam, we can arrange pre-night stays and separate optional arrival transfers for you, as well. Liberty Africa can arrange some individual or small group optional tours for those of you who are early arrivals including visits to Daphne Sheldrick Elephant Orphanage, Giraffe Center, Karen Blixen Museum and Blixen Coffee Garden, as well as to the Kazuri Beads Factory, depending on your interests!
You will transfer to the 5-Star Sarova Stanley Hotel, the first luxury hotel established in Nairobi in 1902!  We will meet in the early evening for a brief "Meet and Greet" orientation at the hotel.  Following the orientation, you may choose to dine on your own at one of the several lovely options at the hotel including the Thorn Tree Café – reputed to be Nairobi's first post office or the casual atmosphere at the Pool Deck Restaurant. You may also opt for Thai Chi restaurant which is reputed to be the finest in Thai cuisine within the region. Sarova Hotels, Resorts & Game Lodges took over management of the hotel in 1998 and has maintained the same values and five star standards that earned the hotel its reputation from the early days when its doors were first opened.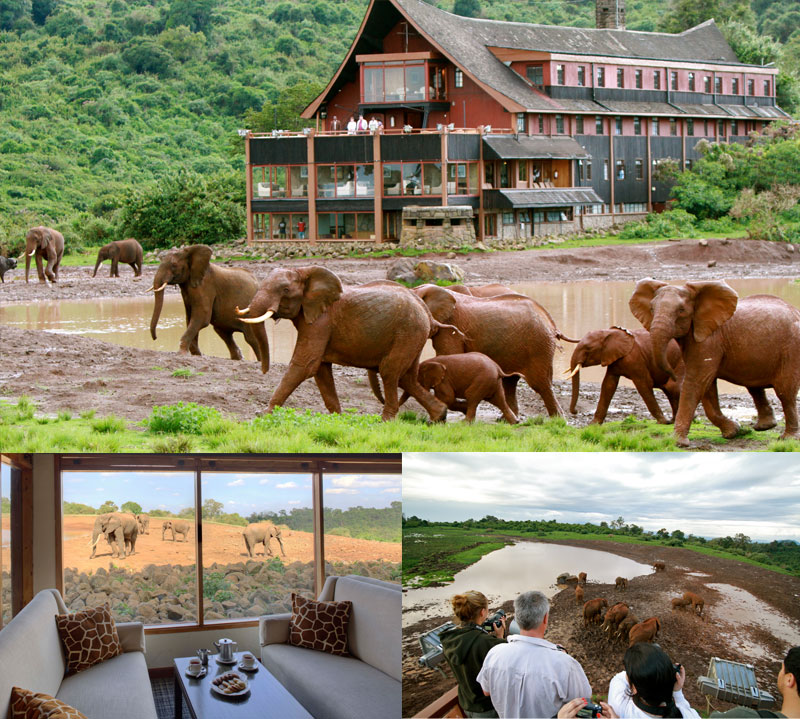 DAY 2: In the Mountains of the Aberdares

After being collected from your Sarova Stanley Hotel (or the airport if you choose a flight to arrive no later than 7 AM on this day 2,) you will be driven to the famous Aberdare National Park. Aptly dubbed 'Scotland with Lions', this charismatic Afro-Alpine realm showcases the wild beauty of the Aberdare mountain range where elephants roam through lichen-hung forests and spectacular waterfalls plunge into churning pools.
Arriving in time for lunch at The Aberdares Country Club you will later be transported into the exclusive sanctuary that surrounds The Ark. A secluded lodge designed to resemble Noah's Ark, this timbered lodge is unique, not least because of the splendor of the game-watching experience around its private waterhole, which attracts large herds of elephants. Kindly note that ONLY an overnight bag is allowed at The Ark, so we will leave the rest of our luggage at the Aberdare Country Club at no extra cost. Please be sure to bring an overnight type of bag, so that you can either transfer a small amount of items into that bag, or have it already packed as a soft piece of carry on luggage for your convenience to take to The Ark. This lodge is world-famous and is featured as one of Kenya's 'must do' experiences. Built to resemble Noah's Ark it floats amid the forests of the Aberdare National Park, joined to the world by its own wooden drawbridge. It's private waterhole, meanwhile, attracts animals from all over the park . No private vehicles are allowed within the confines of the Ark's sanctuary and an expectant hush pervades its quaintly timbered corridors
.

DAY 3: North to Samburu
This morning, while still at The ARK, you will receive an early wake-up call – to catch a glimpse of both the pre dawn wildlife and the first glimpse of the snow-capped peak of Mount Kenya. It is the Ark's spectacular wildlife viewing opportunities, however, that deliver its utterly unique appeal – allowing guests to see the wildlife from three different levels, inside and out; and to be literally feet away from large herds of elephants.
After breakfast you will be transferred back to The Aberdare Country Club, where you will reconnect with your driver guide and the other luggage we stored behind.
We will drive north to 'Born Free' country where Joy and George Adamson raised Elsa, the lion cub in the wild and beautiful Shaba National Reserve. Arrive in time for lunch at the luxurious Sarova Shaba Game Lodge. Spend the afternoon discovering the unique wildlife of the reserve, which is famous for its elephants and lions. After your afternoon game drive, you will enjoy your included dinner at the lodge. It is set along the bank of the Ewaso Nyiro River laid out around the natural springs that flow into the river. The Lodge has a virtual mini forest of indigenous trees, a fish pond and a lovely free form swimming pool. Dinner is served "al fresco" at the Surpelei Restaurant that is raised on stilts offering breathtaking views of the lush gardens and the Ewaso Nyiro River. The restaurant is fitted with elaborate buffet counters and live cooking stations all set to tempt and please your palate.

DAY 4: On Safari in Shaba
Today after breakfast, we will spend the morning and afternoon on safari, while still returning to the lodge for lunch in between game viewing safaris in the reserve, which offers sanctuary to large herds of elephants, healthy numbers of lions, leopards, cheetahs, plentiful plains game, reticulated giraffes, rare Beisa oryx, kudus and gerenuks.
Shaba National Reserve has a particular place in the history of Kenyan game conservation, as it was in this reserve that the author Joy Adamson died. She was greatly known for her efforts in the rehabilitation of the compliant leopard into a wild environment. Shaba was one of Joy Adamson's greatest African loves; it was in this tranquil wilderness where she released the first hand-raised lions. This evening dinner is again enjoyed at the lodge for your enjoyment and relaxation after an exhilarating day!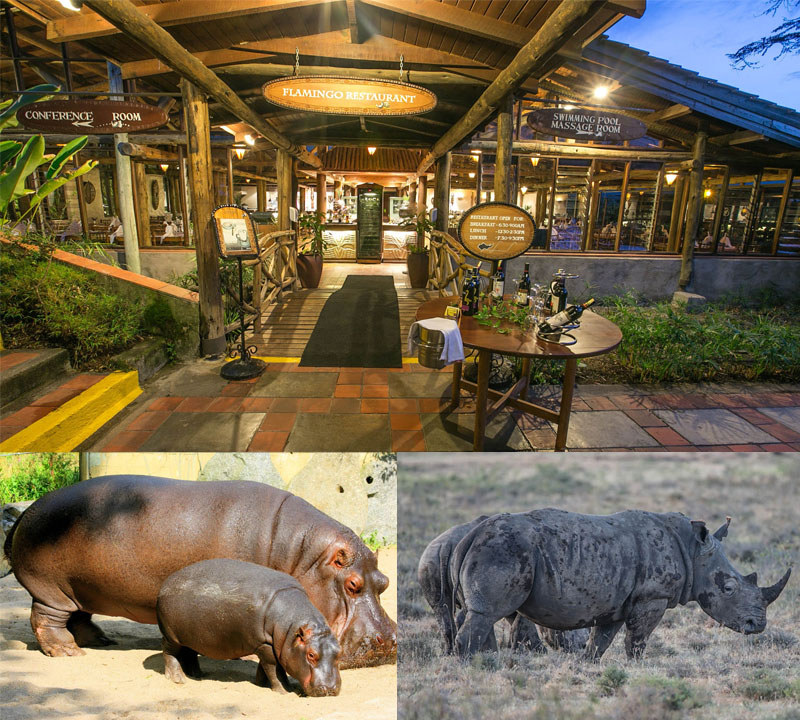 DAY 5: To Lake Nakuru
After breakfast drive to Lake Nakuru, the most famous of the Great Rift Valley lakes and home to a shifting population of over 400 species of birds including thousands of pink flamingoes. Arrive in time for lunch at the Sarova Lion Hill Game Lodge. Spend the afternoon on safari in Kenya's first and largest rhino sanctuary. This lake and national park are set in part of Kenya's Rift Valley, a natural fault in the earth's crust which bisects Kenya from north to south, stretching from Jordan in the Middle East to Mozambique in southern Africa, a distance of around 5000 km. Its wide valleys have become the grassland home of grazing herds and therefore the kingdom of the predators. In addition to this region being a sanctuary to the highly-endangered black Rhino, it also abounds with other game such as buffalos, lions and the elusive leopard.
This evening dinner is enjoyed at our lodge at the Flamingo Restaurant.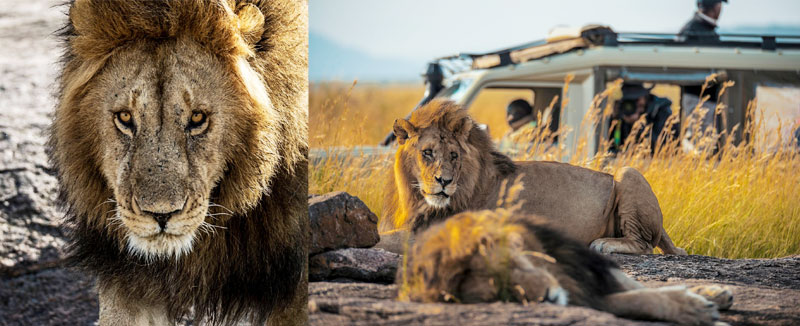 DAY 6: To the Masai Mara
After breakfast, drive to the world-famous Masai Mara National Reserve, backdrop to 'the greatest wildlife spectacle on earth', the annual migration of over one million wildebeest. Although our famtrip does not take place during this migration, we will be experiencing Kenya's most popular game reserve! Sarova Mara Game Camp is located in the heart of the Masai Mara Game Reserve in South West Kenya. We arrive in time for lunch at the Sarova Mara Game Camp, a luxury tented camp, before spending the afternoon on safari. Sarova Mara Game Camp offers spacious luxurious "tents" attractively constructed in light beige canvas with large "windows", wooden flooring and a permanent roof. All have en-suite bathrooms with large mirrors, WC, hot and cold running water and showers. All tents are built with spectacular views. Large wooden decks with a comfortable day bed, chairs and table offer a tranquil and relaxing retreat while you listen to the natural sounds of nature. Dinner will be served at the lovely Isokon Restaurant overlooking the main pool with a backdrop of the beautiful forest that surrounds the camp!

DAY 7: On Safari in the Mara
Spend the whole day on safari in Africa's richest wildlife viewing arena, including our breakfast and lunch. Historically teeming with wildlife, the Mara hosts Kenya's largest lion prides and elephant herds and including the opportunity to see all of the Big Five. Your hosts, Liberty Africa Safaris are excited to show you these amazing sites!
You may have optional excursions if you prefer ( based upon availability and at added cost) which could include a hot air balloon safari if you prefer!
Spend the evening enjoying dinner in camp where Maasai dance performances are offered nightly.

DAY 8: Up the Rift Valley to Nairobi
After breakfast drive back down the Great Rift Valley to Nairobi which is an approximate four and a half hour transfer depending on road traffic. Alternatively, you may choose to fly back to Nairobi (at additional cost of approx. $195.)which allows you to fly from the Keekorok airstrip in the Mara to Wilson Airport in Nairobi on Air Kenya. From there we can assist in lining up the transfer from Wilson airport to the main international airport also in Nairobi, Jomo Kenyatta International Airport. Based upon availability, this might be an opportunity to see how to prepare this itinerary for your own clients who prefer the flight. Most agents on this fam will probably elect to take the ground transportation back to Nairobi which is included by Liberty Africa Safaris.
Price per agent: $2195 PP
Non industry guest: Add $200
Single Supplement: $850
Quotation Includes:
Fully Escorted by Liberty East Africa Safari Appointed Professional Escort.
All Dining from Day 2 through final breakfast on morning of Day 8.
Welcome Reception on Evening of Day one.
Accommodation and meals as stipulated in the itinerary.
Transportation in a shared chauffeur driven safari 4×4 landcruiser with pop-up roof for easy game viewing & photography.
Services of an English speaking driver-guide, game viewing drives and parks entrance fees as indicated in the itinerary.
All Government taxes and levies.
All meet and greet services on the opening day of the fam. (Early arrival transfers and pre/post nights are optional)
24 hours stand-by contact number.
5 or 6 pax guaranteed window seat in each safari vehicle.
Two-way long range high frequency radio communication in each vehicle.
Excluded:
All items of personal nature e.g. telephone call bills, fax/email bills/laundry etc., and any other items not specified in our itinerary.
Tips and gratuities to hotel, lodges, camp staff and driver- guide(s). (Budget approx. US$ 2.00 – US$ 4.00 per person per day for lodge and hotel staff, U$ 1.00 per bag for porters and US$ 10.00 – U$ 12.00 per person per day for driver-guides).
Alcoholic and non-alcoholic drinks.
Any local or international flight(s) and departure/other taxes.
Concession fees (ONLY In the case of any new fees introduced by parks without our knowledge).
Visa fees currently US$ 52.00 per passport holder and subject to change. FAMTrips.travel will provide information and support during the application of your Kenya Visa. Single Entry Visas are good for only 90 days. Passports much have two blank pages side by side and 6 months of validity after the return date of your selected fam.
Flying doctors coverage: Optional @ US$ 20 dollars per person (coverage within Kenya for 14 days inclusive of airlift to a hospital in Nairobi where all costs will be payable by the patient).
Personal insurance – which we recommend highly.
To Book this FAMTrips.travel Kenya FAM Select Your Preferred Dates…



www.FAMTrips.travel | 888 909 FAMS or 941 322 1800 | Email: info@famtrips.travel