Trip to Cuba Sept 16 to 25, 2016
The lure of visiting the "forbidden" Caribbean island known as Cuba was what prompted me to sign up for our trip in September of 2016 with CK Travel Services as our sponsor. Two years ago, the embargo, in part, was lifted for United States citizens by President Obama. There were restrictions and rules, though, that had to be met before we were
allowed to go. Forms had to be filled out, a visa obtained. There are 12 categories of licensing, one of which had to checked by us, in order to meet the standards, set forth by our government. Some of the qualifications were religion, photography, and for us we had to check "People to People", which was fine with me as it meant that we were going to encounter the culture, ongoing projects to improve the country, and personal interaction with the people.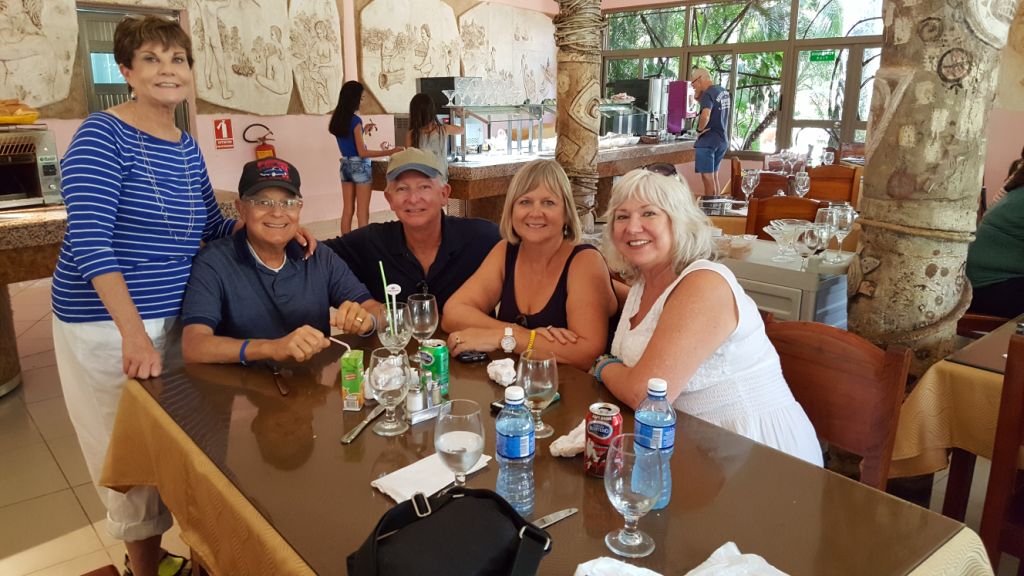 When I think of Cuba, the thoughts that came to mind were Cuban cigars, salsa, and the music, all of which we had the opportunity to experience. I always get very excited to visit a country I have not been to before, and arriving at the Havana airport started that adventure. After passing through the normal security gate, each of us had to be checked with an outdated wand. We then had to give a health form to a white uniformed nurse with a white cap that proved that we were healthy to enter the country. Waiting for our luggage was another experience. Keep in mind that our flight only took 45 minutes from Miami to Havana on a small airplane, and we were the only flight that arrived that afternoon. It took 1 hour for us to receive our luggage. It started to rain during that process and the workers who retrieved the luggage sat down on chairs inside to wait for the rain to stop before continuing to unload the airplane. Several dogs sniffed your luggage as you left the area. Another restriction when visiting the country is that you have to be met by a guide at the airport who will accompany you everywhere during your stay.
Our first tour was to Revolution Square, which is the administrative and political center of Cuba. Castro used to talk for 9 hours straight to the citizens who lined up to hear his "words of wisdom".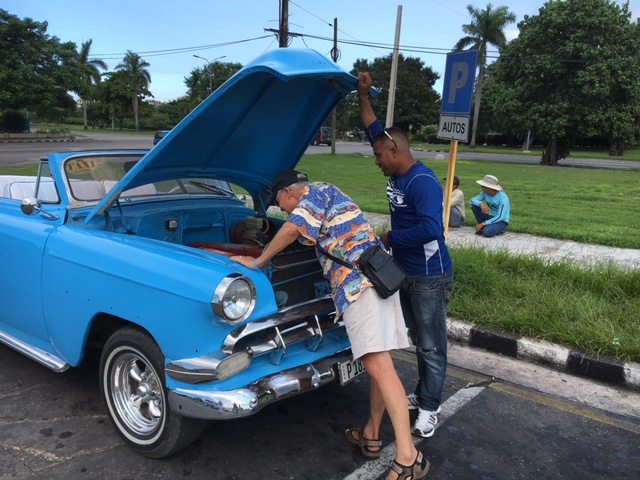 John was immediately enthralled by all of the classic cars mainly from the 50's. Most of them were well taken care of with flashy paint and upholstered seats. Of course he had to check out the engine, which often weren't so pristine. Most of the cars have been turned into taxis. What fun it was to hire one of these jewels to take us around the city.
Ours was a convertible, and we sat in the back seat on top of the cushion, an illegal thing to do here in the States, but OK there. Of course no seat belts.
We checked into The Sheraton for 5 nights, which just recently took over the Quinta Avenida Hotel. One adjustment in Cuba is to not expect the same set of standards as we expect from our hotels here. What they consider a 4-star hotel would be a 2-star here. Even though a hotel may be a Hilton, Sheraton, or another brand of U.S. hotel, the
Cuban government owns at least 51% ownership in them. Water pressure is often an issue anywhere in Cuba. Aqueducts were built in the 1800's for 125,000 people, and are not adequate for the 2.5 million who call Havana home. The water is not safe to drink, so relied on bottled water everywhere.
In the evening we went to the El Literal Paladar for our first taste of Cuban food. Paladars are often found in a normal neighborhood setting. People were encouraged to set their home up as a restaurant with at least 10 tables. The food throughout the country was delicious, but definitely lacking in fresh vegetables. Cuba has a lot of empty land
that could be turned into fields, but since the farmers only make $26.00 a month, and work 10 hours a day in the fields, not many people have 
followed that livelihood. The typical meal choices were pork, often spicy, chicken or fish accompanied by white rice and black beans. It tasted great the first night, but not as much on the seventh night! Mojitos or Cuban beer were always offered for a welcome drink. A traditional flan was often the dessert of the day.
The next day we walked around the Old Town of Havana, exploring colorful and interesting plazas. We visited a Cuban cigar store where we could purchase up to $100.00 per person of the formerly forbidden Cuban cigars. It is interesting to see the process of rolling the cigars. Several layers of tobacco leaves are rolled up in different directions. When the thickness is achieved, they roll it in a newspaper to squeeze the layers together, cut off the ends, put on a band, and viola, a ready to-smoke cigar. Of course the process worked better when the man took the time between rolling layers of tobacco to drink a bit of Cuban rum and smoked his stogie. You don't want to rush this fine-tuned process.
As a travel agent, we did several hotel inspections around the city. My favorite was the "Saratoga", built in the 1930's as the favored haunt of socialites and movie stars. I saw the suite, bed and bathroom where Kim Kardashian stayed. It is a beautiful oasis to return to after exploring the city.
Old Havana has many crumbling structures throughout the city, many of which are uninhabitable. The government owns all of the buildings, but has not offered the money to rebuild. The Presidential Palace is in the process of being renovated, a process that will take over a year. We were fortunate to see if before it closed its doors the next day.
For John and I, a highlight in the Old Town was visiting "Sloppy Joe's", a bar near Revolution Square. In 1941 his Mom and Dad honeymooned in Cuba and had their photo taken at the bar. After the Cuban Revolution around 1959, and the embargo imposed by Kennedy, Americans stopped traveling to Cuba and the bar fell into disrepair and closed. A couple of years ago, after 48 years, it was remodeled and opened and is a very popular tourist spot. We had a copy of the photo and showed it to the manager of the bar. There is a special spot in the bar where similar photos of visitors were tacked up in a glass case. The owner was thrilled to have this bit of history and showed us where he would place it for display. John and I sat in the same spot as his parents did in the bar on the step stools, tried to replicate their pose, and took a black and white photo. So much nostalgia to be at the same bar and location as his parents were 75 years ago!
One of the highlights was a visit to the home of Ernest Hemingway, who lived there from 1939 to 1960. The 4-acre house in the country, now a museum, contains more than 22,000 original items that belonged to the writer.
We also enjoyed a visit to the Muralando Neighborhood Community Project. Started in the 1990's, the community has embraced what might be called street art, covering just about every wall and home with murals and sculptures, much of which was supplied from the city dump.
With a bit of imagination and paint, the area was like an outdoor art exhibit. The kids of the neighborhood are able to attend a classroom where they are taught multi-media forms of art then sell their works to support the effort.
Americans are very welcomed in Cuba. I felt safe walking around. There is a very low crime rate throughout the country. The normal citizen is not allowed to carry or own a firearm. If you are caught with one, there is no trial, just jail time. Drugs are also not allowed. Again, no court appearances, just a pass-go to jail. Not such a bad idea considering what is on our news daily of another shooting or drug related crime. One positive aspect of a Cuban jail that we in the United States could learn from is that there is a university to attend for the inmates. Our guide volunteered his time as a teacher of English. Schooling is free for all, including the universities. Health care is provided free of cost. There are no private practices for doctors. There is a doctor in the country for every 1,000 people.
We visited the home of Jose Fuster, a world famous ceramic artist. His whimsical work reminded me of visiting the work of Gaudi in Barcelona. Everywhere you looked was tile ceramic figures, every wall space covered with brightly colored tiles depicting religious objects and scenes from Cuba.
Since I love to dance, we met a local salsa instructor to talk about the history of this native rhythm and the importance of dance in Cuban life, followed by a one-hour Salsa lesson. I don't think I am ready for Dancing with the Stars yet, but it was great fun nonetheless.
We departed the city for a drive through the countryside to the city of Cienfuegos. Here the lifestyle slowed way down, not many cars around, but horse drawn buggies and oxen driven carts to plow the fields. Sugar cane fields were lentiful, although the production went way down when the price of sugar dropped in 2003. At that time many of the fields were abandoned and over a million people lost their jobs. We saw a few skinny cows grazing in the fields. It is illegal to kill a cow or sell the beef. The government belief is that each cow will deprive over 100 children of milk. If you are caught, you will be sent to prison.
We passed by a cemetery. It was explained to us that a grave is used for 4 to 5 years then they dig up the bones, put the remains in an ossuary and reuse the grave.
We explored the city of Cienfuegos with its many beautiful squares and churches. The Opera House was delightful with its frescoed ceilings where Enrico Caruso and Sarah Barnhart performed.
The many store windows were a reminder that goods to purchase were scarce. A toy shop had very few toys to buy and no shoppers. I stopped at a local "grocery" store with empty shelves, a few canned goods. Big bags of rice and beans were the major purchase. Little quail eggs were lined up in layers. No milk or meat. The liquor store had very few bottles of liquor to purchase. A very humbling experience coming from the land of plenty where we take for granted the availability of every type of vegetables, meats, cheeses, bread and aisles of every possible food.
Our final town to visit was the UNESCO World heritage village of Trinidad. The colonial town is maintained as a living museum, just as the Spaniards left it with its fine palaces, cobbled streets and red tiled roofs. We passed by a school with its uniformed students diligently paying attention to the teacher. We were welcomed to observe the students at work. Of course a visit to a new country is never complete without an opportunity to shop in the many street stalls. Wooden spoons in the shape of cats and birds, dominos in a beautiful wooden box, fine hand embroidered napkins, tablecloths and runners, handmade jewelry. I really enjoy watching children at play, especially the patience of a young boy of around 4 pulling his small bicycle up the cobblestone streets and laughing as he rode it down to the bottom. He willingly posed for me with his giant smile so I could take his photo. Ladies and men alike were smoking cigars of all sizes. They were not quite as receptive to asking to take their photo without asking for one
Cuban Cuc. Around the church were several mimes. I thought one was a statue of a monk holding a cross with a jar in front of him. When I dropped a bit of money into the can he jumped up to bless me and scared me silly.
It was John's birthday in Trinidad. I mentioned this to our waiter in the restaurant where we enjoyed another delicious Cuban meal. They brought him a flan for a dessert and the wandering musicians sang Happy Birthday to him in Spanish. A very special treat.
Some unknown facts about traveling to Cuba is that U.S. citizens are not allowed to stay in the beautiful resorts and white sand beaches found in the Northern part of the country. You will be fined $15,000 if discovered. Cuba does not accept any U.S. credit cards or American dollars. I exchanged dollars for Euros at a bank at home before traveling which gets a much better exchange rate than U.S. dollars at the hotel. We found that those of us who had ATT and T phones were out of luck with no service. Those with Verizon worked …. sometimes. Internet service is antiquated and does not work well at all. We had to buy internet cards with a password. Most of the time the internet service was down with no explanation as to when it would become available again. I rented an international cell phone that worked OK while there.
The economic blockade that was deemed as over, has definitely not lifted completely from the U.S. There was an article in a local newspaper that there is no Cuban family that has not been affected by it. Between April of last year and March 2016, the direct economic damages caused by the blockade reached at least 5 billion dollars. Cuba is anxious for investments and U.S. business to start building in the country. Without a doubt there will be cheap labor everywhere. The consensus is that they are supporting a Democratic President, not a Republican.
One of the most memorable experiences was going to a Cuban nightclub for their lively music. The room was filled with tourists from all over the world. Even though the songs and commentary was in Spanish, we could tell that the main singer was asking around the room where people were from. When they said what country, the singer and band knew their national anthem or a popular song. People were invited to go up on the stage and dance or sing a song from their country. For the U.S., we were entertained with Chubby Checkers, the twist! At the end of that performance we were all asked to raise our hands in solidarity with each other, to ask for peace between the countries rather than strife.
For me, the most rewarding aspects of traveling is to be conscious that I am a guest of the country I am traveling to, to treat them with respect and dignity. To celebrate the similarities between the country instead of the differences. A smile is the language understood by everyone. My focus was to experience Cuba before all of the McDonalds and
Kentucky Fried Chickens arrived! It was an exciting adventure and I return with many wonderful memories. A bit of my heart was left with the many beautiful Cuban people that I met. Muchas Gracias, Cuba.
Submitted by Margie Weidert from The Travel Shoppe