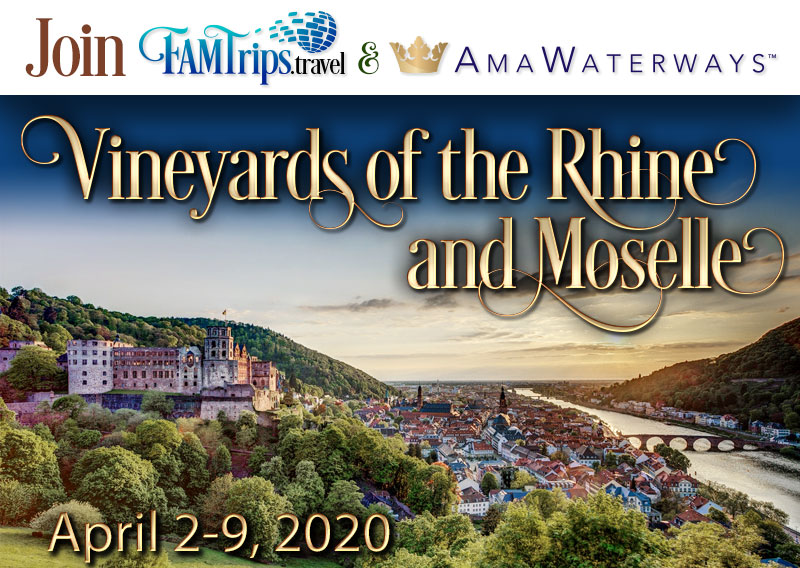 Join FAMTrips.travel and our Award Winning Partner, AmaWaterways for one or both of the spring river cruise sailings we are hosting together in Europe. Below is the day to day itinerary for their amazing Vineyards of the Rhine and Moselle cruise sailing from April 2-9 from Luxembourg to Amsterdam. This voyage will be immediately followed by a 2nd lovely opportunity to sail from Bordeaux, France round trip, returning back to Bordeaux from April 9-16, 2020. The day to day itinerary for the earlier cruise is outlined below with all of its amazing sites of Castles and Cathedrals sparkling throughout some of the most scenic river passages, beautiful villages from centuries before and so much more. For additional information about the 2nd itinerary from Bordeaux, round trip, please also go to FAMTrips.travel (www.famtrips.com) to find out even more about that lovely opportunity as well. Combine them both for an AMAzing experience with FAMTrips.travel and AmaWaterways this spring! There is also a pre stay available for this cruise in Paris. Both cruises can be booked back to back or separately with special offers for you to also bring additional Group Leaders at greatly reduced rates to sail with you, based upon availability.
During this first itinerary, Vineyards of the Rhine and Moselle, you will drink in the beauty, history and flavor of the Rhine and Moselle river valleys' iconic vineyards. Begin your journey in with a historic salute to our servicemen who fought and died serving under General George S. Patton, who are buried alongside their leader in Luxembourg, the richest municipality in all of Europe. As for the vineyards, you'll soar above them by gondola or hike among the grapes in Rüdesheim and sip wines in Bernkastel as well. The itinerary continues to sail past castles and ramparts immersing us into the history of the ages as we glide through the most romantic vistas to be found. We'll sail to magnificent Cologne and finally end in the dynamic and historic city of Amsterdam as we enjoy a final gentle ride through Amsterdam's legendary canals. Whatever you choose to do ashore, the stories you're told and flavors that grace your palate will surely transform you. You will be treated like royalty by the entire staff of AmaWaterways' AmaDante, who are repeatedly recognized as the most highly decorated and award winning staff in the river cruise market. Treating every passenger like family is what they are noted for, along with providing a world class product on the rivers of Europe and beyond for more than two decades! They are the perfect travel industry partner to team up with to promote future groups from so many different interests! There is truly something for every client you have when you begin telling them about the AmaWaterways River Cruise Experience that awaits them. Come join us and see for yourself!
ITINERARY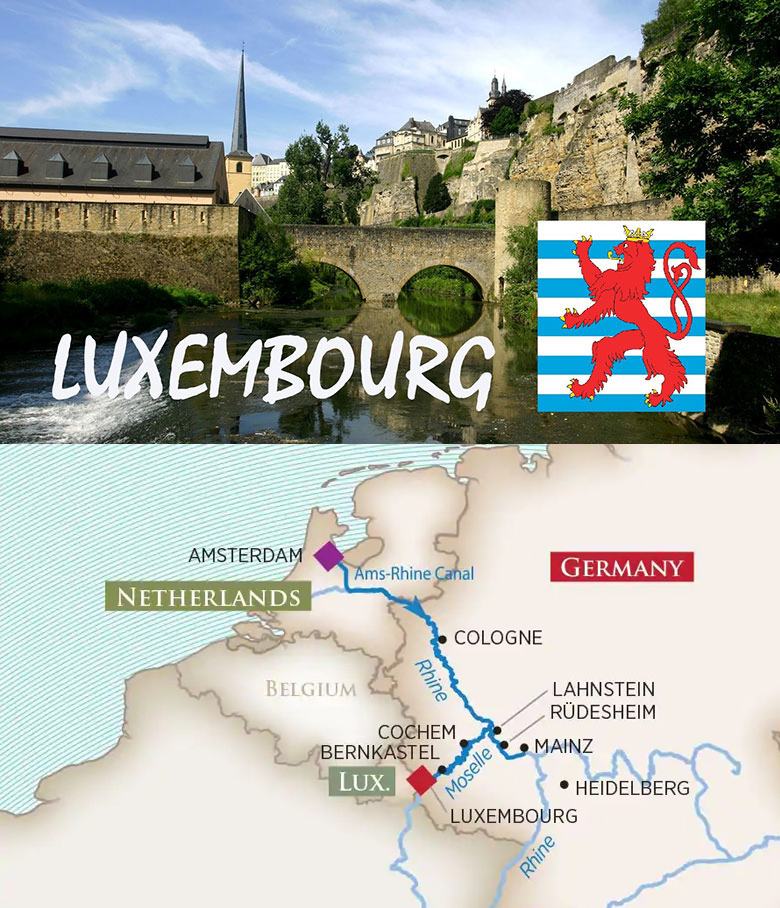 DAY 1: April 2 – Embarkation in Luxembourg
We will embark our lovely AmaWaterways' AmaDante this afternoon and before we set sail from Luxembourg later in the day. As a representative democracy with a constitutional monarch, it is headed by Grand Duke Henri and is the world's only remaining sovereign grand duchy. Luxembourg is a developed country, with an advanced economy and one of the world's highest GDP (PPP) per capita. Luxembourg American Cemetery and Memorial is a Second World War American military war grave cemetery, located in Hamm, Luxembourg City, Luxembourg. The cemetery, containing 5,073 American war dead, covers 50.5 acres and was dedicated in 1960. It is administered by the American Battle Monuments Commission. Here General George Patton was buried with his brave servicemen with whom he served.
If you have also chosen to come in early for AMA's three night optional pre stay in Paris, you will have enjoyed touring the City of Lights taking in all its iconic sites, including the Eiffel Tower, the Arc de Triomphe, the Champs-Élysées and Place de la Concorde. You'll pass the magnificent Opéra Garnier, the legendary Louvre and, on the Left Bank, the Sorbonne University and the Panthéon during your optional stay.  After embarkation This evening we meet our fellow passengers and the wonderful onboard staff and set sail for Trier!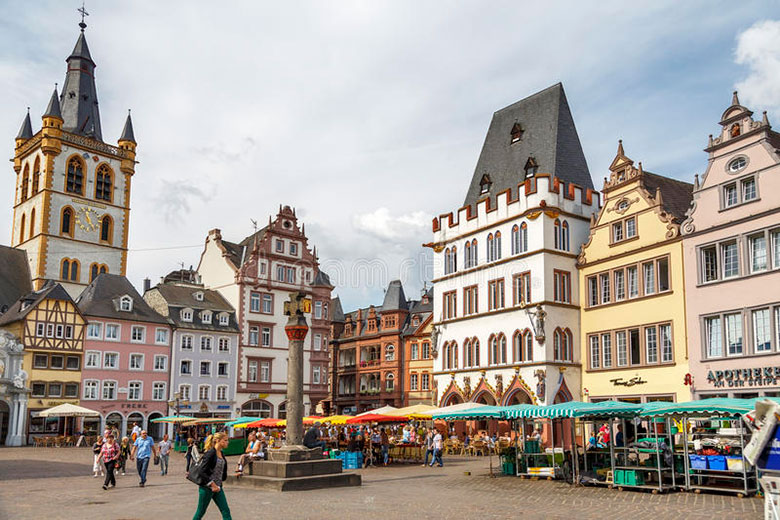 DAY 2: April 3 – Trier
Trier, Germany's oldest city, has often been referred to as the second Rome. Be guided to the Roman Imperial Baths, the Porta Nigra and Emperor Constantine's Throne Room. Or hike to Petrisberg Hill, where you'll take in a spectacular view of the city and its glorious spires. Following your visit to Trier, cruise to Bernkastel, where you'll be treated to a tasting of the local wine. This evening our FAMTrips.travel group will have a lovely private dinner in the alternate dining room, The Chef's Kitchen.  (B,L,D)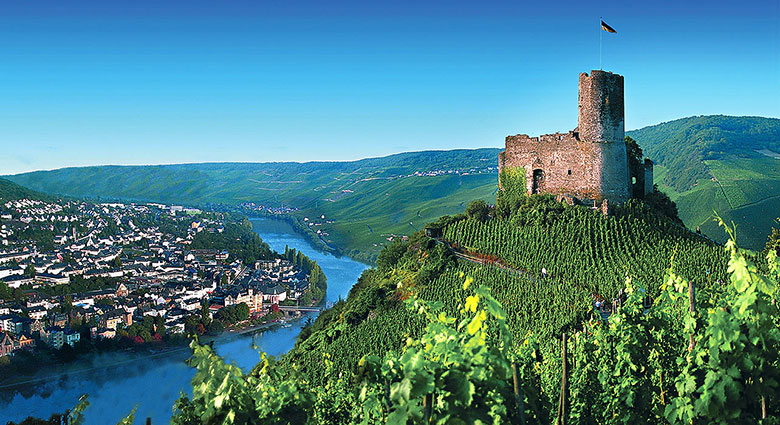 DAY 3: April 4 – Bernkastel/ Moselle Valley Scenic Cruising
Walk through Bernkastel's colorful Old Town center and past many medieval and Renaissance buildings on a guided tour that also includes a winery visit and tasting. Cycling enthusiasts can choose to join a bike tour along the Moselle and hikers can opt to trek up to the ruins of Landshut Castle, which dates all the way back to the 9th century. Later in the day, sit back and take in the breathtaking scenery as you cruise through the Moselle Valley. (B,L,D)
DAY 4: April 5 – Cochem, Germany
Cochem delights with its half-timbered houses and Reichsburg Castle. Join a guided tour through the castle and then walk through its Old Town. For those wishing to have a more active exploration of the area, you can go on a guided bike tour through Cochem. Or for a different adventure, tour one of Europe's oldest working mustard mills where you will sample Cochem's famous mustard. (B,L,D)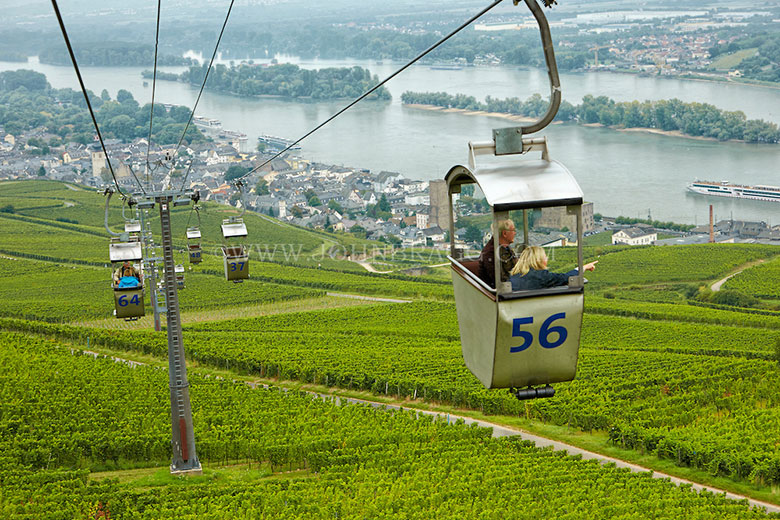 DAY 5: April 6 – Rudesheim, Germany-Rhine Gorge- Lahnstein, Germany
Drink up the stunning views of this winemaking village by soaring high above the vineyards with a gondola ride to the Niederwalddenkmal Statue, and afterwards be treated to a wine tasting. For a more active adventure, hike through the town's beautiful vineyards or join a guided bike tour along the scenic Rhine River to Schloss Johannisberg. Later in the day, cruise through the captivating UNESCO-designated Rhine Gorge, the most stunningly beautiful stretch of the river, before delighting in a unique visit to Lahneck Castle in Lahnstein. (B,L,D)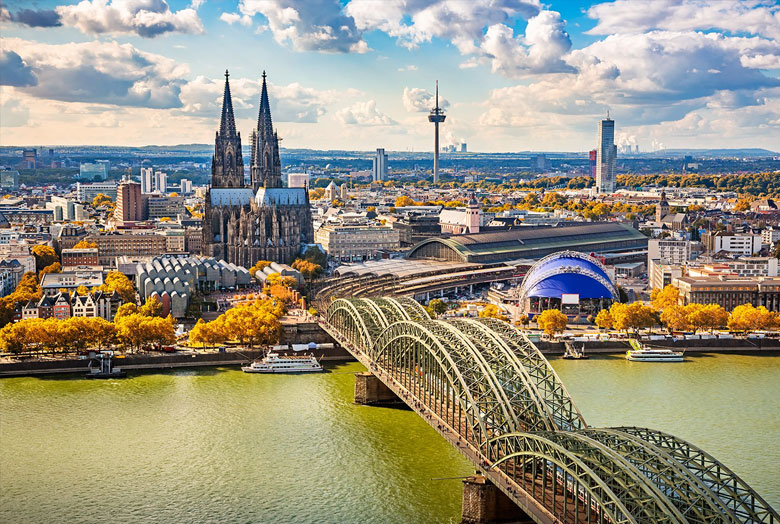 DAY 6:  April 7 – Lahnstein/Cologne
Enjoy cruising to Cologne, home to one of Germany's most revered Gothic masterpieces, the Cologne Cathedral. Join a guided tour through the Old Town and explore the UNESCO-designated cathedral. Continue to the Cologne Rathaus, Germany's oldest town hall, the Overstolzenhaus and the Festival Hall. For a different view of the city, visit a local tavern to taste its famous Kölsch beer, only made in Cologne, and reibekuchen, potato pancakes typically served with applesauce. Active adventurists will want to join a guided bike ride along the Rhine. (B,L,D)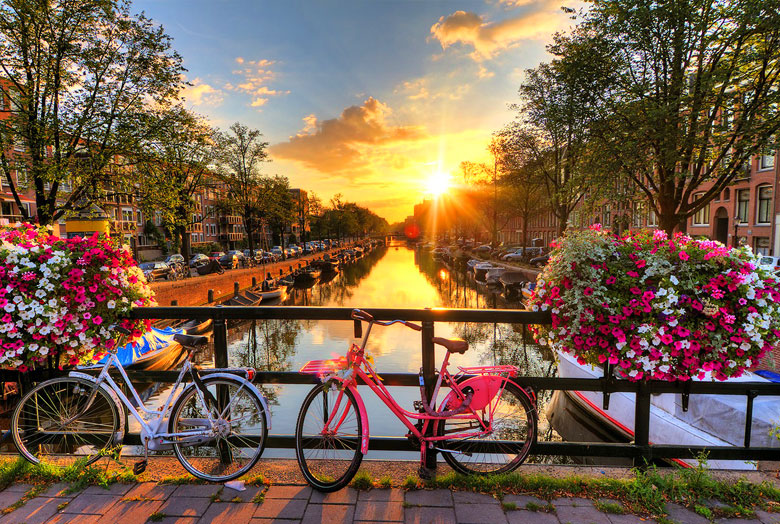 DAY 7: April 8 – Amsterdam
There are 165 canals in Amsterdam, and you'll get to enjoy some of them on your afternoon canal cruise! There is also free time to explore this amazing city full of life and history!  Amsterdam is the Netherlands' capital, known for its artistic heritage, elaborate canal system and narrow houses with gabled facades, legacies of the city's 17th-century Golden Age. Its Museum District houses the Van Gogh Museum, works by Rembrandt and Vermeer at the Rijksmuseum, and modern art at the Stedelijk.  (B,L,D)
This evening we enjoy our final evening together on the AmaDante and tomorrow we are off on our next adventure! If you are not in a hurry to return to the USA, you may want to continue on a 2nd amazing AmaWaterways cruise beginning tomorrow evening in Bordeaux, France!  This wonderful wine region of France is a spectacular opportunity to learn more about great opportunities to promote groups in the Bordeaux Wine country.  The Bordeaux itinerary goes from April 9-16 and disembarks also in Bordeaux.  Agents will be responsible to book their own flight from Amsterdam (AMS)  to Bordeaux (BOD) for the 2nd cruise if desired. Many flights per day are available between these two wonderful cities on several airlines including KLM Royal Dutch Airlines and others.  You can reach out to FAMTrips.travel at 941 322 1800 or by email at melody@famtrips.travel or mfee1@brighthouse.com to request more information about the April 9-16 cruise to Bordeaux, as well.  To book the Vineyards of Rhine and Moselle Cruise, click on the link below!

DAY 8: Amsterdam- Disembarkation
Bid Farewell to Amsterdam and prepare for your homeward flight or stay and enjoy this amazing commercial capital and city of culture ! Amsterdam's main attractions, including its historic canals, the Rijksmuseum, the Van Gogh Museum, Stedelijk Museum, Hermitage Amsterdam, Anne Frank House, Amsterdam Museum, its red-light district, and its many cannabis coffee shops draw more than 5 million international visitors annually. The Amsterdam Stock Exchange, the oldest stock exchange in the world, is also located in the city center. It is also the world's most multicultural city with at least 177 nationalities represented!

SPECIAL RATES
Agent Rate for Category C French Balcony Stateroom: $1795.00
(To compare, retail rates are $3498 + tax pp)
Agent Rate for Category B French Balcony staterooms: $1895 + port tax
(To Compare, the regular retail rate is $3698 pp + port tax)
Agent Rate for Category A French Balcony staterooms: $1995.00 + port tax
(To Compare, the regular retail rate is $5648 + tax)
Non Industry Guests in same stateroom with agent, add $250.
Port tax is $189. pp
Special Offer through FAMTrips.travel!
Agents are also invited to bring other friends and family guests in separate staterooms
Based upon availability the rate would be an additional $400 pp.
These additional staterooms are also booked through FAMTrips.travel
and are a great savings for your group leaders to experience AmaWatereways with you!
To BOOK this "Vineyards of the Rhine and Moselle" Itinerary,
click on the button below and complete the application online.

www.FAMTrips.travel | 888 909 FAMS or 941 322 1800 | Email: info@famtrips.travel