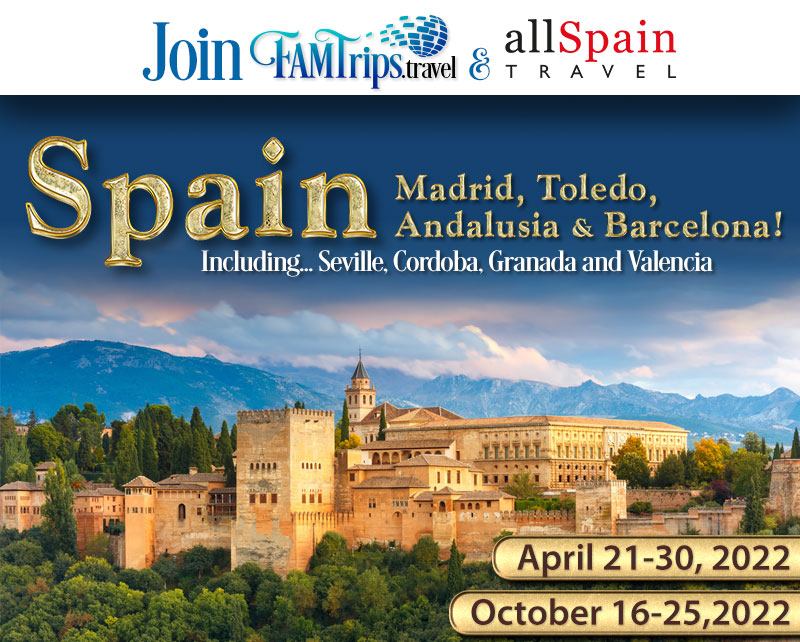 Join your hosts,FAMTrips.travel and allSpain Travel, for an amazing Fam beginning in Madrid and including Toledo, Seville, Cordoba, Granada, including a magnificent visit inside the stunning Alhambra and beautiful Generalife gardens, then traveling on to Valencia, and ending in magnificent Barcelona!
You will experience some of the most famous cities and world heritage sites of Magical Spain during this nine night program during the most lovely time of the year! With much of this region having a world heritage going back long before the Roman Empire, and also including its history of Moorish rule, the monuments of Spain are breathtaking reflections of the diversity of its ancient past.
Itinerary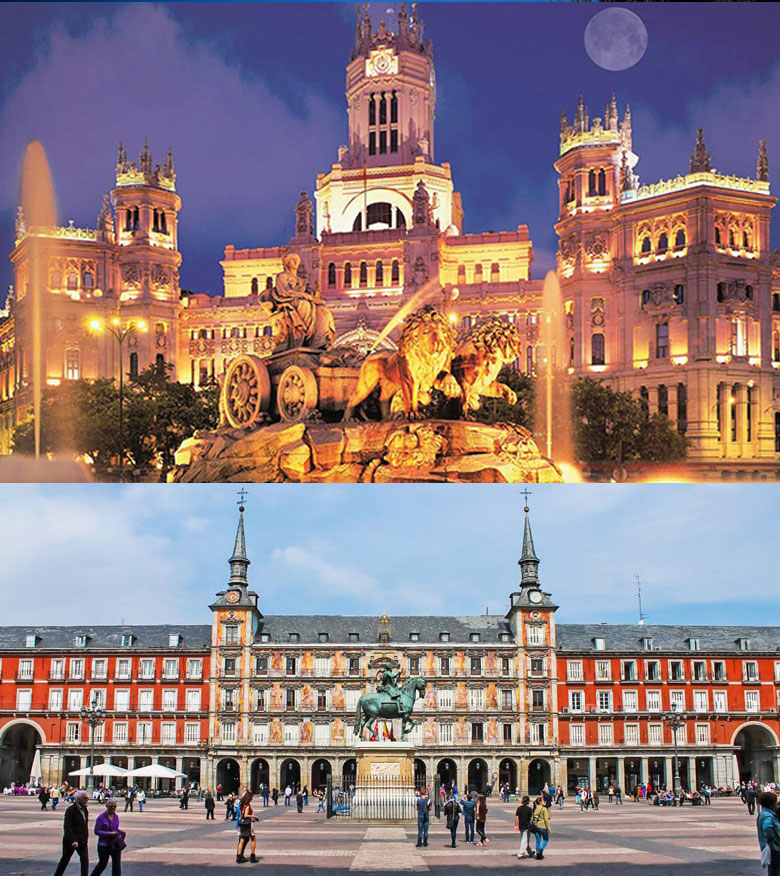 DAY 1 – ARRIVE IN MADRID
Welcome to Madrid, Spain's grand capital and cultural heart.
Enjoy the rest of the afternoon at leisure before meeting your Tour Director for a welcome drink, orientation and dinner restaurant Mercado de la Reina.
D – Hotel Catalonia Gran Via – Dinner & Accommodation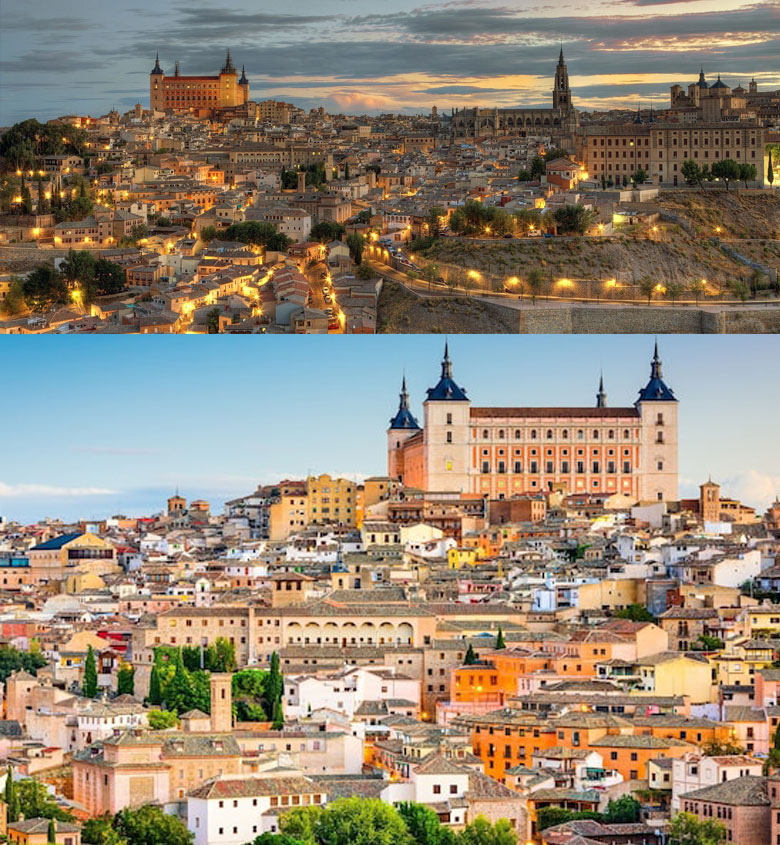 DAY 2 – MADRID
Our morning features a guided tour of this splendid city, driving through the main avenues of Alcala Street, Puerta del Sol and pass by Plaza de España, Teatro Real and Parliament. See the elegant monumental fountains of Cibeles and Neptuno on Castellana Avenue. We will visit inside the Royal Palace, or Palacio Real as it's known in Spanish. The Royal Palace is used by the King of Spain for state ceremonial activities. You will also see the Royal Armoury, the Royal Pharmacy, lavish halls and throne room.
Afternoon and evening at leisure to enjoy a walk in Retiro park or visit museums like the Prado Museum, where you will be able to admire works of art by famous artists such as El Greco, Velázquez, and Ribera.
B – Hotel Catalonia Gran Via – Accommodation

DAY 3 – TOLEDO/CORDOBA
Today we leave the current capital and stop in Toledo, the former medieval capital city of Spain that still retains its medieval atmosphere and charm, recognized as a UNESCO World Heritage Site. Enjoy a walking tour among the most famous monuments, visiting the St. Tome Church with its El Greco masterpiece and Santa Maria la Blanca Synagogue with its beautiful Moorish architecture, the oldest synagogue in Europe still standing. Also admire its famous handcrafted work, the Damasquinado. Continue south to Andalucia via the region of La Mancha, legendary home of Don Quixote, featuring panoramic views of its famous windmills. Arrive in the former Roman city of Cordoba.
B/D Exe Ciudad de Cordoba – Dinner and Accommodation

DAY 4 – CORDOBA/SEVILLE
Cordoba, due to its strategic location, was once an important port city. Visit the astonishing Mezquita de Cordoba, one of the largest mosques in the world, transformed into a soaring cathedral in the 16th century. A walking tour of the city reveals the ancient Jewish Quarter with its labyrinth of winding narrow streets, shady flower filled courtyards and picturesque squares; visit the beautifully restored 14th century Synagogue on Calle de los Judios. On the way to Sevilla, we will visit an Andalusian horse farm (yeguada) to see a normal day of training and learn about the breeding and taming of these amazing horses. We'll then continue to Seville, the charming Moorish capital of Spain's Andalusia Region. This evening we will dinner at local restaurant to walking distance from hotel.
B/D – Hotel Catalonia Giralda – Dinner & Accommodation

DAY 5 – SEVILLA
This morning, admire the beautiful Plaza de España and the fragrant gardens of Maria Luisa Park by the Guadalquivir River. Visit the quaint Barrio Santa Cruz and explore the narrow winding streets and beautiful plazas of the Old Quarter. Continue with a visit to the Cathedral of Seville, the largest Gothic cathedral in the world and home to the burial site of Christopher Columbus. Built on the site of the former great Mosque, its original minaret, the Giralda Bell Tower, still stands. Then, we will see The Alcázar of Seville, one of the most representative monumental compounds in the city, the country and the Mediterranean culture as a whole. The historical evolution of the city in the last millennium is held within its walls and gardens, amalgamating influences starting from the Arabic period, late Middle Ages Mudéjar right through to the Renaissance, Baroque and the XIX century. Declared of World Heritage Site by UNESCO in 1987.
In the afternoon, an optional two hour Flamenco dance class will be offered with a professional dancer!. The idea is to start with a small introduction to the rhythms of flamenco through compass and clapping, to continue with the dance and technique class. The rest of the day is spent as you wish, strolling boulevards lined with palm and orange trees or relaxing at an
outdoor café.
B – Hotel Catalonia Giralda – Accommodation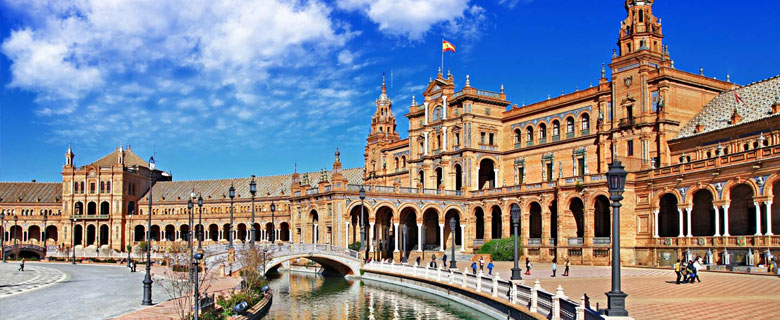 DAY 6 – SEVILLE/GRANADA
This morning, we journey on to Granada, the former Moorish stronghold and site of the region's crown jewel, the Alhambra. Sprawled over a hilltop overlooking the city, the awe-inspiring Alhambra is an impressive castle and fortress with its romantic Generalife gardens. We'll have time to marvel at the views of the city below and snowcapped Sierra Nevada Mountains in the distance, as well as walk through the acclaimed gardens, beautifully designed with courtyards, waterfalls and secret smaller gardens.
In the evening optional Flamenco show at Caves of Sacromoente.
B/D – Catalonia Granada – Dinner and accommodation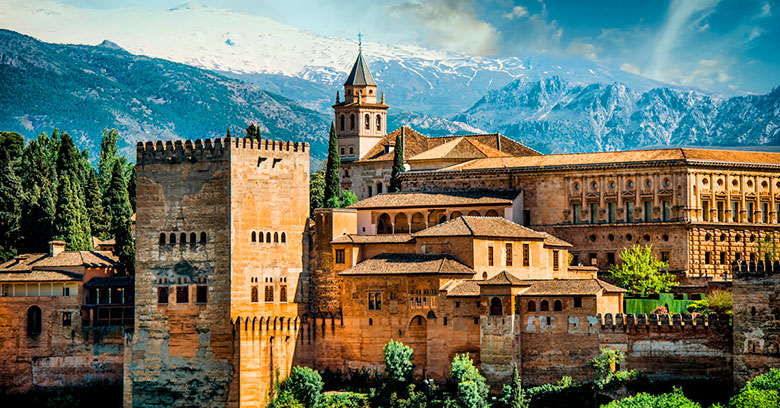 DAY 7 – GRANADA/VALENCIA
Today head north through the groves of olives, almonds, lemons and oranges on our way to the Mediterranean coast and Valencia, a city of great culture and beautiful gardens. On our afternoon guided tour, we'll see architecture both ancient (Roman, Arabic and the gothic Cathedral) and modern—or should we say futuristic? Renowned architect Santiago Calatrava designed the City of Arts and Science, a "city within a city" that is an eye-popping sight, as well as a peek into what the future might look like.
B/D – Hotel Sercotel Sorolla Palace – Dinner and accommodation

DAY 8 – VALENCIA/BARCELONA

The next leg of our Spain journey hugs the coastline of Catalonia. On the road to Barcelona we will stop at Villareal for an "Orange Tour" with explanation of the history and evolution of the citrus industry in the Valencian Community. Visit to a small Museum of Orange, composed of a variety of images, tools and machinery; Guided tour through the interior of the orange grove, being able to taste the clementines directly from the tree and explaining all the details of our natural cultivation system (pruning technique, irrigation system, fertilizer method, fruit collection process. Tasting of fruits and different gourmet products 100% natural and 100% handmade (clementine / orange marmalade, tangerine liqueur, orange wine, orange sponge cake, orange and walnut nougat, orange chocolate, orange and olive pâté black, orange blossom honey, freshly squeezed orange juice …). Later, we'll arrive in Barcelona and settle into our centrally located hotel, followed by  a group dinner at a local restaurant.
B/D –Sercotel Amister Art- Dinner and Accommodation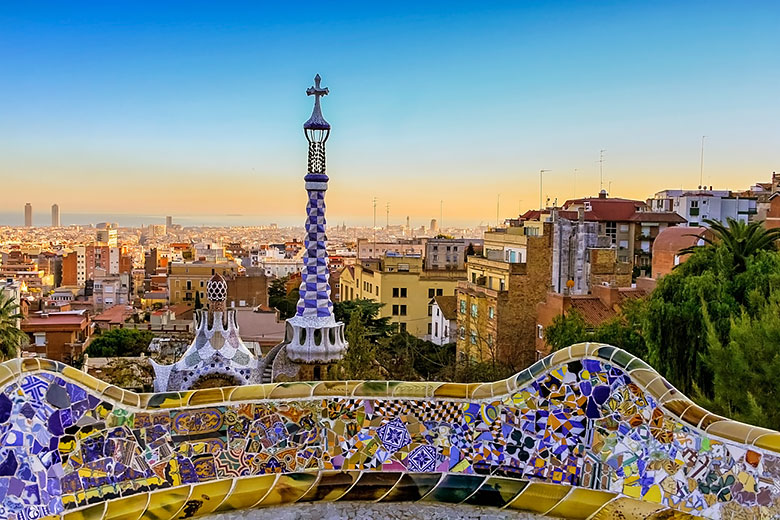 DAY 9 – BARCELONA

The capital of Catalonia, Barcelona mixes medieval charm with avant-garde style. We'll join a local expert for a fascinating tour that begins at the old harbor with a drive along Barcelona's iconic boulevard, Las Ramblas. We'll see the city's lively heart, Plaza Catalunya, and picturesque Plaza de España before taking off on foot to explore the charming Gothic Quarter, Barcelona's old city. Of course, a Barcelona tour isn't complete without admiring buildings designed by the celebrated Catalan architect Antonio Gaudi. We'll see one of his most famous works, the unfinished La Sagrada Familia Basilica, which has been under construction since 1882! The balance of the day is on your own to visit a museum or relax at an outdoor café. Ask your Tour Director for suggestions on where to dine tonight and what dishes to try. Why not paella?
B-Sercotel Amister Art- Accommodation Only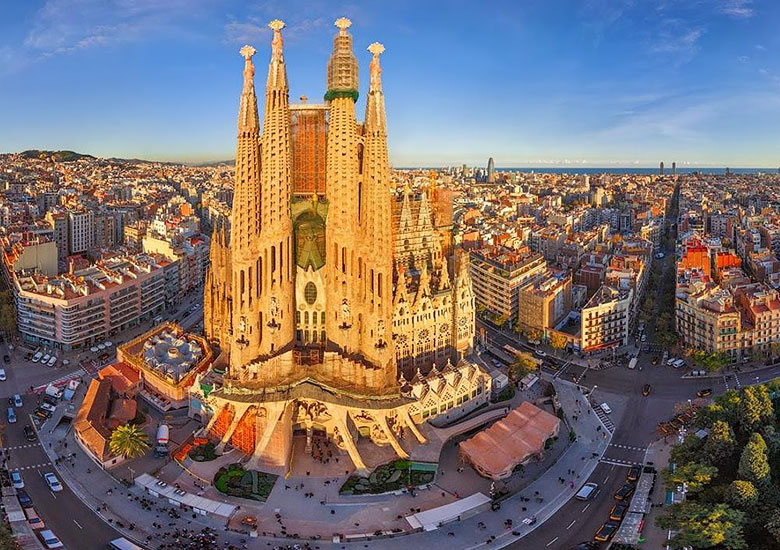 DAY 10 – DEPART BARCELONA

This morning after breakfast, you meet your optional airport transfers, or if you prefer, you may extend your stay for an optional post overnight stay in amazing Barcelona!
Rates can be quoted upon request!
INCLUSIONS:

GROUND TRANSPORTATION & ASSISTANCE/GUIDE
Day 1 – Welcome drink at the hotel with assistance and orientation from the Tour Director.
Day 2 – Coach and guide at disposal for a half-day morning city tour of Madrid. *Modern and comfortable bus with Air-conditioning at disposal throughout the trip + English Speaking Tour Escort during the length of the tour.
Day 3 – Local English-Speaking guide for a walking tour of Toledo.
Day 4 – Local English-Speaking guide for a morning tour of Córdoba.
Day 5 – Local English-Speaking guide for a half-day visit of Seville.
Day 6 – Local English-speaking guide for a visit of the Alhambra.
Day 7 – Local English-Speaking guide for a half-day visit of Valencia.
Day 9 – Local English-Speaking guide for a half-day visit of Barcelona.
MEALS
Dinners at hotel in Córdoba (1), Granada (1) and Valencia (1)
Dinners at restaurant in Madrid (1), Seville (1) and Barcelona (1)

ENTRANCES Included:

Madrid – Royal Palace
Toledo – Sto. Tomé Church & Synagogue Sta. María la Blanca
Córdoba – Mosque & Synagogue
Seville – Cathedral with Giralda & Alcázar
Granada – Alhambra Palace
Valencia – Cathedral & Silk Market
Barcelona – Sagrada Familia

OTHER Inclusions: 
Welcome drink at the hotel in Madride.
Visit of Andalusian horse farm on day 4.
Orange tour in Valencia on day 8.
Headset during the whole trip.

NOT INCLUDED:
Other meals or beverages not outlined in program
Arrival and departure transfers will be offered at best pricing after air schedules are finalized so that we can accommodate small group transfers.
In Granada-Optional Flamenco Show at Zambra María la Castañera in Sacromonte
Flamenco show with 1 drink and roundtrip transfer included
$35 per person (The show starts at 9:30pm)
Tips for Tour Escort for their services throughout the entire program and for daily Local Tour Guides
(Please note that FAMTrips.travel expects all agents and guests to offer gratuities for these professional services.)
Price Per Agent: $1995.00
Non Industry Guests add: $200.00
To Book this FAMTrips.travel Spain FAM…


www.FAMTrips.travel | 888 909 FAMS or 941 322 1800 | Email: info@famtrips.travel