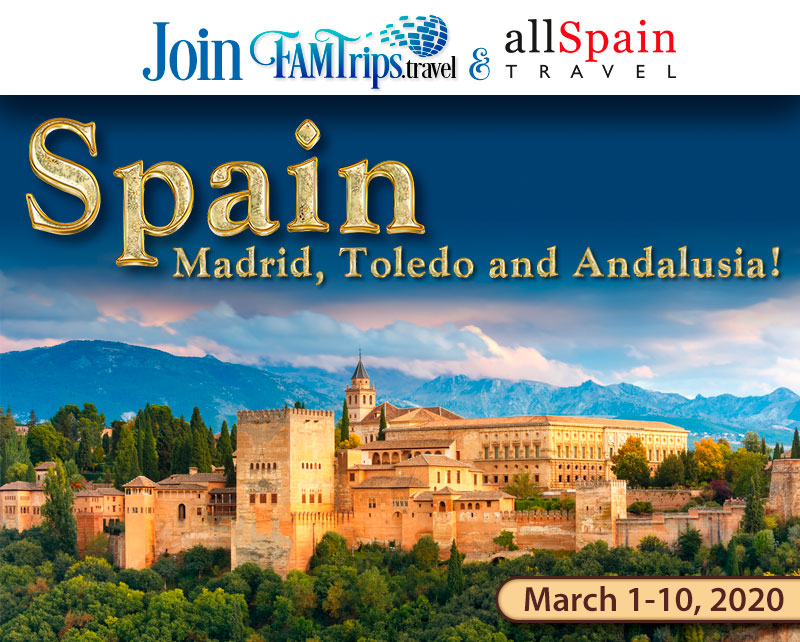 Join FAMTrips.travel executive team, Gary and Melody Fee, and your hosts, allSpain Travel, for an amazing fam beginning in Madrid and including Toledo as well as many fabulous cities in Andalucia! We will travel from Madrid to Toledo, Cordoba, Seville, Jerez, and on to Ronda, Granada including the visit to stunning Alhambra and beautiful Generalife gardens. Our final visits will be to the small villages of Ubeda and Baeza which are both UNESCO world heritage sites, and finally returning to Madrid to bring our program to a close! You will experience the perfect panoramic view of some of the most famous cities and world heritage sites that can be imagined during this nine night fam program! With much of this region having a heritage going back to long before the Roman Empire, and also including its history of Moorish rule, the monuments of this region are breathtaking reflections of the diversity of its ancient past.
Itinerary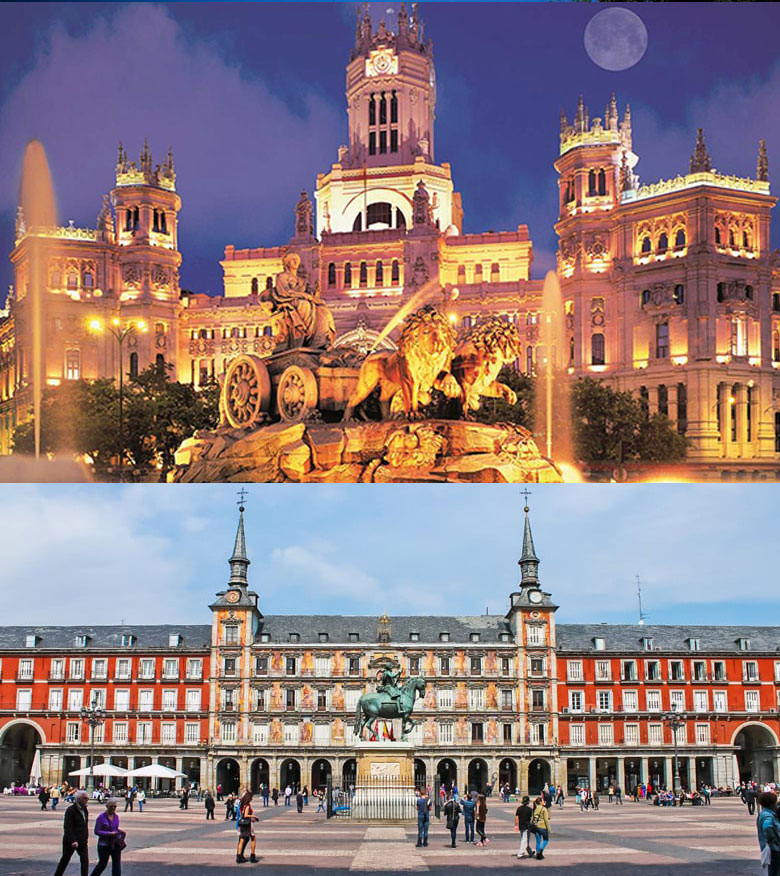 March 1st – Madrid
Once you arrive into Madrid airport, you may elect to transfer on your own to our four star hotel or you may have arranged ( in advance)  an optional transfer through FAMTrips.travel which we will organize after we have everyone's air schedules.  This way we can give you the most affordable transfer prices based upon the arrival times of various groups of agents attending the fam. Once we have collected everyone's air schedules, we will be able to quote the most economical group or individual transfers we can arrange with allSpain Travel and will advise you of these choices.  We will check in to our four-star hotel and relax and enjoy the remainder of the day at leisure before meeting our tour director for a welcome cocktail, fam orientation and included Welcome Dinner.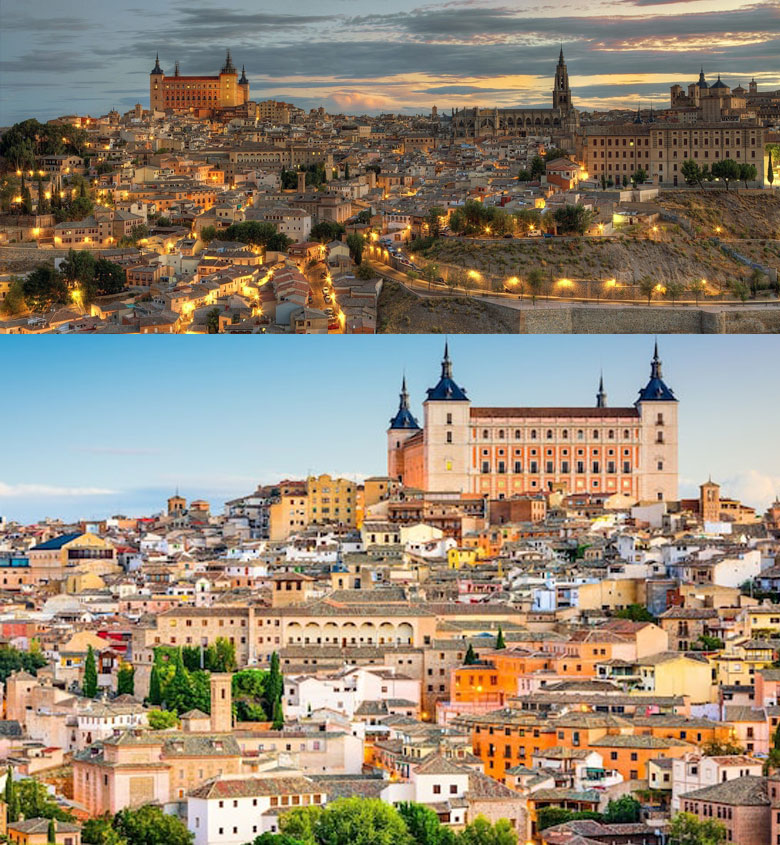 March 2nd – Madrid & Toledo
After breakfast, depart for your guided city tour of Madrid. Drive through the main avenues of the city, highlights include the magnificent fountains of Neptune and Cibeles, the Alcala Gate, the Plaza de España, where we will see panoramically the view of most representative buildings. We will visit inside the spectacular Royal Palace which is still in use for Government ceremonies. This afternoon, we travel south to spectacular Toledo! This amazing city was the capital of Spain during several centuries. In thirteenth and fourteenth centuries, Muslim, Jewish and Christian populations lived together peacefully becoming as a great cultural center in Toledo. This afternoon, we will walk along it's narrow streets where the history can be felt in the air. We will visit the Cathedral from outside and St Tome Church inside (where the masterpiece of El Greco is displayed for the world). After our visit we return to Madrid. In the evening we will enjoy a fun and interesting "Tapas Tour" through the city center to taste the famous Spanish Tapas in the Bars & Taverns. They are where one of the most deeply rooted of all traditions of the city is carried out.

March 3rd – Madrid, La Mancha and Cordoba
After breakfast we depart to Cordoba. En route, enjoy a short stop in Aranjuez to see the magnificent gardens full of centenary trees of this old summer residence of the Spanish kings. Continue south to discover the large flat region of "La Mancha," the land where Don Quixote lived his crazy adventures, also the Spain's largest wine producing area. We will visit a traditional wine producer where they will show us their way of elaboration and some curious secrets, like the influence of the moon and stars in the biological process of the vineyards. We will finish with the tasting of three different wines with tapas of ham, local cheese (very reputed in Spain) and bread, the best way to taste these wines. Afterwards, we continue to Cordoba. Overnight in Cordoba in our four star hotel.

March 4th – Cordoba, Seville
After breakfast, we enjoy a morning guided tour of Cordoba. Cordoba, during the Roman age was already a very important city but during the Muslim domination it reached the maximum splendor, specially in the IX and Xth centuries, when Cordoba became the capital of the Caliphate, and was the most populated city in the world (almost 1 million inhabitants). We'll visit the Mosque, considered one the most beautiful. Then, we will take a walk around the Jewish Quarter, with its narrow streets and Andalucia "patios," full of flowers galore throughout the spring and summer month! We finish with a visit of the Synagogue. Afterwards we continue to Seville. Overnight in Seville at our four star property. This evening you may want to explore the nightlife of Seville and see if you can enjoy some local Flamenco dancers exhibiting their provocative skills on the dance floor of some local establishment!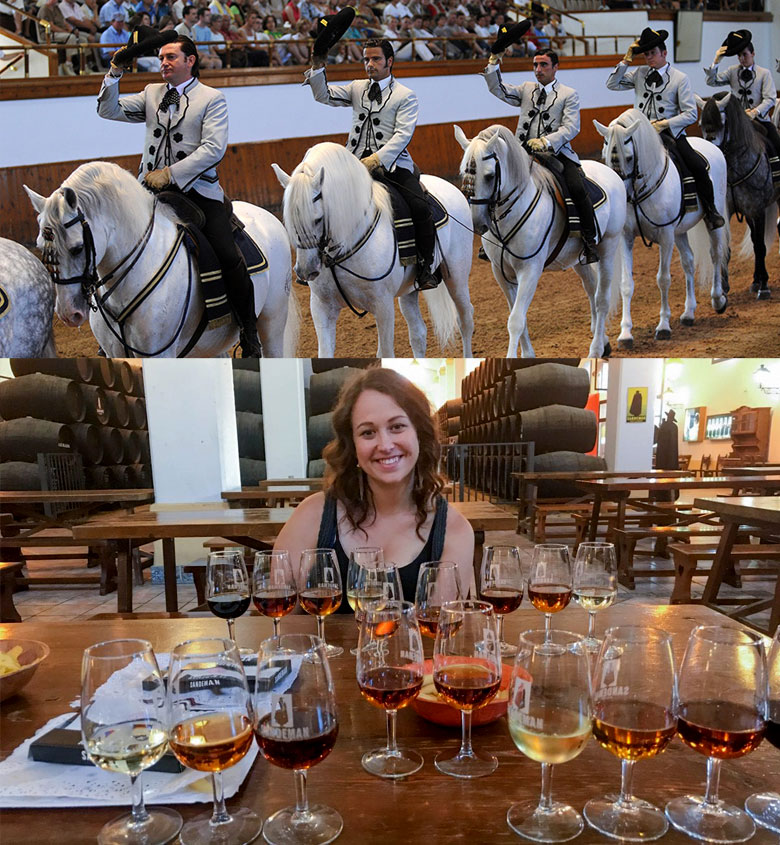 March 5th – Seville, Jerez de la Frontera, Retuning to Seville
After breakfast, we head to Jerez de la Frontera where we will enjoy an exciting visit and famous equestrian performance at the Royal Andalusian School of Equestrian Art. This amazing facility is not only a palace but is also the home of many performing Andalusian horses and one of the most prestigious arenas for the performing arts of equestrians, worldwide. Watching these amazing horses perform today in their renown arena will be such a highlight for our group! Being the forefathers of the Lipizzaner Stallions, the Andalusian horses are one of the most regal breeds of horses in the world. After we enjoy the performance of these Royal Andalusians, lunch will be included at a local restaurant and then we travel on a few minutes further to enjoy a sherry wine tasting at a lovely local wine cellar, Bodegas Fundador, the oldest in Jerez (since 1730).
Here you have a link for more information: http://www.grupoemperadorspain.com/en/bodegasfundador/
Sherry is the best well-known Spanish wine abroad, and a great part of the local economy is related to the production of this world-famous wine. We return to our hotel in Seville and later we will meet up for a tapas dinner at a traditional restaurant.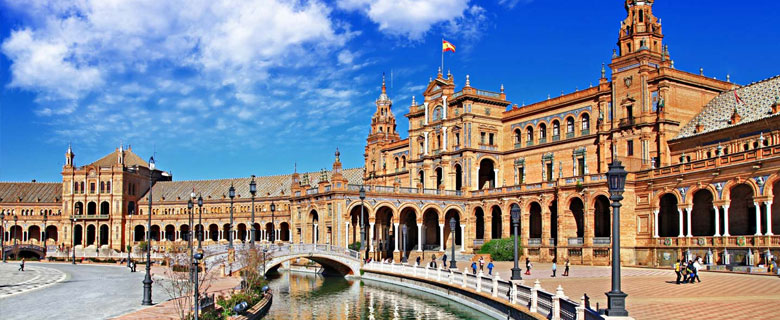 March 6th Seville – Ronda
After breakfast, morning guided tour of Seville. We'll visit inside the Gothic Cathedral, the largest in Spain and third in the world, with the Giralda tower, the striking minaret of the former mosque. We will walk by Santa Cruz Quarter, a maze of small alleys and small squares with the peacefulness of a tiny but magnificent garden. Once finished, we depart to Ronda, enjoying the "'Route of the White Villages" which includes Arcos de la Frontera, Grazalema and more. All these villages in this mountainous area were part of the warlike border between the Christian and the Muslim kingdoms for more than 3 centuries (XIII to XVth). They are surrounded by brilliant white houses with narrow streets like a maze. The path is filled with fantastic views. Our final destination is Ronda, a beautiful town perched on the edge of a deep canyon cut out by the River Guadalevin. We will overnight in Ronda at our four star hotel.


March 7th – Ronda, Granada
After breakfast, we will depart for our spectacular morning visit of Ronda. In an impressive location, a sheer cleft of over 300 ft. called El Tajo splits the town. We will visit  the bull-ring, built in 1784, considered the most beautiful in Spain. Walking through the old town, we will find nice palaces and some magnificent views over the countryside. We travel on to stunning Granada and overnight in our four star hotel there.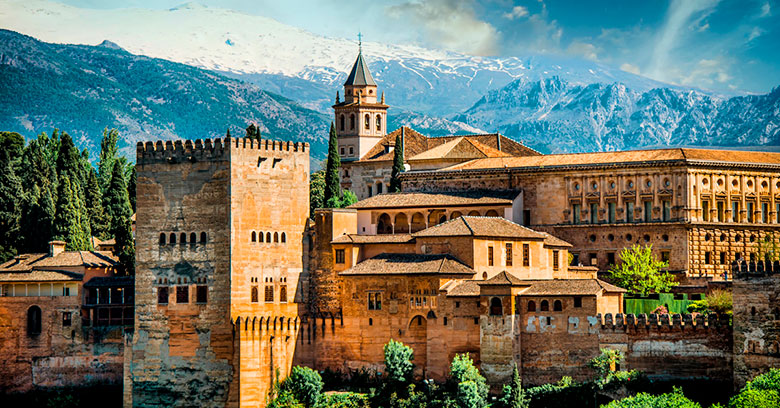 March 8th – Granada

After breakfast, we enjoy a morning guided city tour, to visit La Alhambra, the best example of the sophisticated Royal life in the Nazari Islamic kingdom from the XI to XVth centuries. We will find numerous halls and "patios" (courtyards) of amazing beauty. We will also visit the famous and beautiful Generalife gardens with its fountains. The rest of today is free for you to explore Granada at your own pace. A visit to the stunning cathedral in the city center is highly recommended. Overnight in Granada.
March 9th – Granada, Ubeda-Baeza, Madrid

Today after breakfast, we check out of our hotel and as we head back to Madrid, we visit Ubeda and Baeza. Situated just six miles apart, both towns have an outstanding ensemble of 16th and 17th century Renaissance buildings, and have been declared World Heritage sites by the UNESCO. Nicknamed 'queen' (Ubeda) and 'lady' (Baeza) by the brilliant poet Antonio Machado, their quiet streets and plazas are lined with beautiful Spanish Renaissance palaces. But first, we go to an Olive Mill for an olive oil tasting, visit and to enjoy a typical lunch with the hosts. Afterwards we'll drive to Madrid. This evening we enjoy a farewell dinner in a traditional Spanish restaurant. Overnight in Madrid
March 10th – Madrid

The tour ends after breakfast. Optional transfer to the airport for your return flight to US. Once we have collected everyone's air schedules in advance, we will be able to offer the best pricing of individual and group transfers based upon your departure times during the day.
What is included in Tour:

Accommodation (9 overnights in 4 Star Hotels as listed below. Breakfast is included in all hotels).
Professional English-speaking Tour Director throughout.
Local English speaking guide for visits in Madrid, Toledo, Cordoba, Seville, Ronda, Granada and Ubeda/Baeza.
Welcome cocktail dinner in Madrid.
Local tapas tour in evening Madrid city center.
Cellar visit with wine tasting in Valdepeñas (La Mancha).
Cellar visit with sherry tasting in Jerez de la Frontera.
Visit and Equestrian Performance at the Royal Andalusian School of Equestrian Art in Jerez de la Frontera.
Lunch at local restaurant in Jerez.
Evening Tapas dinner in Seville ( 2nd night in Seville).
Visit and taste Olive Oil in Begíjar (near Baeza).
Farewell dinner at a local restaurant in Madrid.
Entrance fees to Monuments: Madrid – Royal Palace, Toledo – Cathedral, Synagogue and St. Tomé, Sevilla – Cathedral & Giralda, Cordoba – Mosque, Ronda – Bullring, Sta. Maria & D-Bosco, Granada – Alhambra & Generalife gardens, Ubeda/Baeza – Cap. El Salvador & Cathedral.
Selected Hotels:
Madrid-Catalinia Gran Via Hotel 4*
Cordoba-Macia Alfaros Hotel 4*
Seville-Catalonia Giralda Hotel 4*
Ronda- Catalonia Reina Victoria Hotel 4*
Granada-Catalonia Granada Hotel 4*
Price Per Agent: $1799.00
Non Industry Guests add: $100.00
To Book this FAMTrips.travel Spain FAM

www.FAMTrips.travel | 888 909 FAMS or 941 322 1800 | Email: info@famtrips.travel