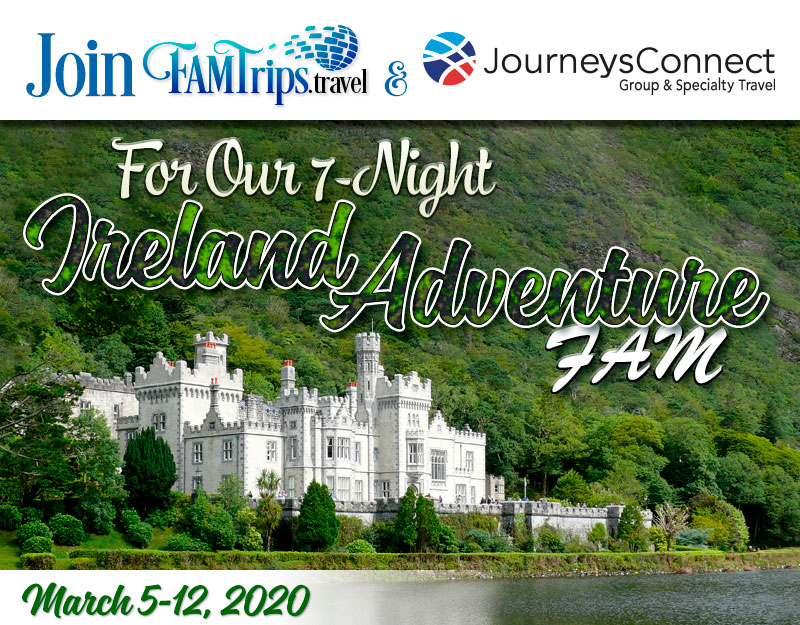 Join FAMTrips.travel and Journeys Connect "Group Journeys to Inspire" to discover the magic and the adventure of Ireland during this 7 night fam tour!
Even for those who have already found out what a wonderful country Ireland is to experience, this fam will offer some new sites for you to explore and enjoy! In addition to our wonderful touring in Dublin, we will enjoy some unique adventures in Cashel, and in the exquisite Dingle Peninsula! Perched on the hem of the Atlantic in Ireland's southwest, charming Dingle looks out over Dingle Bay to the Blasket Islands. Chock full of friendly pubs where live traditional music plays, the Irish-speaking area is filled to the brim with tourists on weekends and through summer. You may even meet another regular visitor to Dingle's Gulf Stream-warmed waters named Fungi the dolphin, the town's unofficial mascot! The scenic drives on this peninsula will be some of the highlights of our fam!
Of course you cannot visit Ireland without taking a moment to kiss the Blarney Stone at Blarney Castle and standing on the edge of the jagged and majestic cliffs at the Cliffs of Moher! Enjoy an evening carousing the pubs in Killarney and enjoying your historic Great Southern Hotel after you have had some time to shop in Blarney Woolen Mills on your way there! Add to this the peaceful surroundings and history of lovely Glenmore Abbey with its amazing story of love and loss, all located in the Connemara region, with their white washed cottages and so much more.
Your fam will not be without its share of distilleries and lively entertainment throughout the program so be ready to learn an Irish jig or two during your week long fam experience! It is all part of the joy of traveling the Irish countryside! Your final night in Dublin offers you a chance to share a wonderful evening remembering all you have enjoyed as we share dinner at ever so popular Taylor's Three Rock Pub with lively entertainment for sure! Throughout this fam you will enjoy some wonderful four star properties and the greatest hospitality that Journeys Connect "Group Journeys to Inspire" and FAMTrips.travel have to offer!
Do not delay as space is limited! Click on the LINK at the bottom of this day to day itinerary to complete your application form now.
ITINERARY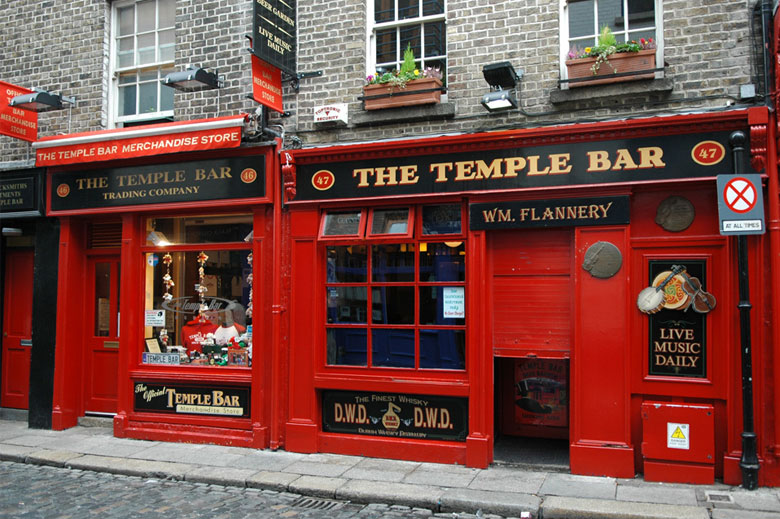 DAY 1: ARRIVE IN DUBLIN, IRELAND

On arrival in Dublin airport, make your way to the arrivals area of Terminal 2 where at 8:00 am your driver/guide will meet with you. At 9:00am, depart and make your way towards Dublin to visit Epic Ireland, the Irish Emigration Museum which tells the dramatic story of how Irish people have spread around the globe, and how they changed the world. Through 20 state-of-the-art galleries, visitors immerse themselves in the stories of some of the most remarkable tales of sacrifice, endurance, adventure, and discovery the world has ever known. Afterwards, enjoy a panoramic sightseeing tour of Dublin before checking in to your hotel. PLEASE NOTE: Check-in at Dublin hotels is normally 2:00pm. The hotel will try to accommodate earlier arrival, but this is not guaranteed. Your afternoon is free to relax or explore at your own pace. This evening get to know your fellow travelers over a welcome dinner in your hotel. Overnight in Dublin. (B/D)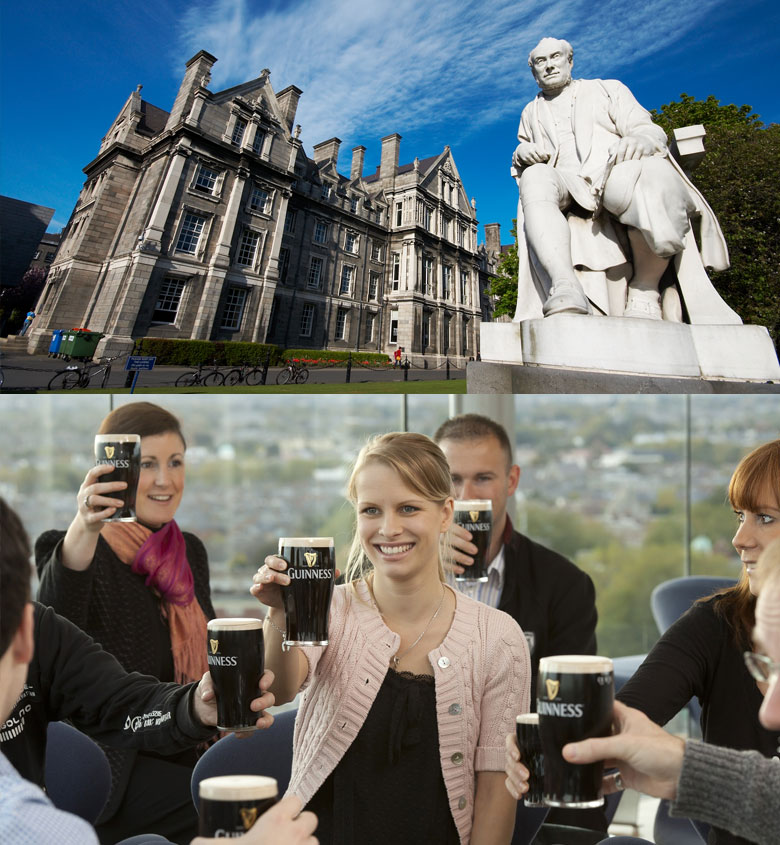 DAY 2: DUBLIN
After breakfast, depart and make your way to Trinity College to view the exquisitely illustrated Book of Kells. Afterwards, enjoy a visit to the Christ Church Cathedral, founded in c.1028, is the spiritual heart of the city, and one of the top visitor attractions in Dublin. Step inside and you can enjoy the cathedral's beautiful interior and fascinating medieval crypt. Follow the steps that bring you beneath the cathedral and explore the medieval crypt, one of the largest in Britain & Ireland, and the earliest surviving structure in the city. Enjoy some free time for lunch before a visit to the Guinness Storehouse. Raise a mug of the "black stuff" and drink in Dublin views at the Gravity Bar. The remainder of your afternoon and evening are free in Dublin. (B)

DAY 3: DUBLIN / CASHEL / BLARNEY / KILLARNEY
After breakfast, depart from Dublin and start your journey towards Killarney in County Kerry. Pause to visit the unforgettable Rock of Cashel. The dramatic limestone rock crowned with secular and religious buildings dominates the flat countryside for miles around. Onward to County Cork where you stop to visit Blarney Castle with its magical stone that gives the gift of eloquence for a kiss. You have plenty of free time to explore and shop in Blarney Woollen Mills too! Continue to bustling Killarney. The town on the lakes is famous for its lively pubs and open, cheerful atmosphere, full of what the Irish call "craic!" – Gaelic for fun. This evening enjoy a special gourmet dinner in your hotel. (B/D)

DAY 4: DINGLE PENINSULA
Today, begin by heading out to the beautiful Dingle Peninsula. This peninsula is a Gaeltacht, a unique area where the Irish language is preserved. We'll drive to the Gallarus Oratory – a tiny stone church – built between the 6th and 9th century, which preserved Christianity in Ireland; Slea Head; beehive huts; views of the Blasket Islands; harbors; beaches; all spectacular! There is time to explore the town of Dingle, a colorful fishing port. Visit the Dingle Distillery where you will enjoy a tour followed by a gin and whiskey sample! Later, return to Killarney where your evening is free. (B)

DAY 5: KILLARNEY / CLIFF OF MOHER / RATHBAUN / GALWAY
After breakfast, depart from Killarney and make your way into County Clare to visit the spectacular Cliffs of Moher. The Cliffs of Moher have majestically faced the Atlantic for over 350 million years and their beauty is incomparable – rising 700 feet above the pounding Atlantic waves and stretching 5 miles along the coast of County Clare in the west of Ireland. From the cliffs on a clear day one can see the Aran Islands and Galway Bay. O'Brien's Tower stands near the highest point and has served as a viewing point for visitors for hundreds of years. Afterwards, make your way through the Burren and towards Galway. Pause at Rathbaun Farm, watch the farmer maneuver his flock with the help of a sheep dog. Then, enjoy a traditional tea in the 150-year-old thatched farmhouse. Continue to Galway where your evening is free. (B)

DAY 6: CONNEMARA EXCURSION
After breakfast in your hotel, make your way out into Connemara. Whitewashed cottages are scattered over a land of rocky mountains, sparkling brooks and rivers. Stop for to visit the beautiful Kylemore Abbey, a castellated neo-Gothic mansion, occupied since 1920 by the Irish Benedictine community of Nuns. Onwards to Clifden for free time to enjoy lunch. Visit the Connemara Marble Factory before returning to Galway where your evening is free. (B)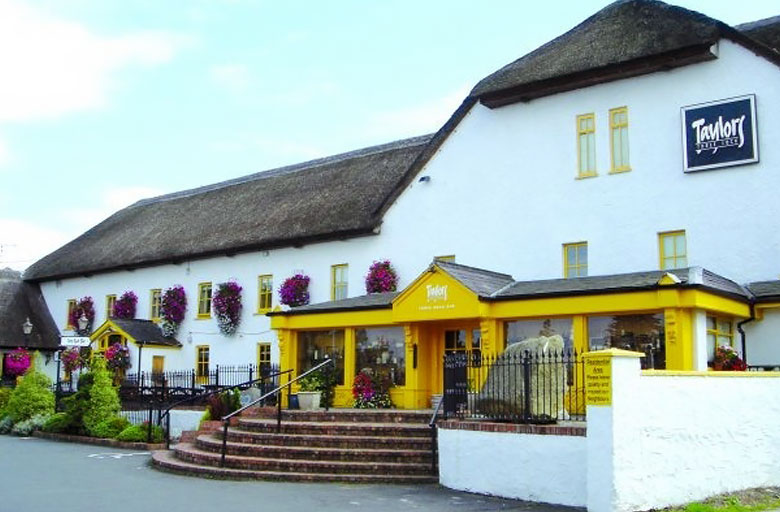 DAY 7: GALWAY / CLONAMCNOISE / DUBLIN
Enjoy breakfast. Depart from Galway and start your journey across country towards Dublin. Pause to visit Clonmacnoise, an early Christian site founded by St. Ciarán in the mid-6th century on the eastern bank of the River Shannon. The site includes the ruins of a cathedral, seven churches (10th-13th century), two round towers, three high crosses and the largest collection of Early Christian grave slabs in Western Europe. Continue to Dublin to visit the Dublin Liberties Distillery. Hear stories of mystery, mayhem and magic from the historic Liberties area in Dublin, stories that inspired exciting new expressions of Irish whiskey. Afterwards, check in to your Dublin hotel and shortly afterwards depart and make your way to Taylors Three Rock Pub for an evening if great food and traditional entertainment. (B/D)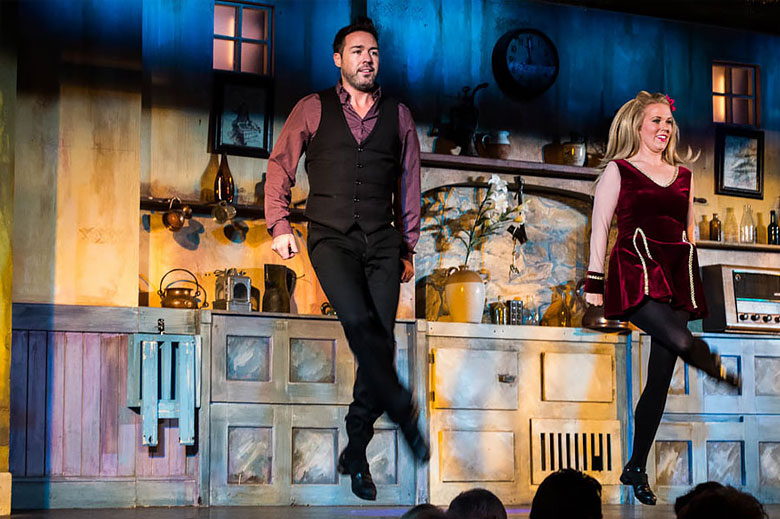 DAY 8: DUBLIN / USA
After breakfast, group transfer to Dublin airport for your return flight to the USA, arriving home the same day! ( B) For those whose flights may be spread out through the day, we can offer optional individual transfers at a low rate, as well.
Hotels:
7 nights hotel accommodation in the following hotel or similar:
Dublin – 2 nights, 4-Star Ashling Hotel
Killarney – 2 nights, 4-Star Great Southern Hotel
Galway – 2 nights, 4-Star Park House Hotel
Dublin – 1 night, 4-Star Ashling Hotel
Meals:
Breakfast each morning, except day of arrival. 3, three-course dinners including dinner and traditional entertainment in Taylors Three Rock Pub, Dublin
Also included:
Luxury motorcoach with professional Irish driver/guide
Visit EPIC, Irish Emigration Museum in Dublin
Visit Dublin Liberties Distillery
Visit the Book of Kells
Visit Christ Church Cathedral
Visit the Guinness Storehouse
Visit the Rock of Cashel
Visit Blarney Castle
Dingle Peninsula Excursion
Visit Dingle Distillery
Visit the Cliffs of Moher
Visit Rathbaun Farm
Connemara Excursion
Visit Kylemore Abbey
Visit Clonmacnoise
Hotel Porterage of one suitcase per person
Portfolio of travel documents
Journeys Connect Educational Seminar
Agent Rate: $1399
Non Industry Guests add: $100.00
To Book this FAMTrips.travel Ireland FAM…

www.FAMTrips.travel | 888 909 FAMS or 941 322 1800 | Email: info@famtrips.travel