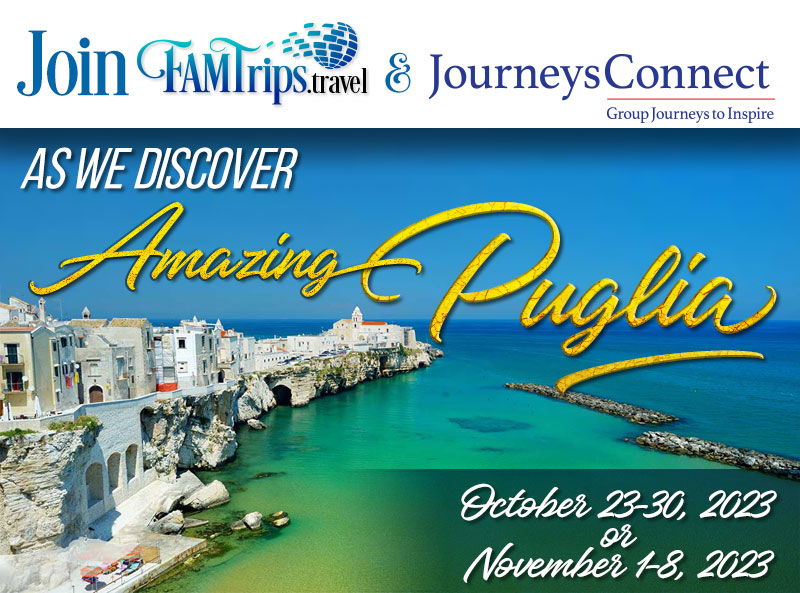 Puglia, the magnificent southern region of Italy, forming the heel of Italy's boot, is known for its whitewashed hill towns, centuries-old farmland and hundreds of kilometers of Mediterranean coastline.
Lecce, the Florence of the South, is one of our most featured cities in this Fam and is known as "the city of Barocco" for its unique architecture. In this entire region, you can find an abundance of almost ancient "Maceria" farmhouse properties that have been restored into "all suite" beautiful properties for your clients who want to be outside of the villages in a more remote setting. Another of our magnificent stops during this FAM, Alberobello is home to the trulli-stone huts with distinctive conical roofs.These cone-shaped houses huddle together as if gathering for a gnome convention. This region of Italy is also becoming very popular for family-based travel!
Together we will visit several UNESCO World Cultural sites. No trip to Puglia would be complete without visits to the amazing seaside village of Polignano a Mare with its natural sea caves and its beautiful remains from the Roman period. Along with this we also indulge ourselves in the magical villages of Osunti, Otranto, Galatini, and Gallipoli. You will enjoy lunch agritourism style at a Farm along with a Pasta cooking demo, and enjoy other wine, cheese, olive oil and local specialty food tastings during the week! We wrap up our tour of the Puglia region with a wonderful visit to Matera, which gained international fame for its ancient town " the Sassi of Matera," with its cave dwellings thought to be  among the first human settlements in what is now Italy. The architecture, the culture, the food, AND the wines- all will be highlighted during our educational FAM program to the beautiful Puglia region. With only 14 rooms available for each of these two fam programs, do not delay in booking!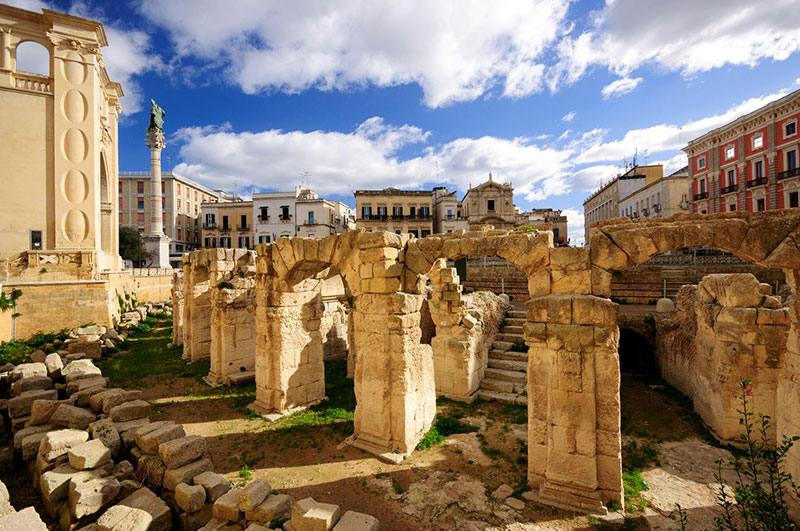 DAY 1 – ARRIVE IN ITALY:
Welcome to Puglia!   We will offer one group arrival transfer and also line up any private optional separate transfers, as needed from Brindisi airport to take us to our lovely 5-Star Hotel Risorgimento Resort  in Lecce. You will have free time to relax before our evening  welcome reception followed by dinner in the hotel.
(D)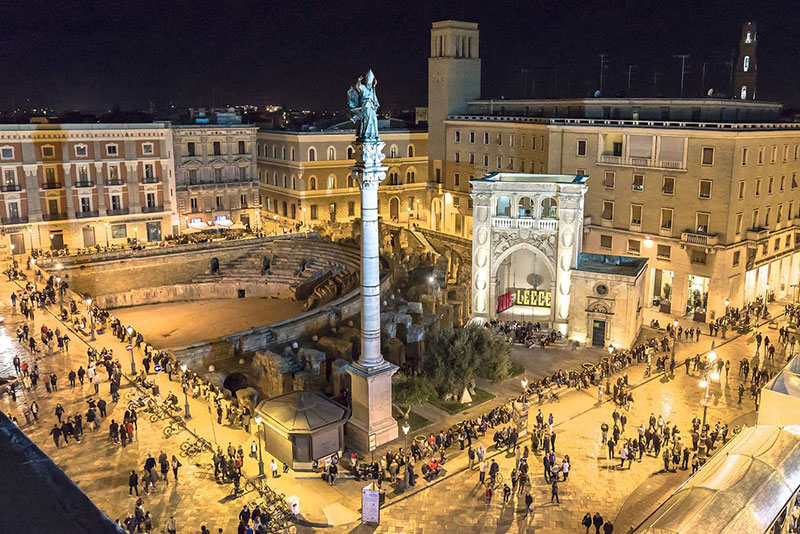 DAY 2 – DISCOVER LECCE:
After breakfast, enjoy your morning at leisure in Lecce. Then together we will enjoy a light lunch with wine and local specialty food tastings at "Il Vicoletto Wine Bistro" in the old town area of Lecce, also known as the City of "Barocco." This local favorite may be someplace you find yourself spending other special evenings enjoying great company and special flavors of Puglia during your week in Lecce.  Lecce's Barocco or old town area is such an amazing place to shop, dine, people watch and explore! And staying in one resort right in the center of this fabulous place throughout the entire program is truly a perk of this amazing fam!  Together, after lunch, we will enjoy a walking tour of Lecce with a local English speaking guide,  followed by the remainder of afternoon and evening  free in Lecce.
(B/L)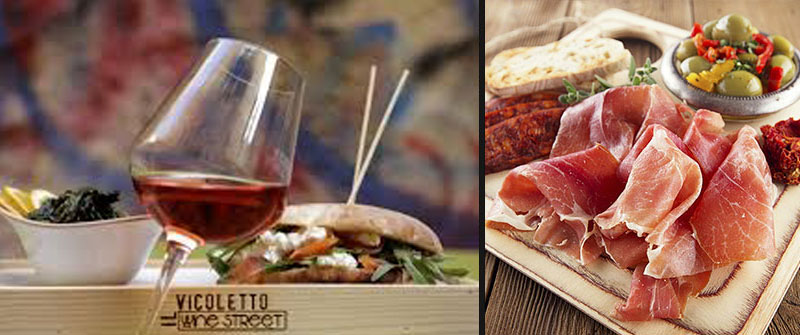 DAY 3 – EXCURSION TO OTRANTO:
After breakfast, we will make our way to Otranto where we will meet our English-speaking guide for a tour. Otranto is a natural bridge between East and West one of the very important maritime centers of Italy and the natural point of trade with Greece. While walking around the town, the ancient walls and the Aragonese Castle can be admired. The Cathedral of St.Maria Assunta, consecrated in 1088, has a huge rose window. The interior of this cathedral has columns which are said to come from a temple of Minerva and a fine mosaic pavement of 1166. It is one of the largest mosaics in the world and depicts the "tree of life" with interesting representations Old Testament subjects. The Cathedral has a crypt supported by 42 marble columns. It holds the bones of 800 martyrs ,later proclaimed saints, who were killed by the Turks in 1480 in an attempt to conquer the town. Bones are kept on massive shelves inside the cathedral.  Afterwards, enjoy lunch agritourism style at a farm along with a pasta cooking demo. Enjoy wine and food tastings.  Later we return to Lecce to relax and enjoy dinner at our own leisure.
(B/L)

DAY 4 – EXCURSION TO GALATINA & GALLIPOLI:
Enjoy breakfast in the hotel. Afterwards, depart for Galatina. Meet our local English-speaking guide for a tour. Discover the charming Galatina, with its Basilica of Santa Caterina d'Alessandria also known as the Assisi of the South because of its wondrous frescoes. We will also experience Gallipoli and enjoy a walk in its fascinating old town. This beautiful seaside fishing village is a real gem with its labyrinth of alleys, a few century-old churches, the beauty of turquoise water and scenic views of its fishermen hard at work.  We will enjoy a lovely lunch while in Gallipoli, as well.  Later, return to Lecce where the remainder of your late afternoon and evening is free.
(B/L)

DAY 5 – CHARMING PUGLIA:
After breakfast, depart and explore the White Villages of Central Puglia. First we travel to the white-washed town of Ostuni and get ready for an epicurean experience of olive oil tasting at a wonderful local farm. Having more than 50 million olive trees, this region is the number one area for olive and olive oil production. The residents of Ostuni first arrived during the Stone Age and it was later rebuilt by the Greeks. You will tour this town over a beautiful walk discovering its narrow white alleyways and magical labyrinth, the low archways and the dramatic flights of stairs which lead only to someone's front porch. Ostuni is an architectural jewel, commonly referred to as the White Town or La Citta Bianca in Italian. The brightness of its whitewashed houses, a series of levels, staircases, small roads, alleys, arches, make Ostuni a truly special intimate town.  We also explore Polignano a Mare, the picturesque coastal town which is a true gem on the Adriatic sea with its characteristic old town to be explored.  The area has been settled since prehistoric times, evidenced by archaeological excavations in the locality of Santa Barbara. It is believed to be the site of the ancient Greek city of Neapolis of Apulia. Remains of the Roman domination include the bridge on the Via Traiana.  The town is thought to be one of the most important ancient settlements in Puglia and was later inhabited by successive invaders ranging from the Huns to the Normans.  The former cathedral includes works by the sculptor Stefano of Putignano. In the frazione of San Vito is a massive Benedictine abbey.  On Sundays, the logge (balconies on the seaside) are crowded with Italian day trippers from Bari and tourists who come here to view the crashing waves, visit the caves and enjoy the amazing cornetterias (shops specializing in Italian croissants).
Our group will pause for a wonderful olive oil tasting in a local farm. You may be surprised to know that some of the oldest olive oil trees can be found in the Puglia region of Italy, with trees dating back over 2000 years. We will enjoy a traditional lunch in the Itria Valley area. Later, return to Lecce for overnight.
(B/L)

DAY 6 – DISCOVER "TRULLI VALLEY":
Today, discover the age-old tradition of the Trulli building. The Trulli buildings are composed of a cylinder surmounted by a cone, with the distinction of being built purely in "dry stone", without the use of mortar or other connecting material. Despite the simple form and very primitive means of construction, they are pleasing to the eye and architecturally perfect. Together we will explore the trulli villages of Alberobello, Martina Franca and Locorotondo.
Martina Franca is the second most beloved baroque city gem in the region with its elegant old town and artful palazzi. Until the reunification of Italy in 1861, Martina Franca was a fully walled town, with 24 towers and four gates. As it evolved to cater for more modern requirements, however, some of these towers were removed and other access roads punched into the walls. However, the four Renaissance and Baroque gates still exist, effectively delineating the old town from the more modern 19th century part of town, which also has some lovely architecture and parks.   Later you'll transfer to a fairy-tale town, Alberobello, the UNESCO Heritage and Cultural town of Trulli. The town is divided into 2 parts: the New Town and the UNESCO World Heritage site of the famous Old Town, the Trulli Town. During our touring we will enjoy a cheese tasting experience, as well!  Later, return to Lecce where you have dinner in your lovely 5-Star Hotel Risorgimento Resort
(B/D)


DAY 7 MATERA:
After breakfast, make your way to Matera. Enjoy a guided walking tour followed by some free time. Matera is a city on a rocky outcrop in the region of Basilicata, in southern Italy. It includes the Sassi area, a complex of cave dwellings carved into the mountainside. The Sassi now houses museums like the Casa Grotta di Vico Solitario, with period furniture and artisan tools. Nearby rock churches include St. Lucia alle Malve, with 13th-century frescoes. Enjoy a traditional farewell Materan lunch before returning to Lecce where the balance of your day is at leisure.
(B/L)
DAY 8 DEPART: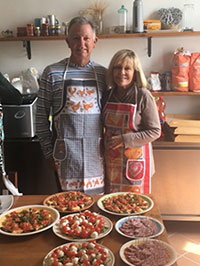 After breakfast, group transfer to Brindisi airport. (B) We at FAMTrips.travel hope that you will be excited to work with our partner, Journeys Connect, Group Journeys to Inspire, to bring your own special clients back to this amazing region of Puglia to recreate the magic you have experienced!
Local city taxes are not included and must be paid directly to hotel on departure. Taxes range from 3 – 5 Euros per person per night. – IMPORTANT: This tour includes walking tours. To enjoy this tour, participants should be in good health and able to walk reasonable distances, often over unpaved and uneven surfaces.
PACKAGE INCLUDES:
7 Nights at 5-Star Hotel Risorgimento Resort located in historic downtown Lecce
Local English-speaking tour guide during the tours for Lecce, Otranto, Ostuni, Alberobello, Gallipoli, Galatina and Matera
Luxury motorcoach for all transfers and sightseeing as outlined in the itinerary
Breakfast each morning, except day of arrival
Welcome Dinner – three-course hotel dinner in Lecce
Light Lunch and wine tasting at  "Il Vicoletto Wine Bistro" in the old town of the city of Barocco
Agritourism style lunch at our farm visit near Otranto along with pasta making demonstration
Lunch in Salento
Olive Oil Tasting in a local farm
Cheese Tasting Experience and light lunch near Alberobello
A traditional Farewell Lunch in Matera
Portfolio of electronic travel documents sent in PDF format
Journeys Connect Educational Seminar
24-hour emergency customer service while in Italy
Price per agent: $2295
Non Industry Guest Add $200
To Book this FAMTrips.travel Puglia FAM…
www.FAMTrips.travel | 888 909 FAMS or 941 322 1800 | Email: info@famtrips.travel