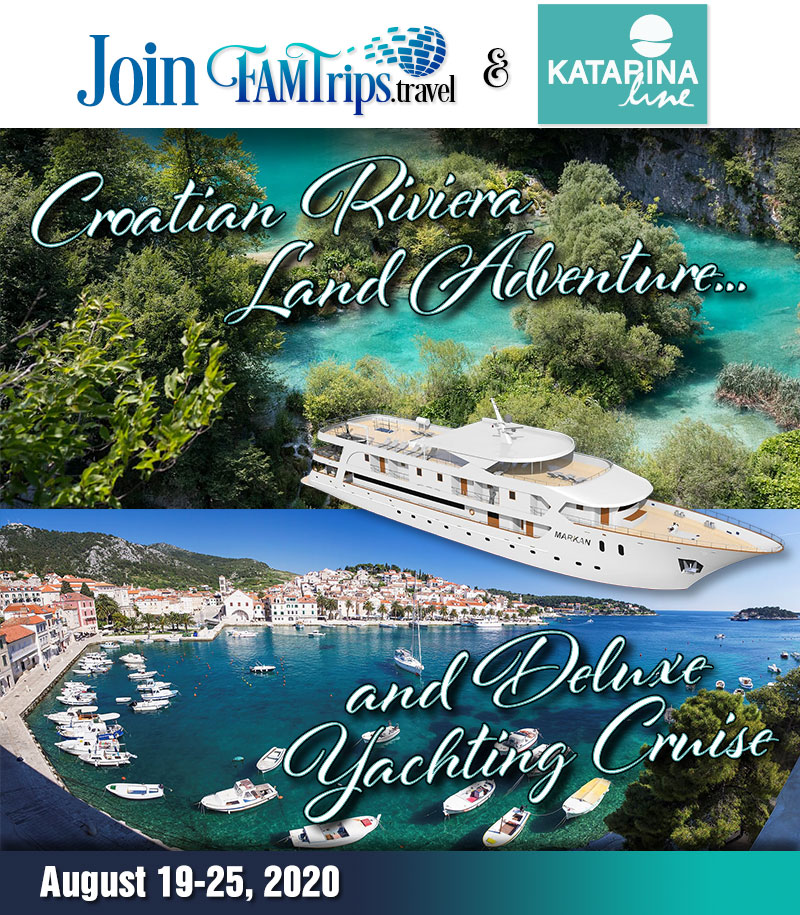 Join FAMTrips.travel owners, Gary and Melody Fee and Katarina Line for our special new itinerary –late summer 2020 Land and Yachting Fam on the Croatian Riviera and Adriatic Sea for our 2nd Deluxe Yachting Cruise and combined Land Fam!
This educational program which is co-hosted with Katarina Line offers you the opportunity to tour the first three nights on land to the most sought after sites in Croatia, followed by a wonderful three night yachting voyage on their luxurious 38-passenger Deluxe Superior MV Rhapsody on the Adriatic Sea.  We also welcome the wonderful opportunity to give back to a special cause that Katarina Line executive team holds very dear! For each travel agent who is confirmed on this fam, FAMTrips.travel will contribute $50 towards the Down Syndrome Association of Dubrovnik.
To begin the land-based portion of this amazing itinerary, you arrive into Split, Croatia! Here we will begin a three day land-based program including two nights in Split with its famous Roman architecture, including  the magnificent Diocletian's Palace. We will also tour many other wonderful sites of this exquisite city, followed by the unforgettable Krka National Park and Skradinski buk, one of the best known natural beauties of Croatia. We will visit Sibenik, another UNESCO world heritage site dating back to the 1400's and have some fun exploring Solona Ston and Mali Ston Bay where the salt and the oysters have been the wealth of the regions for centuries, with kings and royalty from across Europe helping to fund these amazing oyster farms for their personal pleasures over the millennia!  We will enjoy our final land-based day and evening out on the town in Dubrovnik before boarding our lovely new yacht, and setting sail for three wonderful days on the Adriatic Sea with Katarina Line and FAMTrips.travel. For agents who would like to stay over in Dubrovnik extra days, you may want to add on a day tour to Montenegro or tour the famous filming sites of popular series, "Game of Thrones" for an exciting addition to your itinerary!
Itinerary

Aug 19 – DAY 1: Arrival to Split
Upon arrival you may meet an optional transfer or simply taxi  from Split airport to 4-Star Hotel Cornaro also in Split. After check- in at the hotel, we will enjoy a leisurely walking tour. Split is a historic town under UNSECO protection as a world heritage site. One will find an abundance of Roman architecture, including  the magnificent Diocletian's palace, once inhabited by the Roman emperor in the fourth century. With the rugged Dalmatian mountains as a backdrop and the azure Adriatic Sea lapping its shores, Split is emerging as one of the must-see cities of Europe. A mix of modern life and ancient history, this historic city encompasses more than 200 ancient buildings. Within the Palace's white stone walls and under its courtyards are a cathedral and numerous shops, bars, cafes, hotels and houses.  After the tour of Split, you'II have a group welcome dinner in a local restaurant. Overnight in 4 Star Hotel Cornaro Hotel in Split.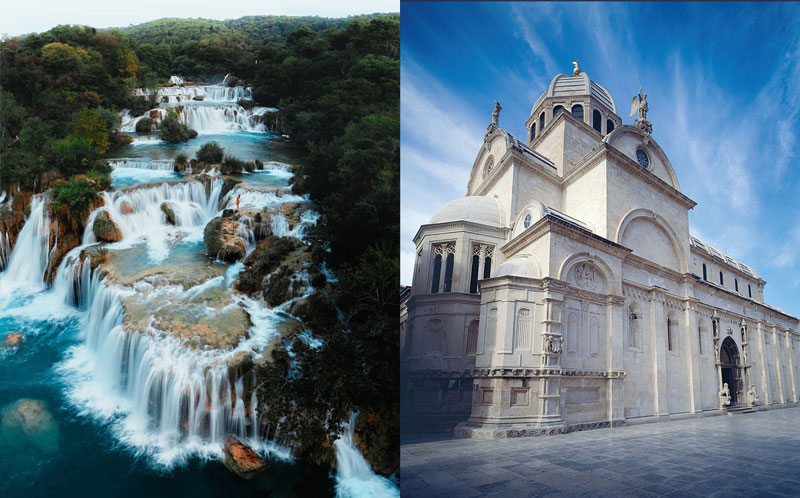 Aug 20 – DAY 2: Krka waterfalls & Sibenik
Today after our breakfast, we will be heading to Krka National Park and Skradinski buk, one of the best known natural beauties of Croatia. Buk means cascade and this natural wonder is made up of  natural travertine barriers, islands and lakes that are divided into 17 cascades of the course of 800 meters, ending in a large pool that is a popular swimming spot.  This region is one of the country's eight UNESCO World Heritage sites!  Our guided tour also includes a fascinating walk through authentically restored ensemble of small stone houses, workshops, exhibits and watermills which show how water used to make village life possible and sustainable centuries ago. Then we'll begin our walk to enjoy the rich diversity of flora and fauna through a network of forest pathways as well as over wooden bridges. Before we continue to Sibenik, we will stop for a lunch in a typical Dalmatian konoba (tavern) where we will taste traditional local food. In Sibenik we will also visit its main attractions including St.Jakkova's Cathedral, also recognized as the Cathedral of St James dating back to 1431, which is UNESCO World Heritage site. It is  the largest and most beautiful building of the transitional Gothic-Renaissance period in Dalmatia.   Return to Split for dinner at our hotel and overnight.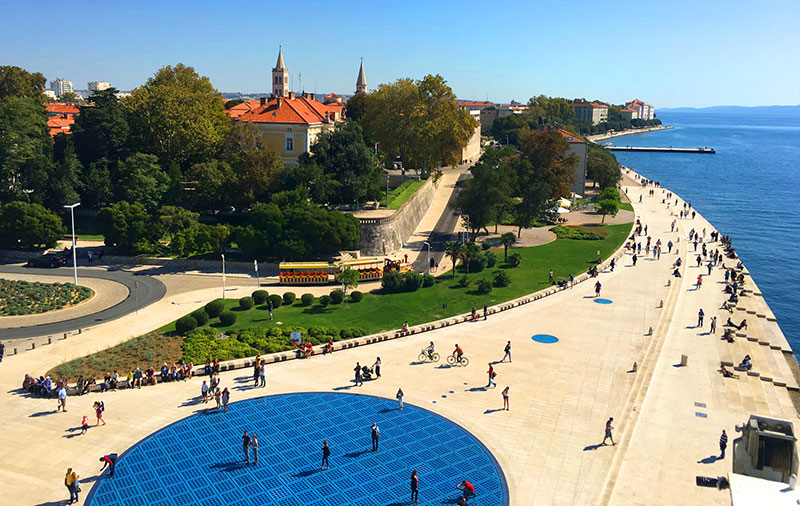 Aug 21 – DAY 3: Ston & Dubrovnik
Today after breakfast, we depart Split to head to Dubrovnik. On our way, we will visit Ston, the place where sea shoals meet the sun, in the bays with natural broad shallow shelves, saltworks emerge. The director of Solana Ston Ltd on February 21st 2014, came to the decision about forming The Solana Ston Museum as part of the existing company. Solana Ston has existed for over 700 years but future research  may confirm its millennial existence. The technology of salt making in Solana Ston, by means of evaporation of sea water naturally has not changed from the past to the present. After visit of the Solana Ston Museum we will continue our trip to Mali Ston harbour and stop at the famous local restaurant for an oyster tasting along with a glass of white wine. While salt was the main form of wealth here many centuries ago, it was the oysters that gave it such renown. Roman emperors funded farms off the coast but weren't the only royals to develop a fondness for them. Almost two millennia later, Austrian emperor Franz Josef would have cases of oysters shipped to Vienna each month. And, in the late Middle Ages, nobles from Dubrovnik would front the money to start oyster farms in Mali Ston Bay, taking their payment in oysters instead of cash.  We arrive to Dubrovnik for our hotel check-in, followed by dinner in a local restaurant in Dubrovnik hinterland.

Aug 22 – DAY 4: Dubrovnik / Elaphiti Islands / Trestenik
After the breakfast and hotel check- out, transfer to the Old town for the guided walking tour of Dubrovnik. Completed in the thirteen century, the old city Dubrovnik has remained basically unchanged since. Its medieval ramparts encircle the city which pedestrians can enter through one of two gates – either way, they cross a stone bridge under the watchful gaze of the city's patron Saint Blaise (Vlaho). Here we can take a stroll along Stradun, the favorite promenade and meeting place with its main street going mid Old Town from Pile to Plo?e Gate. Check out the awesome fortified walls of Dubrovnik which are some of the best preserved fortification complexes in Europe. The 1940-metre long walls encompass five forts and sixteen towers and bastions.  After the sightseeing it's time for embarkation on our lovely Deluxe Superior Category MV Rhapsody
After we board our lovely MV Rhapsody and enjoy a welcome aboard drink together, we set sail for the small archipelago, Elaphiti islands in the lovely Adriatic Sea. This cluster of 14 islands along Croatia's Dalmatian Coast, the Elafiti Islands (Elaphites) are one of the country's most popular destinations and a popular day trip from Dubrovnik. The archipelago's largest three islets—Kolocep, Lopud, and Sipan are the focal point of many island-hopping tours.  We will enjoy a swim stop in the afternoon and afterwards sail on to Trstenik for our evening dinner on the island and our overnight stay for a perfect day and night on the Adriatic Sea!

Aug 23 – Day 5: Trstenik / National Park of Mljet / Island of Kor?ula (overnight)

In the morning, we will sail away from this beautifully scenic town of Trstenik and continue our cruise  from Trstenik to Mljet island, the lush green island also known as Honey-island. Mljet National Park is a beautiful area of unique charm featuring two connected salt water lakes and lush flora. Go ashore and spend the afternoon walking around the two saltwater lakes here which are surrounded by lush forest. In the middle of the large  lake,  inside  the  National  park,  you  can  visit  the  Franciscan  monastery from the 12th century and  church  on St. Mary isle. Later we set sail for Korcula, best known as the birthplace of Marco Polo. Our afternoon arrival in Kor?ula will be followed by a guided walking tour of this enchanting town with fortified walls. On the island, you can find more legends, tales and monuments than anywhere else while you wander along the herringbone patterned streets. Overnight in Kor?ula  with dinner on your own in town. Of course, Kor?ula has an abundant choice of restaurants where you can enjoy a lovely gourmet experience! There are many bars and clubs for those looking for their entertainment to continue  a bit later into the evening. You may even witness one of the impressive sword dances performed on the island that commemorates the island's early defense against invaders' attacks throughout the ages.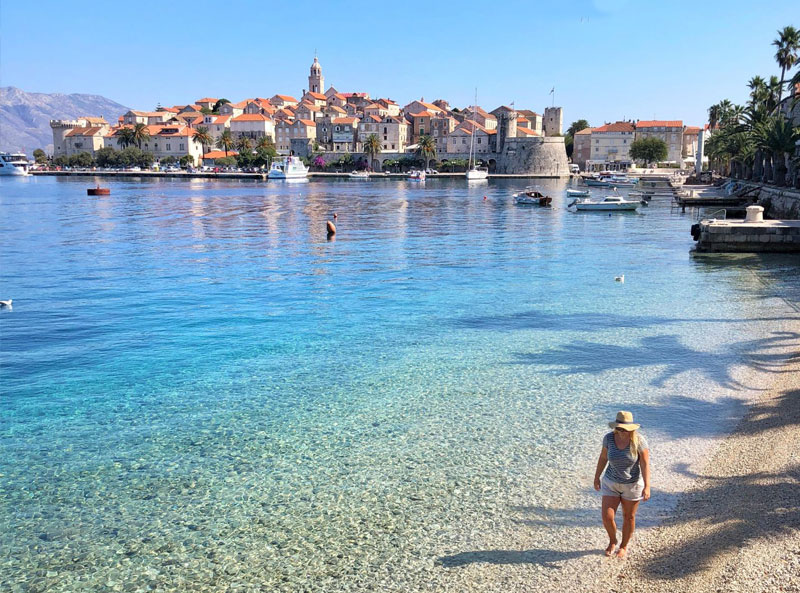 Aug 24 – Day 6: Korcula / Dubrovnik
Today, after a lovely breakfast in Korcula, we will set sail and enjoy our scenic return to Dubrovnik.  We may elect to stop in to the tiny  island village of Slano on the way.
Back in Dubrovnik, we will enjoy free time in Dubrovnik. You may want to take a scenic ride up the cable car to Mt Srd to take in the incredible views of Dubrovnik and the Adriatic. Enjoy a coffee up top at the popular Dubravka restaurant or descend down into Old Town and stroll around this amazing Unesco World Heritage Site!
This evening we will come together onboard for our final Captain's dinner on the MV Rhapsody. Overnight onboard the ship in GRUZ Cruise port.
Aug 25 – Day 7:
This morning we disembark to the GRUZ cruise port as we say good-bye to our hosts, the lovely staff at Katarina Line, as we meet our optional group or individual transfers to the airport or hotel transfers depending on individual plans for the upcoming days! If you elect to stay over, you may want to take a full day tour to Montenegro or experience a "Game of Thrones film sites" tour hosted several times daily in Dubrovnik!  We can help you line up some additional special features for your extra day if you are staying over!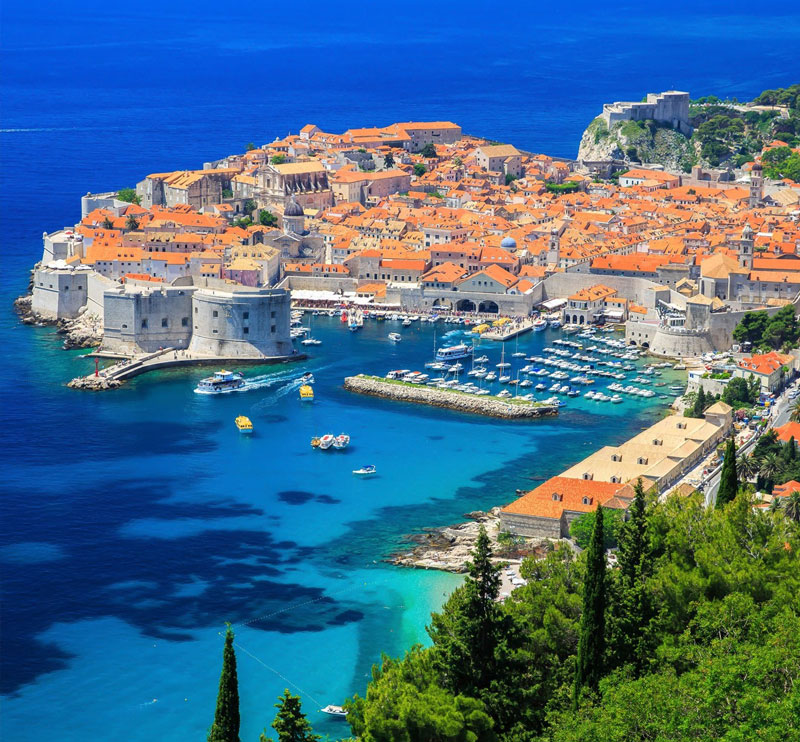 WHAT IS INCLUDED:
Land Services included in the package price:
2 nights accommodation in Cornaro 4* hotel in Split
1 night accommodation in Palace 5* hotel in Dubrovnik
2 x bed & breakfast service in hotel
1 x half board service in hotel (breakfast and dinner)
Visitor's tax, insurance and registration fee
Porterage in/out of hotels
English speaking Tour manager / Katarina Line representative
Walking tours: Split, National Park Krka & Sibenik, Dubrovnik
Entrance fees: Diocletian s Basement halls, NP Krka waterfalls, Museum of salt (Ston), St.Jacob Cathedral, Franciscan Monastery
Oyster tasting at Mali Ston
1 x lunch in a local restaurant during Krka & Sibenik excursion
2 x dinner at local restaurant in Split and Dubrovnik area
Cruise includes:
3 x buffet breakfasts
3 x 3 course lunch
1 x Heritage village dinner (Trstenik)
1 x Captains dinner
2 x guided tours (Dubrovnik & Kor?ula)
Price per Agent: $1799
Non Industry Guest Add $100
To Book Croatian Riviera Deluxe Yacht and Land FAM…

www.FAMTrips.travel | 888 909 FAMS or 941 322 1800 | Email: info@famtrips.travel