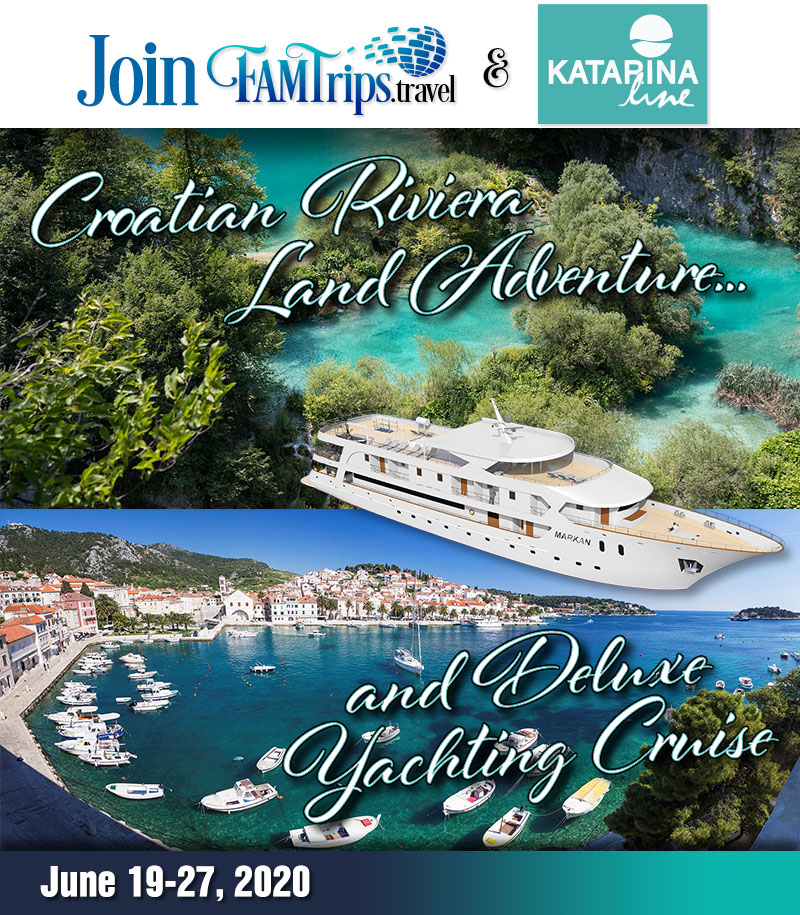 Join FAMTrips.travel and Katarina Line for our special new itinerary -Summertime 2020 Land and Yachting Fam on the Croatian Riviera and Adriatic Sea for our 2nd Deluxe Yachting Cruise and combined Land Fam!
This educational program which is co-hosted with Katarina Line offers you the opportunity to tour the first three nights on land to the most sought after sites in Croatia, followed by a wonderful FIVE NIGHT yachting voyage on their luxurious 38-passenger Deluxe Surperior MV Maritimo on the Adriatic Sea to four amazing islands. We also welcome the wonderful opportunity to give back to a special cause that Katarina Line executive team holds very dear! For each travel agent who is confirmed on this fam, FAMTrips.travel will contribute $50 towards the Down Syndrome Association of Durbrovnik.
To begin the land-based portion of this amazing itinerary, you arrive into Zagreb, Croatia! Here we will begin a three day land-based program including touring the wonderful sites of this Croatian capital of Zagreb, followed by the unforgettable and exquisite Plitvice Lakes Region and ending in Split, Croatia, including touring in the villages of Rastoke and Zadar as well as special touring in all three regions along the way to meet Katarina Line's MV Maritimo in Split Harbor. Here we will be welcomed aboard our superior deluxe rated ship and set sail on the Adriatic Sea to being our yachting adventure to three of Croatia's most romantic islands, an exciting visit to the Blue Cave, similar to the Blue Grotto of Capri! The sun-soaked port cities of these Croatian islands are just waiting for your arrival in June 2020! This superior deluxe Katarina Line vessel has only 19 staterooms, so do not delay in booking your Croatian Riviera and Adriatic Cruise Adventure FAM. The TAB to CLICK on to book is below the day to day itinerary!
Itinerary

Friday June 19th : ZAGREB
Arrival to Zagreb and transfer to our four star hotel, the Hotel Academia. These arrival transfers are optional but we will be sure to organize them based upon the final air schedules that agents send to us so that we can minimize any additional cost for them. After you relax, we will have a sightseeing tour of Croatia's capital. This walking tour will guide us through the fortified, medieval Upper Town.  We will see St. Mark's church, with its multicolor tiled roof, the Parliament, the Government Palace, the Lotrscak Tower, the Stone Gate and many other fine old buildings. Tonight we will enjoy a special welcome dinner in a local restaurant in Zagreb and return to our hotel for the evening.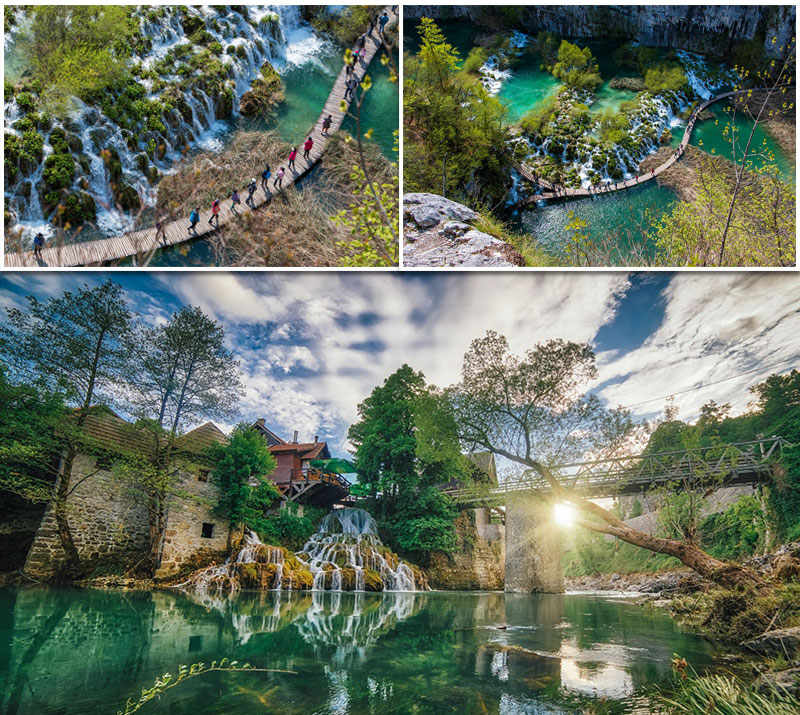 Saturday June 20th : ZAGREB – RASTOKE – PLITVICE LAKES
After breakfast we depart towards the Plitvice lakes, with a stop at The Rastoke village, Rastoke is the historic center of the Croatian municipality of Slunj, known for the Slunj?ica river, which flows into the river Korana at Rastoke. At Rastoke, most of the homes were built at the end of the 19th century and were mills in the past. A similar natural phenomena of amazing waterfalls occurs here in Rastoke as you will also enjoy at the Plitvice Lakes. Here you will have time for lunch on your own. Afterwards we continue to view one of the most beautiful and oldest national parks in Croatia under UNESCO protection – the Plitvice Lakes, consisting of 16 lakes connected by more than 90 magnificent waterfalls and able to be viewed by visitors as you meander through several kilometers of lovely boardwalk.
The Plitvice Lakes National Park, one of the world's greatest natural wonders is the oldest and largest national park in the Republic of Croatia, famous for its numerous turquoise-colored lakes separated by tufa, or travertine, barriers. Often described as the most beautiful national park in Europe, Plitvice regularly makes lists of undiscovered gems or hidden secrets of Europe. You will be amazed as we take a leisurely walk in this wonderful environment. We will also enjoy a boat ride on the emerald green Kozjak Lake and return back to the entrance of the park. Later we enjoy an included dinner and overnight at the four star Ethno House Resort.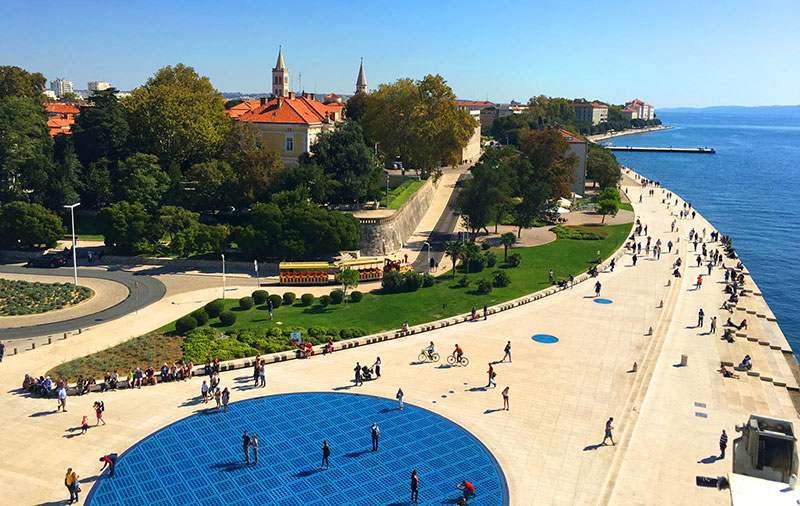 Sunday June 21st : PLITVICE LAKES – ZADAR – SPLIT
After breakfast, we drive to the city of Zadar. You will have free time in Zadar to explore and relax before we continue to Split for overnight. This ancient city of Zadar on Croatia's Dalmatian coast, is known for the Roman and Venetian ruins of its peninsular Old Town. The Roman forum ruins there are dated back to the 1st century AD. There are several Venetian gates in the city walls. Surrounding the Roman-era Forum is 11th-century St. Mary's Convent, with religious art dating to the 8th century. There's also the grand, 12th-century St. Anastasia's Cathedral and the round, 9th-century pre-Romanesque Church of St. Donatus. Of special interest are the famous Zadar Sea Organs, one of a kind in the world. We continue to Split for our overnight at the four star Hotel Cornaro. Dinner is on your own this evening and we will be sure to give you some great suggestions on places close to our hotel to check out for dinner and evening relaxation.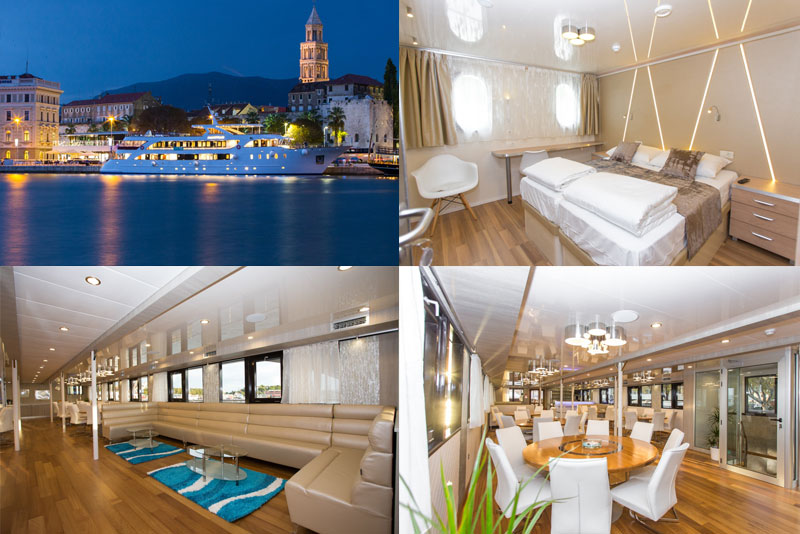 Monday June 22nd: TOUR SPLIT AND SAIL TO HVAR
Morning guided tour of Split and its famous Diocletian palace. This morning after breakfast, we will enjoy a guided tour of the city. With the rugged Dalmatian mountains as a backdrop and the azure Adriatic Sea lapping its shores, Split is emerging as one of the must-see cities of Europe. A mix of modern life and ancient history, Split is a historic town under UNESCO protection on the World Heritage list. One will find an abundance of Roman architecture and of special interest is the magnificent Diocletian Palace, erected by the Roman emperor in the 4th century. Once home to thousands, its sprawling remains include more than 200 buildings. Within the Palace's white stone walls and under its courtyards are a cathedral and numerous shops, bars, cafes, hotels and houses. After the tour of Split, we will continue to the Split harbor to board our Deluxe Superior Category vessel, Katarina Line MV Maritimo.
We board our ship, MV Maritimo, in Split, and enjoy a welcome drink along with a lovely three course lunch as we depart to the island of Hvar. Hvar is the longest Island in the Adriatic and one of the sunniest; known for lavish lavender fields and breathtaking beauty. After our arrival, to Hvar, we will enjoy a walking tour of the island and later enjoy an included dinner at a restaurant also on the island, as well. Overnight onboard the MV Maritimo.

Tuesday June 23rd: SAIL FROM HVAR TO VIS

In the morning, we will sail away from this beautifully scenic town of Hvar and continue our cruise towards the Island of Vis. On our way, we will visit the natural wonder known as the Blue Cave which strongly resembles the famour Blue Grotto of Capri! This picturesque wonder is located just a few nautical miles from Vis. Here small boats whisk visitors into the blue grotto area for wonderful photography! We continue on to the island of Vis where we later enjoy a local wine tasting as a group. Dinner is on our own with ample local spots from which to choose. Overnight onboard the MV Maritimo.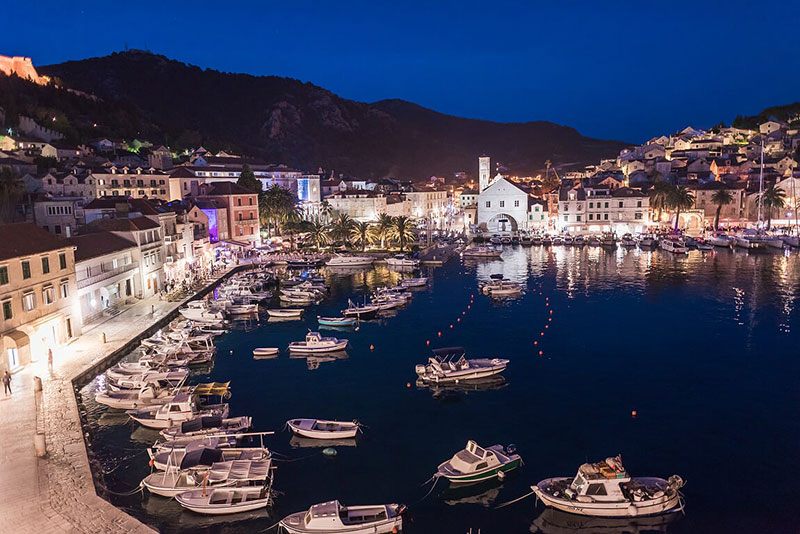 Wednesday June 24th: SAIL FROM VIS TO KORCULA
In the morning, we will sail away from this beautifully scenic island of Vis and continue our cruise towards the Island of Kor?ula, best known as the birthplace of Marco Polo. Aboard our MV Maritimo this morning we will enjoy a presentation by our Katarina Line representative who is sailing with us to highlight the amazing opportunities to build land and yachting groups for Croatia and beyond with Katarina Line! We stop for lunch in one of the secluded bays en route. Early afternoon we arrive in Kor?ula and can enjoy a guided walking tour of this enchanting town with ancient fortified walls. We will enjoy an included dinner on the island. There are also many bars and clubs for those looking for more evening entertainment.
Thursday June 25th: DEPART KORCULA TO SAIL TO STARIGRAD, HVAR
Day 7- Today we return to another unique and beautiful port area named Starigrad, which is also on the island of Hvar. Starigrad is a port town on the northern side of the island of Hvar in Dalmatia, Croatia. One of the oldest towns in Europe, its position at the end of a long, protected bay and next to prime agricultural land has long made it attractive for human settlement. Ancient Greek colonists in the 4th Century BC established the agricultural layout for this plain and and it has been preserved by the careful maintenance of the stone walls that surround it for over 24 centuries. Tonight you have dinner on your own at one of the many lovely little restaurants in Starigrad and then overnight on the MV Maritimo.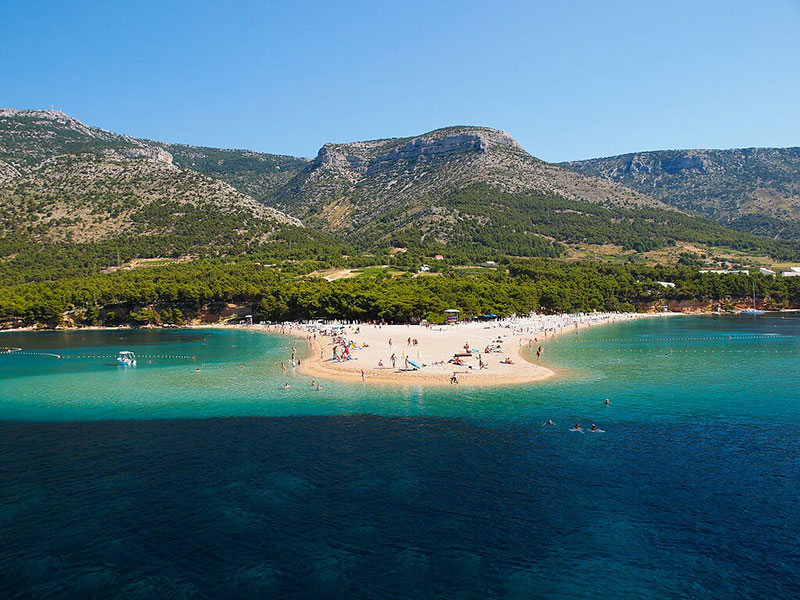 Friday June 26th: SAIL FROM STARIGRAD to BRAC ISLAND,
CONTINUE TO SPLIT
Today we enjoy a beautiful swim on one of the most famous Croatian beaches called THE GOLDEN HORN on the southern coast of the island of Brac, Dalmatia. Located just in front of the small village of Bol, the Golden Horn is surely the most spectacular of Croatia's beaches. Also known as Zlatni Rat, this beach is often selected as one of the 10 best beaches in Europe. Later we will enjoy our special Captain's Farewell dinner and live music onboard the ship as we sail on to Split and overnight onboard.

Saturday June 27th: DISEMBARK in SPLIT
This morning we disembark in Split and we will assist agents in advance to line up optional transfers they will require to go either to the airport or to hotels. With a special thanks to Katarina-Lines for offering us a prime season opportunity to discover beautiful Croatia, we hope you will return to the USA to share the amazing memories we have made and begin planning to return again with your own groups soon!
Agent Rate: $1899
Non Industry Guest Add $150 (based on double occupancy)
Program features:
3 nights on land in 4* accommodation
Welcome dinner in Zagreb
Dinner at Ethno Houses
Captains dinner + live music
Tour Manager throughout land stay
Local sightseeing: Zagreb, Zadar, and Split
National Park Plitvice entrance ticket
City taxes & porterage
Cruise includes:
5 Nt Cruise on Deluxe Superior MV Maritimo
5 days breakfasts and luncheon onboard
Blue Cave Entrance
2 Dinners included on land on two islands
1 Wine Tasting on Vis
1 Captain Farewell Dinner and music onboard
All Taxes and port fee
Tour Manager throughout Cruise
To Book Croatian Riviera Deluxe Yacht and Land FAM…

www.FAMTrips.travel | 888 909 FAMS or 941 322 1800 | Email: info@famtrips.travel