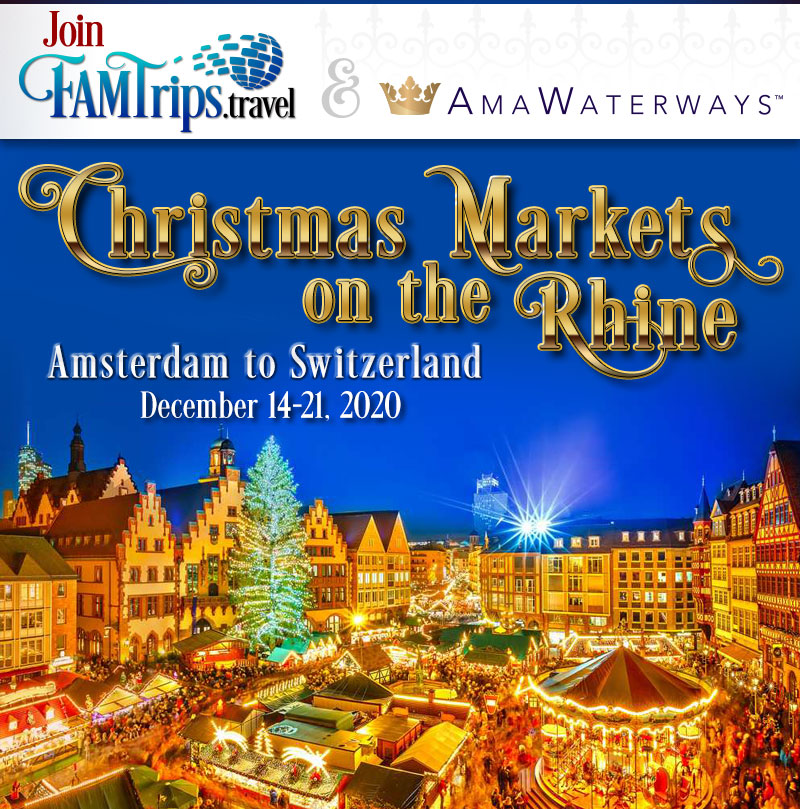 Join FAMTrips.travel and AmaWaterways as we cruise from Amsterdam to Basel on Europe's Rhine River during one of the most magical times of the year. Experience the deep-rooted holiday traditions of Europe at its most festive time of year on AmaWaterways' lovey AmaStella as we sail to amazing ports from the Amsterdam, to Germany, France and Switzerland. Cologne's Christmas Market with its impressive Gothic cathedral backdrop; the "Capital of Noël," Strasbourg, with its magnificent great Christmas tree; and Heidelberg's Christmas Market nestled idyllically amongst the historic squares of the Old Town; are all timeless traditions handed down through the centuries. Cherish all the glory of the holiday season in grand European style as you cruise along the Rhine. With so many lovely choices of tours which are all complimentary and unlimited complimentary wines flowing at lunch and dinner, AmaWaterways offers you an excellent value to cruise in prime holiday season and still make it home to celebrate Christmas. Based upon availability, you may also want to book additional staterooms at our special "Friends and Family" rates so you can bring other guests to enjoy this special holiday cruise with you during this magical season with you in Europe.
If you choose to enjoy the four night post stay leading up to the Christmas holiday, itself, you can two nights in Lucerne and two nights in Zurich with touring included in both amazing cities! It is sure to be an experience of a lifetime where you will enjoy one of the most scenic regions of Europe as you appreciate AmaWaterways' amazing style of holiday hospitality!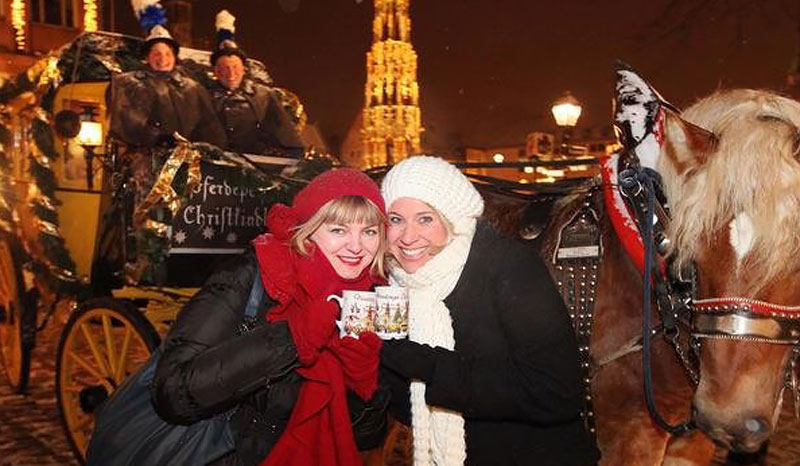 Day 1
ARRIVE IN AMSTERDAM, THE NETHERLANDS – EMBARKATION

Arrive in Amsterdam and board your luxurious river cruise ship, the AmaPrima. Tonight we will enjoy a welcome dinner and meet the wonderful staff. Together we will enjoy a group dinner in the alternate dining room, The Chef's Table so we can meet and greet one another to begin our Christmas Markets on the Rhine cruise itinerary.(D)
Day 2
AMSTERDAM
Begin your discovery of Amsterdam with a scenic canal cruise, followed by a walking tour to the Begijnhof, known for its historic Middle Ages building and concluding with a panoramic city tour that includes the Royal Palace and Westerkerk. Amsterdam is the Netherlands' capital, known for its artistic heritage, elaborate canal system and narrow houses with gabled facades, legacies of the city's 17th-century Golden Age. Its Museum District houses the Van Gogh Museum, works by Rembrandt and Vermeer at the Rijksmuseum, and modern art at the Stedelijk. And of course, it is the home of WW II teenage diarist during the holocaust, Anne Frank. Later in the day, set sail for Germany. (B,L,D)

Day 3
COLOGNE, GERMANY
Enjoy cruising to Cologne, home to one of Germany's most revered Gothic masterpieces, the Cologne Cathedral. Join a guided tour through the enchanting Old Town. Explore the UNESCO-designated cathedral and then visit one of Europe's largest and most renowned Christmas markets located in front of the cathedral. Alternatively, ride a bike along the Rhine and through the historic Stadtgarten; or visit a local tavern to taste Cologne's traditional Kölsch beer and Reibekuchen—potato pancakes served with applesauce. (B,L,D)

Day 4
RHINE GORGE – RÜDESHEIM
Cruise through the castle-laden Rhine River Gorge before reaching the winemaking town of Rüdesheim. Once in Rüdesheim, you will have three choices of morning excursions. Wine connoisseurs will want to go to a wine cellar for a wine tasting. Those who wish to soar high above the vineyards can take a gondola ride to the Niederwalddenkmal Statue. Or, for a more active adventure, join a guided bike tour through the town and along the Rhine River. Later in the day, you have two more options. Visit Siegfried's Mechanical Music Museum, home to a remarkable collection of self-playing musical instruments; or taste one of the town's special delights, Rüdesheimer coffee. You'll also have plenty of time to enjoy Christmas traditions from all over the world at Rüdesheim Christmas market. (B,L,D))

Day 5
LUDWIGSHAFEN
You have the choice to explore two of Germany's historically rich cities, along with their festive Christmas markets. Visit Heidelberg, a city that will capture your heart with its mighty castle and historic university. While here, wander along one of Europe's longest pedestrian shopping streets, the Hauptstrasse, soaking up the Yuletide celebrations at the town's Christmas markets. Or, opt to hike the Philosopher's Path, aptly named during the Romantic Period, and be rewarded with panoramic views of Heidelberg. Alternatively, you can explore one of Germany's oldest cities, Speyer, known for the largest Romanesque cathedral in Europe—a UNESCO World Heritage Site. You'll also have time to visit its Christmas market in front of the "Old Mint" (Alten Münze) in the famous Maximilianstrasse, with a view of the romantic imperial cathedral (Kaiserdom). (B,L,D)

Day 6
STRASBOURG, FRANCE
Strasbourg is even more alluring during the season of Advent. The Christkindelsmärik dates back to 1570, making it the oldest Christmas market in France. Enjoy a panoramic bus tour that takes you past the Parc de l'Orangerie, the European Parliament and the Place de la Republique. Afterwards, walk through the historic town center on the Grande Île, a UNESCO World Heritage Site, and through the lovely "La Petite France" district, where you will see the Cathédrale de Nôtre Dame with its famous astronomical clock and then visit the town's famous Christmas market. You can also choose to explore Strasbourg's different districts by bicycle. During the afternoon, visit Gengenbach Christmas market where every year the locals countdown to Christmas with a 24-day, larger-than-life Advent calendar. (B,L,D)

Day 7
BREISACH, GERMANY

Visit the enchanting Alsatian town of Riquewihr beautifully dressed in her holiday finery with twinkling decorations and a lively Christmas market. On your walking tour, admire historical architecture, as well as famous sights, such as the Dolder Gate. Alternatively, you may wish to go to two other gems. Visit Freiburg, founded in 1120, and home to Freiburg's Münster, a Gothic cathedral constructed of red sandstone, as well as an enchanting Christmas market. Those wishing a more active excursion will want to cycle through the scenic countryside. (B,L,D)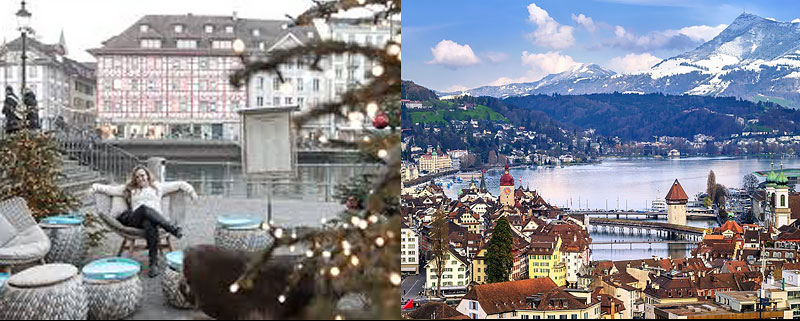 Day 8
BASEL – DISEMBARKATION
Disembark your cruise in Basel. If you have chosen to add the four night post stay in Lucerne and Zurich, you Christmas touring begins now! Enjoy the lovely ambiance of these beautiful cities with the Swiss Alps as your backdrop for the holidays! During your optional post stay, there is such a wonderful variety of touring along with enough free time to take in both wonderful cities! If you love Christmas and chocolates and creative gifts, then a visit to Zürich's indoor Christmas Market is sure to feel like a special holiday treat! The festive Christmas Market held at Zürich's busy Hauptbahnhof Train Station (aka Zürich's Main Station) is one of the largest indoor Christmas markets in Europe. It may be a White Christmas and winter wonderland outside but keep cozy and warm in here — with 150 festively decorated market stalls to get in the yuletide spirit.
But of course, the big showstopper here is the 50 foot Christmas tree decorated with between 5,000-7,000 Swarovski crystals and ornaments. Of course, there are many other ways to celebrate Zürich's holiday season. One of the most popular favorites is strolling down the vibrant and exclusive Bahnhofstrasse. This is Zurich's most tantalizing shopping avenue and it is always at its most stunning when aglow for the holiday! All the while, you are in the company of your wonderful tour manager from AmaWaterways who will be enjoying this special post cruise holiday tour alongside you and your guests.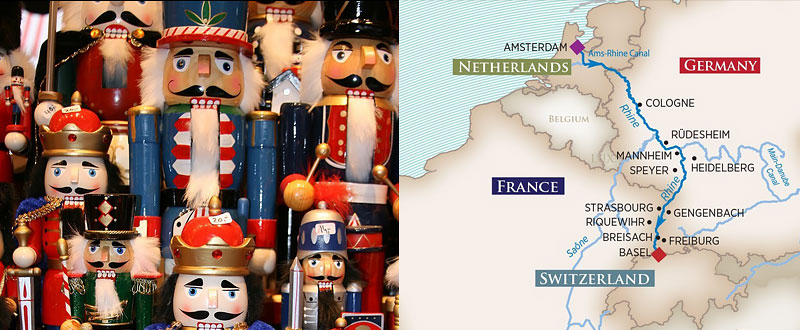 TRAVEL AGENT RATES

Category E (fixed window) $1,495. pp
Category D (fixed window) $1595. pp
Category CB (French balcony) $1,895. pp
Category CA (French balcony) $1995.pp
Category BB (twin balcony) $2095. pp
Category BA (twin balcony) $2,195. pp
Category AB (twin balcony) $2,295. pp
Category AA(twin balcony) $2,395. pp
(These rates are approximately 50% off of retail rates!)
Port taxes are $182 pp
NON Industry Guests in stateroom with agent add $200
Special Friends and Family Guests in Additional Staterooms Add $400 pp to Agent Rate
(These special friends and family staterooms are based upon availability
and are limited, so do NOT delay.)
To Book this FAMTrips.travel
"Christmas Markets on the Rhine" FAM

www.FAMTrips.travel | 888 909 FAMS or 941 322 1800 | Email: info@famtrips.travel