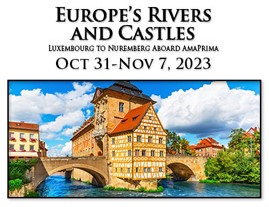 From the meandering Main to the UNESCO- designated Upper Middle Rhine Valley with its multitude of castles dotting its shores to the vineyard-clad hills of the Moselle, enjoy Europe at its most picturesque.
You will board the lovely AmaPrima in Luxembourg, burial site of General George Patton, who made it known he wanted to be buried with his troops during WW II.  Your next day you will sail to Trier Germany's oldest city, renowned for its rich ancient Roman past, and referred to as the "Rome of the North" or "Second Rome" as it has impressive Roman relics and nine UNESCO World Heritage Sites. Later in the day, sail to Bernkastel. Walk through its colorful Old Town center and past many medieval and Renaissance buildings on a guided tour that also includes a winery visit and tasting. On day three, you will tour from Alken to visit Reichsburg castle in fairytale like Cochem and spend your late afternoon and evening in Rudesheim soaking up the views of vineyards as you enjoy a gondola ride above the town and then visit Sigried's Mechanical Music Museum!
Let the storybook villages—Bernkastel, Cochem and Wertheim—captivate you; and Rothenburg, located on the Romantic Road enchant you. Marvel at the world's largest ceiling fresco in the Würzburg Residenz, a UNESCO World Heritage Site; and the beautiful Chagall windows while in Mainz. Savor the many flavors of Germany with a chance to sample the world-famous wines of the Rheingau, the hearty smoked beer of Bamberg and Rüdesheim's famed coffee. Head to Bamberg, which has been referred to as "Franconian Rome" as, like Rome, it was built on seven hills—but in Bamberg, a church graces each one. Bamberg's medieval and Baroque architecture has withstood the test of time and, as such, became a UNESCO World Heritage Site. Your cruise ends in Nuremberg. Although modern studies may focus on this city due to its WW II history, d uring the 15th and 16th centuries, Nuremberg was one of the most artistic, inventive and commercial centers of the world. Great minds converged with an eye towards progress and a long, decorated history as a center of humanism, science, printing and mechanical invention. The Renaissance was an exciting time to be alive, particularly in Germany (then known as the Holy Roman Empire).
All along the way, gain an intimate understanding of the history and culture of the places you visit. You may also want to consider an optional three night post stay in Prague, one of Europe's most fascinating capitals of culture.  During this cruise you will be sailing on the Rhine, Moselle, Main rivers and also through the Main-Danube Canal!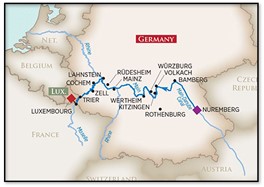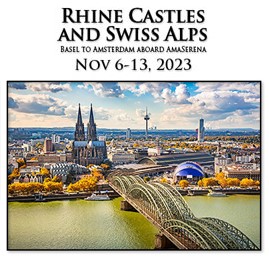 Discover fairytale castles and historic vineyards as part of this spectacular Rhine River cruise fantasy.
After you embark the ship, you will enjoy getting to know Basel, Switzerland's third largest city. Long an important university, banking and trade center, Basel's glorious past is still evident in its medieval town hall, richly decorated market square and exquisite 18th-century patrician homes. On the following day, still in Basel, you can tour the city by foot or on a guided bike tour that takes you through three countries: Switzerland, France and Germany! Alternatively, you might select to go on a full-day excursion to Lake Lucerne, or opt for one of the morning excursions and visit Lake Lucerne in the afternoon! So many amazing choices will be yours each day! Day three brings you to Strasbourg which offers flavors of both France and Germany because of its borderline location. Enjoy a panoramic tour past the stunning Parc de l'Orangerie, the European Parliament and the Place de la République before walking through its iconic La Petite France district, lifted straight from the pages of a fairytale. Your time in Germany is also an amazing adventure. Ludwigshafen is your gateway to a choice of multiple excursions including a visit to Heidelberg, the perfectly preserved medieval city! Alternatively, you can visit one of Germany's oldest cities, Speyer, known for the largest Romanesque cathedral in Europe, a UNESCO world heritage site. In Rudesheim you can join a wine tasting to discover the flavors of the town's iconic vineyards and drink up the stunning views by soaring high above the vineyards with a gondola ride.
As you sail next to Cologne, you surely will want to join a guided tour through the Old Town and explore the UNESCO-designated Cologne Cathedral, one of Germany's most revered Gothic masterpieces. For a different view, visit a local tavern to taste its famous Kölsch beer, only made in Cologne or active adventurists will want to join a guided bike ride along the Rhine and through the historic Stadtgarten. Finally you arrive into fabulous Amsterdam! There are 165 canals in Amsterdam, and you'll get to enjoy some of them on your canal cruise. Alternatively, get a taste of local flavor, passing iconic canals, gabled houses, narrow bridges and house boats while tasting Dutch specialties at one of Amsterdam's grand cafes. You may also want to consider an optional three night pre stay in Italy's own Lake Como.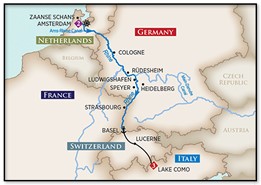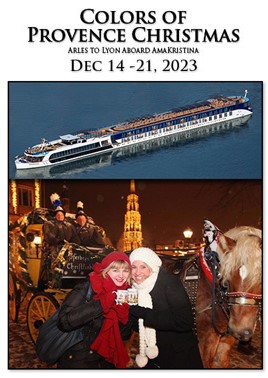 Christmas season in the French countryside with its scattered Christmas markets and pre holiday festivities will be a memory of a lifetime!
Enjoy AmaWaterways flagship, the AmaKristina for a week of holiday cheer. Your cruise begins in Arles, France and ends in Lyon. Considered one of the most beautiful cities in France, Arles enchants all with its tantalizing history, formerly a Roman center of trade. The following day you visit Avignon, aptly named the "City of Popes," and formerly the center of the Catholic Church in the 14th century when its "Palais des Papes" was the equivalent of today's Vatican. From Viviers, you can also go in search of the highly prized "Black Diamond" truffles with a farmer and his trustworthy canine companion! In Tournon, lovers of wine and chocolate will want to visit Le Château de Tournon for a presentation and tasting on the pairing of red wine and chocolate.
Your cruise continues to Vienne situated between the wine regions of Beaujolais and Côtes du Rhône lies Vienne with a Roman past that can be seen in its marvelously preserved ruins. Follow the footsteps of the ancient Romans on a walking tour to see the amazingly well-preserved Augustus and Livia Temple, the Saint Maurice Cathedral, a Gothic church that took more than 500 years to build! Later in the day travel to Lyon, considered the "Food Capital of France." Take a walking tour that starts in Fourvière Hill, part of the city's historic region that is now a designated UNESCO World Heritage Site and home to the 19th-century basilica Notre-Dame de Fourvière. There are so many alternative tours you may choose from in each port, depending on your personal interests in the region and they cater to all levels of physical activity! Also enjoy complimentary lovely local wines and beer during your lunches and dinners on the ship. You may elect to book optional pre nights in Barcelona, Spain and optional post nights in Paris, France, as well. Prices will be quoted upon request.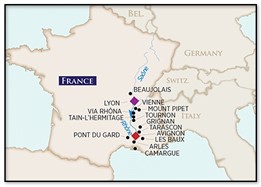 Agents Rates for All Cruise Fam Departures based on Double Occupancy:
Cat E: $975
Cat D: $1124.50
Cat CB:$1374.50
Cat CA/C: $1524.50
Cat BB: $1824.50
Cat BA: $1924.50
Cat AB: $2024.50
Cat AA: $2124.50
Port tax is $210 pp.
One Guest Pays Same Rate as the Agent!
www.FAMTrips.travel | 888 909 FAMS or 941 322 1800 | Email: info@famtrips.travel