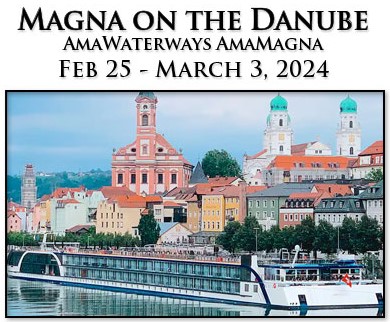 Cruise from Vilshofen to Budapest on the amazing AmaMagna, one of the flagships in design excellence of AmaWaterways! From the fabulous elegance of Vienna to the medieval masterpieces of villages such as magical Salzburg and Cesky Kromlov, your discovery of European beauty is nonstop! Indulge your passion for awe-inspiring architecture, timeless music, breathtaking landscapes and culinary delights on this beautifully curated itinerary specifically designed for the AmaMagna. Apricot brandy and chocolate tasting in Dürnstein and an exclusive wine festival in Spitz are only a few of the epicurean experiences you'll indulge in. Vienna, home to a treasure trove of Baroque splendors, including its grand Schönbrunn Palace, gives you a glimpse into bygone grandeur; while Budapest and Bratislava offer a vibrant mix of east and west. With plenty of daytime scenic sailing, you'll be able to enjoy the extraordinary AmaMagna to its fullest. AmaMagna offers you a wonderful choice of dining pleasure from the Al Fresco Restaurant with its refreshing outdoor space and vegetable-forward menu, as well as Jimmy's, a family-style restaurant, in addition to The Chef's Table and main dining room, all included in the price of your cruise!
You may elect to stay a few nights in Munich prior to embarkation in Vilshofen, and then you set sail to Passau and Linz, Germany, to appreciate a great selection of tours including options for full days touring to Salzburg and Cesky Krumlov. Then you will sail off to Melk with it fabulous Abbey, Durnstein and Vienna, one of the most impressive of European cities and also including tours to Vienna's Schönbrunn Palace. Your cruise ends in Budapest, a city that offers an unmatched combination of culture and tradition. Visit the Great Market Hall before going to both the Buda (hilly) and the Pest (flat) sides of the river. Budapest is also known for its world-renowned spas, you might want to stay for a few post cruise days to enjoy a rejuvenating old world spa experience!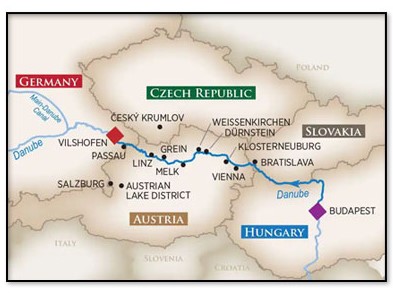 Price per Agent and Guest:
Cat E: $1190 PP plus port tax $210 PP
Cat D: $1540.00 PP plus port tax
Cat AB: $2340.00 PP plus port tax (252 sq ft)
Cat AA: $2440.00 PP plus port tax  ( 252 sq ft)
Suite Cat SB: 2640.00 PP plus port tax ( 355 sq ft)
Suite Cat SA $2940.00 PP plus port tax (355 sq ft)
These Rates are approximately 50% OFF of retail rates in each category!
Single pricing is a 50% single supplement of the pricing in whichever category you choose.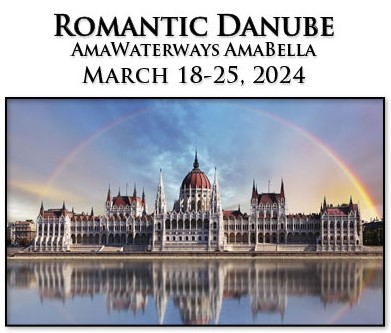 Join us onboard the AmaWaterways, AmaBella to experience the Romantic Danube beginning in Vilshofen and ending in Budapest. You may also elect to spend a few pre cruise nights in Munich and a few fabulous post cruise nights in Prague, one of Europe's former Capitols of Culture! Those longing for the romance of Old World Europe will get to travel into the very heart of the continent, where empires were built, kings and queens were crowned and some of the world's greatest music was composed and performed by the likes of Mozart and Beethoven. Grand European cities included in this itinerary are Vienna, Bratislava and Budapest, each of which surely remain forever timeless. Admire the beauty of Salzburg and the Czech Republic's charming mountain town, Ceský Krumlov. From grand abbeys and fortresses perched high above the Danube to plentiful iconic UNESCO World Heritage Sites, be romanced by the Danube with all her regal and romantic splendor.
On all of AmaWaterways cruises, you will enjoy an extensive lineup of complimentary tours. In many cases, you can do more than one in a day if you like! Tours are also organized for various levels of activity so that some guests may want a more "gentle waking" approach, while others are looking for more adventure. Also included in all voyages are lovely complimentary choices of wines and local beers with lunch and dinner each day. The Chef's Table Alternative Dining Room is also a wonderful epicurean adventure all of its own! Offering a unique menu separate from the main dining room, and with cocktail and wine parings, it is a lovely treat for you and your guests. No matter your preference, your days will be full of discovery and wonder.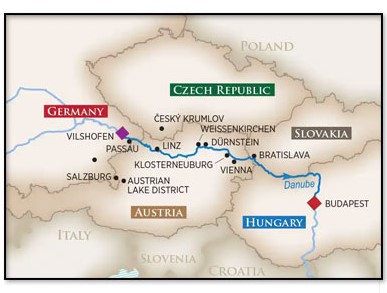 Cat E:  $975 PP plus port tax of $210 PP
Cat D: $1124.50 PP plus port tax
Cat C: $1624.50 PP plus port tax ( French Balcony)
Cat BB: $1924.50 PP plus port tax ( Twin Balcony)
Cat BA: $2024.50 PP plus port tax  ( Twin Balcony)
Cat AB: $2124.50 PP plus port tax (Twin Balcony)
Cat AA: $2224.50 PP plus port tax  (Twin Balcony)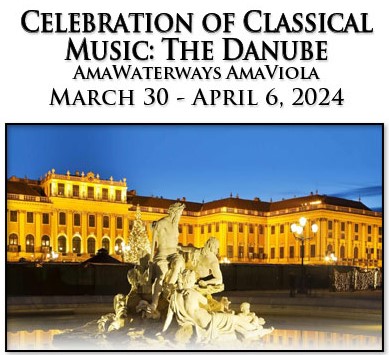 Join FAMTrips.travel and AmaWaterawys to celebrate the amazing history of Classical Music's inspirational beginnings. From Strauss's The Blue Danube to Mozart's Linz Symphony, the Danube River has inspired countless musicians throughout the centuries. Their famous melodies are carried on the river's current, which you'll follow through some of the most spectacular capitals – Budapest, Hungary; Bratislava, Slovakia; and Vienna, Austria – where they lived, composed and performed, as well as to cities such as Salzburg, Austria, where Mozart was born. Along the way, you will be treated to a variety of live performances by renowned musicians that are sure to fill your heart with love for the Danube throughout the ages. Whether you are a musician yourself, a classical music connoisseur or simply a discerning traveler seeking a nuanced and immersive experience, let the Danube River be your melodious muse on this incredible classical music themed journey.
During your cruise, there will be unique tours including those such as the Composers Walking Tour in Vienna and the Budapest Opera House with Recital.
Of course AmaWaterways always includes many wonderful complimentary tours in each city along the way, with different levels of walking comfort in mind during any walking sections of the tour. And their biking tours are a great source of activity, too. Agents and their guests can also add 3 pre nights in Prague which would include your transfer over to Vienna! And if you really want to indulge your historical European experience, you can add three post cruise nights in Krakow.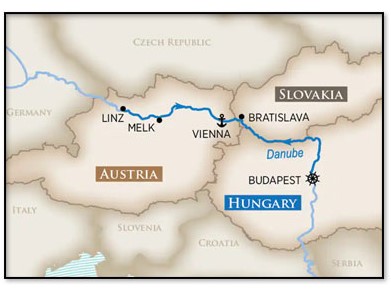 Cat E:  $975 PP plus port tax of $210 PP
Cat D: $1124.50 PP plus port tax
Cat CB: $1324.50 plus port tax ( French Balcony)
Cat CA: $1624.50 PP plus port tax ( French Balcony)
Cat BB: $1924.50 PP plus port tax ( Twin Balcony)
Cat BA: $2024.50 PP plus port tax  ( Twin Balcony)
Cat AB: $2124.50 PP plus port tax (Twin Balcony)
Cat AA: $2224.50 PP plus port tax  (Twin Balcony)