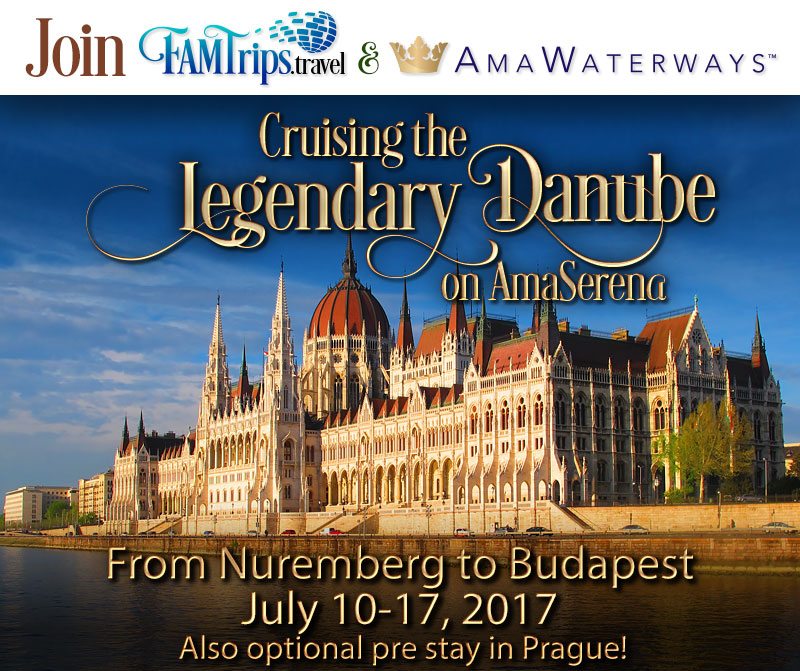 Join FAMTrips.travel and discover why AmaWaterways has become the most acclaimed river cruise line in Europe. You may also elect to arrive early into Prague and enjoy an optional 3 day stay in one of Europe's most breathtaking cities, Prague. If you arrive in Prague on July 7 for the pre stay in Prague, you will meet up with the rest of the FAMTrips.travel agent group in Nuremberg on July 10. During the 7 day "Legendary Danube" cruise, we celebrate the beauty and history of the Danube, one of Europe's most fabled rivers, as we cruise from Nuremberg through the Main-Danube Canal across the Continental Divide. We will visit centuries-old towns and marvel at the beautiful vistas slowly gliding past. We enter Austria and cruise through the lush Wachau wine region, a UNESCO World Heritage Site. After visiting and touring several other unique Hungarian, German and Austrian cities, we conclude our European river cruise vacation with visits to two fabulous grand capitals, Vienna and Budapest, both which are cities that will leave you breathless! You will experience the best sites of Austria, Germany and Hungary during this 7 night itinerary. Discover the excellence of AmaWaterways with its highly regarded personal service from their award winning staff, their cuisine of highest quality, and wonderful inclusions of so many offered tours and lovely choices of complimentary local wines and beer during your dining hours each day.
Optional Pre Tour in Prague: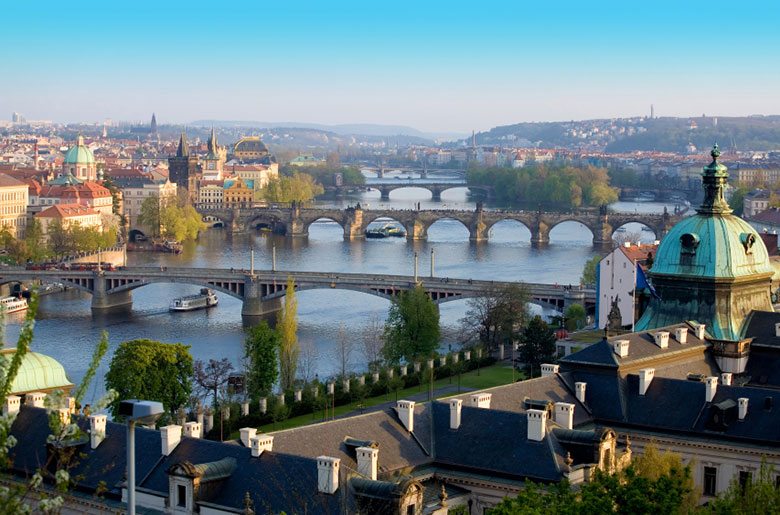 Arrive in Prague July 7 for three nights. Prague is considered one of Europe's most astounding cities, with a historic city center that is a recognized UNESCO World Heritage Site. As you tour on your 2nd day in Prague, you will see Rudolfinum, the National Museum, Wenceslas Square and the Hundertwasser Dancing House. Next, visit the 1,000 year-old Prague Castle and St. Vitus before walking over the romantic Charles Bridge to the Old Market Square, where you will find the capital's famous Astronomical Clock, Tyn Church and the statue of Jan Husek. The rest of the day is at your leisure, perhaps to enjoy yourself in one of the city's many charming cafés. You will have your next day at leisure to enjoy Prague on your own. On July 10, as you travel to Nuremberg to board the AmaSerena, you will enjoy a stop in Pilzen, a city perhaps best known for producing Pilsner beer, a pale gold-hued Bavarian style lager. After a walking tour of local highlights, like the Brewery Museum and Republic Square, enjoy a scenic drive through the pastoral countryside to Nuremberg where you will embark your ship.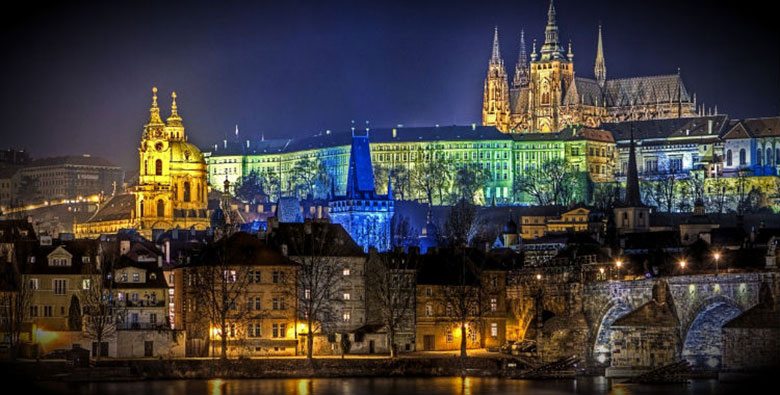 DAY 1: JULY 10
For those just arriving into Nuremberg, you will meet your fellow passengers onboard the lovely AMA Serena and enjoy a special welcome by the entire staff as they introduce you to their team and serve you a special welcome dinner.

DAY 2: JULY 11
Nuremberg. You have two included excursions today. Take a tour of the city's medieval highlights, including Nuremberg Castle, the 900-year-old ramparts surrounding the city, Town Hall, Notre Dame and the house of artist Albrecht Dürer, or join a WWII tour and see the Coliseum, Nazi Parade Ground and Justice Palace. Later, the ship cruises the Main-Danube Canal to Regensburg. Tonight we are excited to greet the FAMTrips.travel group as you meet for a private dinner in AmaWaterways signature private dining room, The Chef's Table.

DAY 3: JULY 12
Regensburg. This morning's scenic cruising brings you into the final stretch of the Main-Danube Canal en route to Regensburg, one of Germany's best preserved medieval cities. A guided walking tour will show you the city's architectural highlights, including the Old Town Hall and the Porta Praetoria, the gates to an ancient Roman fort built in 179 A.D.

DAY 4: JULY 13
Passau and Linz, Austria. After breakfast, we arrive in picturesque Passau, where the Inn and Ilz rivers flow into the Danube. You will have a choice of a walking tour of Passau's Old Town, past the old city fortifications, Rathaus, Domplatz and Residenzplatz squares, as well as St. Stephen's Cathedral, or more active guests may join either a guided bike tour along the Danube from Passau to Erlau or a guided hike up to the Veste Oberhaus fortress overlooking Passau. Return to the ship this afternoon for a scenic cruise to Linz, Austria's third largest city and a major river port. This evening after dinner you might stroll and explore some of the oldest streets of the city while taking in some of the architecture that takes you through the last eight centuries!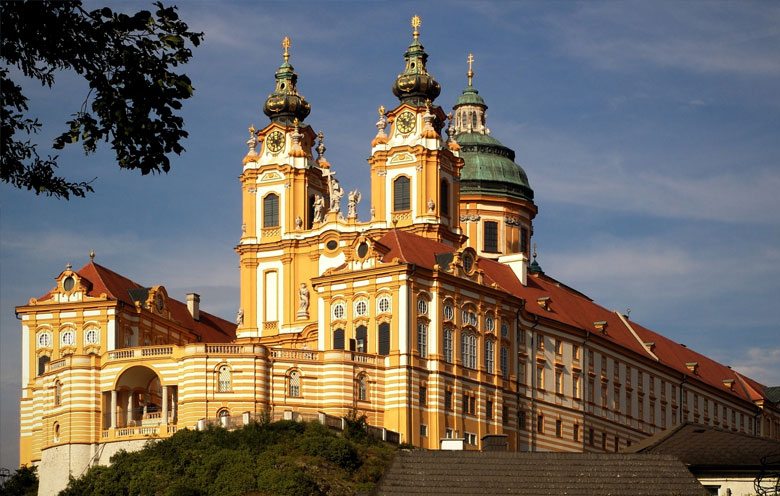 DAY 5: JULY 14
Melk-Vienna, Austria. Early this morning, we cruise to Melk. You have a choice between a guided tour of Melk's magnificent Benedictine Abbey, a UNESCO World Heritage Site and one of Europe's largest and most revered monasteries, or a guided bike tour along the Danube. FAMTrips.travel president, Gary Fee enjoyed this same scenic ride on his 60th birthday just a few years ago! AMA's touring bikes are super comfortable to enjoy riding through the countryside and they offer you a whole new perspective to touring Europe! Return to the ship for lunch before cruising on through the scenic Wachau Valley. We arrive in Vienna around dinner time, and then after dinner, you can explore the magnificent Austrian capital on your own this evening or with others from the ship! You might follow friends up a few blocks into town and enjoy a lively pub district or stroll a few blocks further past the Habsburg Palace and the Royal Spanish Riding School to peek in at the Lipizzaner stallions resting in their elegant stalls!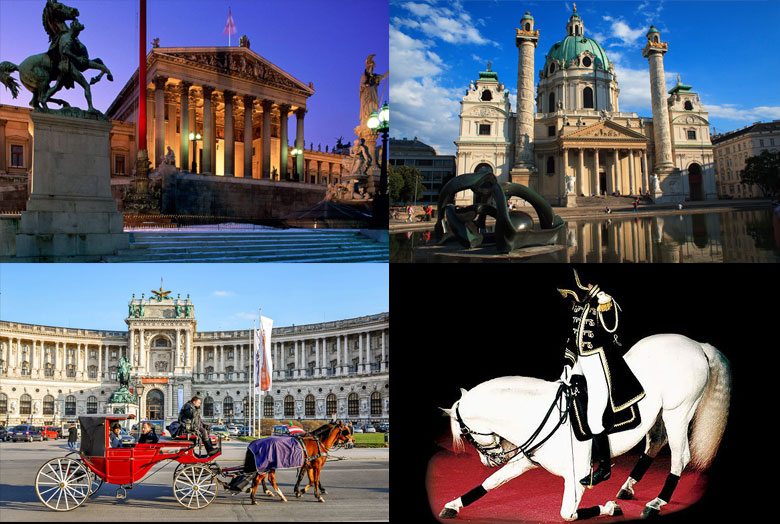 DAY 6: JULY 15
This morning you will have a chance to savor the Baroque elegance of romantic Vienna through your choice of one of three different excursions. The first option is a panoramic tour of Vienna that guides you past the majestic Opera House, the former Imperial Palace of the Habsburg Emperors, Parliament, Town Hall and Vienna University. Afterwards, you will visit Vienna's historic city center, a UNESCO World Heritage Site, and see St. Stephen's Cathedral, Graben and the world famous Spanish Riding School. The second option is a walking tour of Vienna's hidden treasures that takes you to secret places and sights like Ankeruhr, a whimsical Art Nouveau clock. Your third option is a guided bike tour along the Danube and through the Donaupark. This afternoon, you can also join a guided bike ride to Klosterneuburg Monastery, or explore at your leisure. Be sure to sample some Viennese coffee and pastries!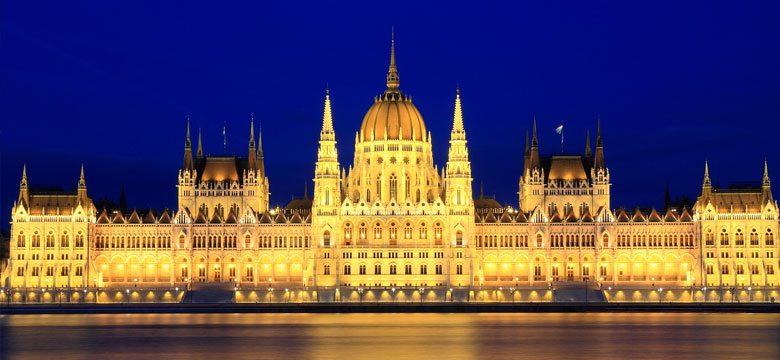 DAY 7: JULY 16
Budapest. Our morning excursion includes sightseeing in the cities of Buda and Pest spread over both banks of the river. You will see famed Heroes' Square and Castle Hill, home to Fisherman's Bastion, Matthias Church and spectacular views of the Danube. After dinner, the ship will sail a special Illuminations Cruise past the city's glittering riverfront. Budapest is cited as one of the most beautiful cities in Europe, ranked also as "the world's second best city" by Condé Nast Traveler, and "Europe's 7th most idyllic place to live" by Forbes. Many spas in Budapest are quite renown as the city has around 80 geothermal springs and the world's largest thermal water cave system. It also has the second largest synagogue, and third largest Parliament building which is truly one of the most beautiful architectural sites in this magnificent European city and beyond!
DAY 8: JULY 17

Disembark in Budapest. You may bid farewell to your AMA friends who will feel like family by now! Or you may elect to stay onboard for our 2nd cruise from Budapest to Vilshofen! This 2nd week's itinerary is known as the "Melodies of the Danube." Although it shares a few of the same ports of call as our previous week, the excursions in each city are quite different from those you experienced during the "Legendary Danube cruise" if you choose to continue to Vilshofen. To read the day to day itinerary for week two, Melodies of the Danube, you can click the link below to take you to that cruise as well. But first, do not delay in clicking on "BOOK FAM BUTTON" below to book this wonderful "Legendary Danube" itinerary while it is still available!
SPECIAL AGENT RATES
Agent Rates for "Melodies of the Danube":
(One guest in your stateroom pays same rate)
Category C French Balcony pp $1595
Category BB TWIN Balcony pp $1795
(Twin balcony staterooms have full Outdoor Balcony plus French balcony, too!)
Category BA TWIN Balcony pp $1895
Category AB TWIN Balcony pp $1995
Category AA TWIN Balcony pp $2095
Port Taxes are $168 pp additional
• This is more than 50% discount off of the lowest rate available!
Special Friends and Family Rate
(For additional guest staterooms on the same cruise as long as agent is also booked through FAMTrips.travel)
Category C French Balcony pp $1995
Category BB TWIN Balcony pp $2095
Category BA TWIN Balcony pp $2195
Category AB TWIN Balcony pp $2295
Category AA TWIN Balcony pp $2395
Port taxes $168 pp additional
• This is an approximate savings of $1800 per person for Friends and Family to join you!
To BOOK this LEGENDARY DANUBE Itinerary,
click on the first button below.
You can also check out the day to day itinerary for the 2nd week, MELODIES OF THE DANUBE voyage, July 17-24, which FAMTrips.travel is also hosting an agent group, by clicking on the second button below labeled "MELODIES of the DANUBE".
You may combine the two cruises into a 14 day adventure by completing BOTH applications!
After you are confirmed to attend either of these two FAMTrips.travel fams, then you are eligible to book additional friends and family rate for added staterooms by contacting FAMTrips.travel at 941 322 1800 or email melody@famtrips.travel
To Book this FAMTrips.travel Legendary Danube FAM…


www.FAMTrips.travel | 888 909 FAMS or 941 322 1800 | Email: info@famtrips.travel