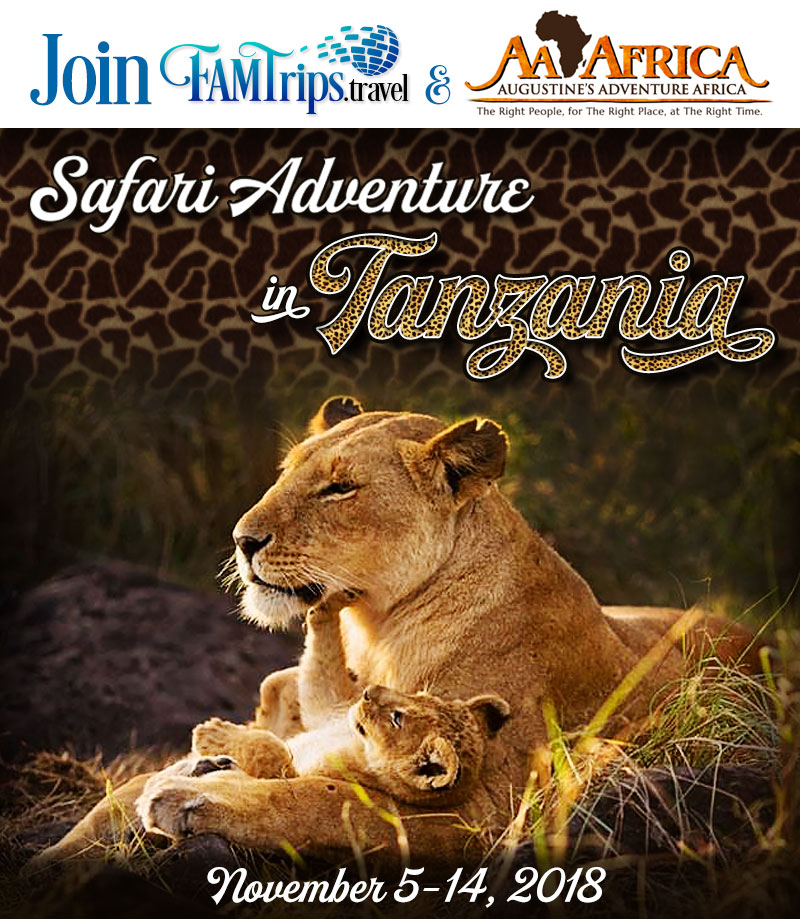 Join FAMTrips.travel and AAAfrica as we take you along on our first Tanzania
fam trip ever!

Discover quintessential African landscapes when you explore Tanzania, the perfect East African destination for any traveler with an open mind and heart whose desire is to experience wildlife and culture, past and present. A relaxed attitude combined with the best wildlife spotting on the continent is within affordable reach. This FAMTrip hits the incredible spots in Lake Manyara National Park, Serengeti National Park and Ngorongoro Crater. You will be also able to inspect some excellent lodges and camps.
Join the experts of AAAfrica and Famtrips.travel for unforgettable adventure! Leading our way will be the managing director of AAAfrica, Augustine Minja whose 21 years experience as Naturalist and Tour Leader, guiding and leading safaris in East Africa will be a wonderful asset to our safari group!
Day By Day Itinerary


Day 1: Nov 5
Kilimanjaro International Airport/Arusha Kibo Palace Hotel (or similar)

Agents arrive at Kilimanjaro International airport and you will be met by our driver guides and Tour Leader and be transferred to Arusha for Overnight at Kibo Palace Hotel-Bed & Breakfast  (www.kibopalacehotel.com)


Day 2: Nov 6
Lake Manyara National Park/Karatu Simba Lodge

After breakfast, you will be driven two and a half hours to Lake Manyara National Park for an afternoon game drive with picnic lunch. Lake Manyara National Park is nestled on the basin of the Great Rift Valley. This small national park has 7 distinct habitats which are home to many forms of wildlife. You will be able to see three kinds of small primates, baboons, black-faced monkey and blue monkey, Impalas, giraffes, cape buffalos, dik diks, elephants, waterbuck, bushbuck , zebras, and wildebeest.
One of the highlights of this game drive will be the fabulous hippo pool where at least a hundred hippos socialize. You will be allowed to get out of your vehicle to take close up photographs of hippos surrounded with different kinds of water birds like pelicans, storks, ibis etc. In a distance you will also be able to see thousands of flamingos in Lake Manyara. After your picnic lunch you will be driven to Lake Manyara Serena Lodge for a brief site inspection before you proceed to your lodge (45 minute drive) where you shall check in and get a short rest before dinner. Dinner and overnight Karatu Simba Lodge or similar-full board. (www.simbaportfolio.com).
(B/L/D)


Day 3: Nov 7
Tloma Village Cultural Activities/Karatu Simba Lodge

After breakfast you will participate in a village walk at Tloma Village to see and experience different activities of the local Iraqw tribe. This will include visiting a school, Makonde Tribe Carving Centre, a church, a local coffee grinding place and more. Lunch is included before you take part in a site inspection of Kitela Lodge, Tloma Mountain Lodge and Gibbs Farm. Late afternoon you will return to your lodge.Dinner and overnight Karatu Simba Lodge. (www.simbaportfolio.com)
(B/L/D)

Day 4: Nov 8
Serengeti National Park/Serengeti Simba Lodge
After breakfast you shall be driven four hours to Serengeti National Park entrance gate where you will enjoy your picnic lunch before beginning your afternoon game drive en route to Central Serengeti. To the Masai tribe, Serengeti means – "the place where land moves on forever." Today, the Serengeti Ecosystem protects the greatest and most varied collection of terrestrial wildlife on earth, and one of the last great migratory systems is still intact. If you are lucky, you may see part of the migrating wildebeest.
Dinner and Overnight Serengeti Simba Lodge- Full board. (www.simbaportfolio.com).
(B/L/D)

Day 5: Nov 9
Serengeti National Park/Serengeti Simba Lodge
Today you will explore Serengeti even more while taking part in another game drive including a picnic lunch. You will be spend part of the day doing game viewing around Seronera Valley which is home to many varieties of game animals and bird life. Here you may experience the amazing siting of the elusive predators such as leopards and cheetahs. Their prey, giraffe, topi, Bohor reedbuck, Defassa waterbuck, buffalo and impala will also be seen grazing and browsing in different game circuits. The impressive giant rock outcrops (Kopjes) host hyraxes, dwarf mongooses, red-headed agamas, and other creatures can also be observed here. During this day you will also do site inspection of Kubu Kubu Tented Lodge, Thorn Tree, and Serengeti Serena Lodge. Dinner and Overnight again at Serengeti Simba Lodge- Full board. (www.simbaportfolio.com)
(B/L/D)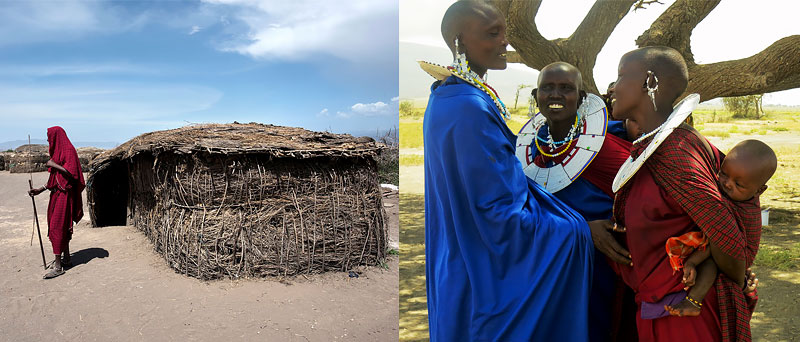 Day 6: Nov 10
Ndutu Plains/Marera Valley Lodge Karatu
After breakfast, you will do a game drive en route to Ndutu plains in South East Serengeti with picnic lunch, as well as additional site inspections of Lake Ndutu Luxury Tented Lodge and Ndutu Lodge. After these inspections, you will be driven towards Ngorongoro where you will visit the traditional Maasai Village.
This is where different Maasai families live with their livestock. The visit to this village will give our group an opportunity to learn the lifestyle of Maasai people including their culture and tradition. Following this visit you will proceed to your Lodge in Karatu, and on the way you will do a quick stop at Ngorongoro Serena Lodge for a site inspection, as well. Dinner and overnight Marera Valley Lodge Karatu-Full board.
(B/L/D)

Day 7: Nov 11
Ngorongoro Crater /Marera Valley Lodge

After an early breakfast you shall be driven for 1.45 hours to the Ngorongoro Crater for a full-day game drive with picnic lunch. Ngorongoro is technically a caldera which is an extinct volcano and the largest intact and unbroken caldera in the world. The cone is believed to have collapsed into itself nearly two million years ago, and while the cone was standing, it could have been as tall, if not taller, than Mount Kilimanjaro. The crater is a microcosm of African scenery with abundant wildlife of more than 20, 000 larger animals. This area offers an outstanding opportunity to see the rare black rhinos, as they are protected around the clock.
Over the years, the floor of this crater has become mostly savannah (grassland), with a soda lake whose size changes depending on the rains that are the lifeline of this amazing land. On this lake, marvel at the colorful flamingos and a variety of other water fowl. Resident species such as Ostriches, Crowned Cranes, and Kori Bustards are joined seasonally by migrant flocks of White and Abdim's Storks. Patience may also reward you with glimpses of cheetah, hyena, jackal, elephant, warthog, buffalo, hartebeest, eland and many other antelopes. Your wildlife viewing will be dramatic, and the experience memorable. Today you will inspect Ngorongoro Crater Lodge in the morning and Ngorongoro Sopa Lodge in the late afternoon. Dinner and overnight Marera Valley Lodge-Full board.
(B/L/D)

Day 8: Nov 12
Morning Inspections of Lodges in Karatu Area/Tarangire Simba Lodge
After breakfast you will inspect Ngorongoro Farm House Valley, the manor at Ngorongoro as well as Acacia Farm Lodge and Oldean Mountain Lodge. After Lunch you will be driven two and a half hours to Tarangire Simba Lodge. Dinner and overnight Tarangire Simba Lodge-Full board. (www.simbaportfolio.com)
(B/L/D)

Day 9: Nov 13
Tarangire National Park/Tarangire Simba Lodge

Wake up feeling refreshed and eager to begin your safari adventure as you drive to Tarangire National Park after breakfast. Tarangire National Park is the third largest national park in Tanzania. The feeling that this is a special, almost magical place strikes you as soon as you enter Tarangire, and you witness your first baobab tree. Here the gently rolling countryside is dotted with these majestic trees, which seem to dwarf the varieties of animals that feed beneath them. This stretch of Africa is spectacular in the dry season when many of the migratory wildlife species come back to the permanent waters of Tarangire River. Huge herds of wildebeest, zebra and eland gather to stay in Tarangire until the onset of the rains when they migrate again to good grazing areas. For those who love birds, Tarangire has over 300 bird species. But in addition to all those magnificent trees, birds and beasts, Tarangire is superlative for another reason—elephants. You will inspect Tarangire Sopa Lodge in the mid morning and Sangaiwe Tented Lodge during late afternoon. Dinner and overnight Tarangire Simba Lodge-Full board. (www.simbaportfolio.com)
(B/L/D)

Day 10: Nov 14
Inspecting Hotels in Arusha / Kilimanjaro International Airport

After breakfast you will be driven back to Arusha and on the way you will inspect Maramboi Tented Lodge. In Arusha, you will have lunch at Arusha Coffee Lodge and then do inspection of African Tulip Hotel and Kibo Palace Hotel where you will also have a dayroom to freshen up before you are transferred to Kilimanjaro International Airport for your flight back home.
(B/L)
INCLUSIONS:
A Full board Accommodation (breakfast, Lunch, Dinner except day 1 is bed & breakfast and on day 10, dinner is on your own.
All wildlife viewing shall be in 4WD Toyota Land cruisers with pop up roof, driven by Professional English speaking driver guide, a maximum of 6 pax for vehicle.
Professional Naturalist and owner of AA Africa shall lead the group.
Flying Doctors enrollment fees.
Complimentary bottled water in vehicles during safari.
All park entry fees, Crater service fees and fees for all shown cultural visits except where shown otherwise.
Two shared transfers, one arrival and one departure, as shown in the itinerary.
EXCLUSIONS:
Round trip international air transportation.
Local and foreign airport taxes.
Passport and visa fees.
Gratuities to driver Guides.
Gratuities to Local Guides taking you for village walks, Nature walks.
Tips to Hotel Porters and Food Waiters.
Excess baggage charges levied by airlines.
Soft and Alcoholic drinks.
Laundry and other items of personal nature.
Personal and baggage insurance.
Cost for anything not specifically mentioned in the inclusion listing above.
Cost of FAM:
Agent Rate: $2150.00 based on double occupancy
Non Industry Guest Add $400 pp
To Book this FAMTrips.travel Tanzania FAM…

www.FAMTrips.travel | 888 909 FAMS or 941 322 1800 | Email: info@famtrips.travel