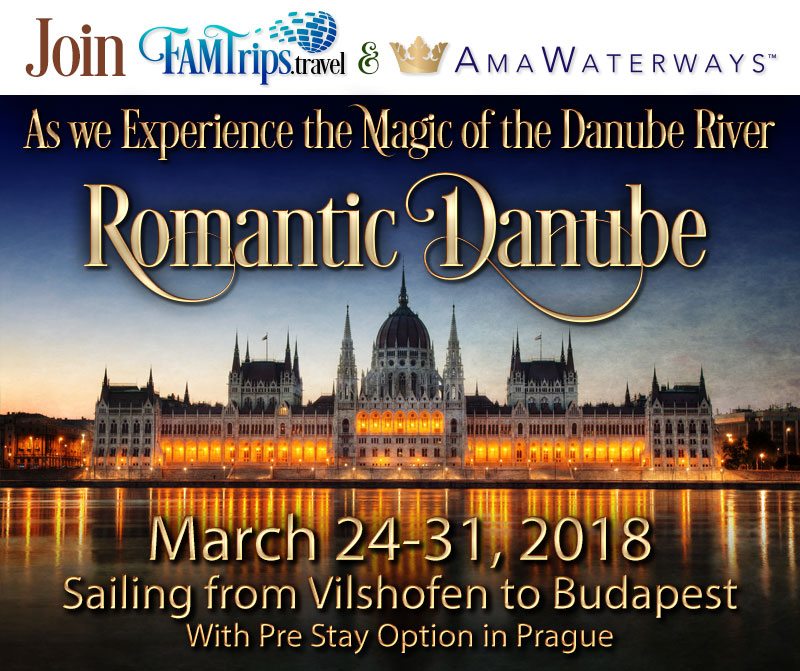 Join FAMTrips.travel and AmaWaterways as we travel on the beautiful Danube through four European countries, Austria, Germany, Hungary and Slovakia. Together we will experience the sights and sounds that have long inspired musicians, poets and artists. Begin your cruise in Vilshofen, continuing on to Linz, Passau, amazing Vienna, Bratislava, Durnstein, Melk and ending in spectacular Budapest! Cruise through the scenic wine-growing region of the Wachau Valley, and explore charming medieval towns and many UNESCO World Heritage Sites throughout the week! This cruise can be combined with the following week also, still on the same ship, AmaWaterways AmaCerto, during which FAMTrips.travel is also hosting an additional agent group on the same ship. The 2nd itinerary ( the week following the one below) is called Blue Danube Discovery itinerary, and it sails one week later on March 31 from Budapest to Nuremberg, arriving there on April 7. Although a few of the port cities repeat on the 2nd voyage, (Blue Danube Discovery) it is still a unique and different voyage because it also includes a few different ports and also you can elect to take so many UNESCO World Heritage Site shore excursions that are also offered from Budapest to Nuremberg on the 2nd voyage. You may also add an optional Pre stay for either cruise, or a post stay option for the 2nd itinerary. You can find the 2nd itinerary that follows the one below, by going to our website, www.FAMTrips.com

Agents can also book additional staterooms for friends, family or group leaders who you want to experience an AmaWaterways river cruise, through FAMTrips.travel at a special discounted "FRIENDS AND FAMILY RATE" on either itinerary which will allow you to bring other friends, family or clients such as group leaders at a very special price in a separate stateroom.
ITINERARY
DAY 1: Vilshofen
If you elected to add the three day optional Pre Stay in Prague, you will transfer today from Prague to the AmaCerto in Vilshofen. This afternoon, enjoy a private "Oktoberfest"afternoon in Vilshofen as you are welcomed onboard the love AmaCerto. This evening, meet your fellow passengers for a welcome dinner as you enjoy the evening in port.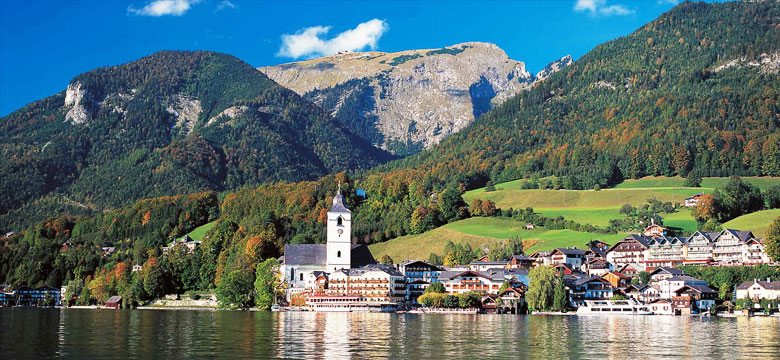 DAY 2 Vilshofen and Passau
This morning you are free to explore Vilshofen's beautiful old town before cruising to Passau. This afternoon you will have a walking tour of this 2000 year-old city, noted for its Gothic and Italian Baroque architecture, cobblestone streets, popular Rathaus, Bomplatz and Residenzplatz squares, as well as St Stephen's Cathedral.

DAY 3: Linz and afternoon UNESCO World Heritage Tours
From Linz you will experience some of the most breathtaking tours of this cruise today! You have the morning to explore Linz on foot or by touring bike and enjoy the Old City Center our bike down the Danube riverside. After lunch, you will be invited to choose of of three amazing excursions. Check out the Austrian Lake District, or tour the wonderful medieval Czech town of Cesky Krumlov, or visit Mozart's birthplace, the amazing city of Salzburg, also made famous by "Sound of Music!"
All three regions are UNESCO World Heritage Sites and each tour is just more beautiful than the one before!

DAY 4: Weissenkirchen and Durnstein
This morning you cruise en route to Weissenkirchen and Durnstein and have several choices as to how to enjoy your afternoon there! You might enjoy a afternoon walking tour and also experience the magnificent Benedictine Abbey at Melk, one of Europe's most famous Monastic sites. Alternatively you mya join a hike up to the fortress where Richard the Lionheart was once held for ransom, or you may simply enjoy a special "foodie" tour to sample some of the local sweets . Tonight after dinner we enjoy a wine tasting at a local winery.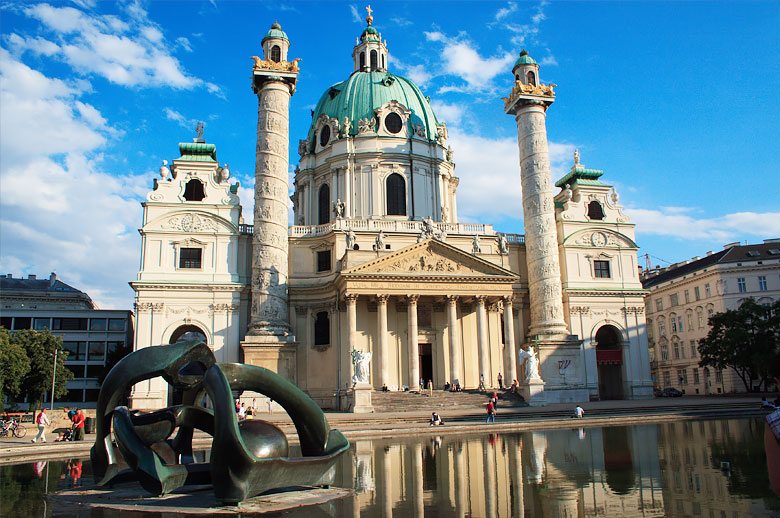 DAY 5: Vienna
Today you will explore and fall in love with romantic Vienna! You may choose to take a panoramic tour of the city that guides you past off of its majesitic sites including the Opera House and the former Imperial Palace of the Habsburg Emperors and its Royal Spanish Riding School where the famous Lipizzaner stallions still perform today! You will also see Parliament, Town Hall and Vienna University and visit Vienna's historic city center, a UNESCO World Heritage Site. Your second option is a guided bike tour along the Danube and through the Donaupark. This afternoon, you can also join a bike tour to Kloserneuburg Monastery or explore Vienna on your own. Do not miss the Viennese coffee and pastries!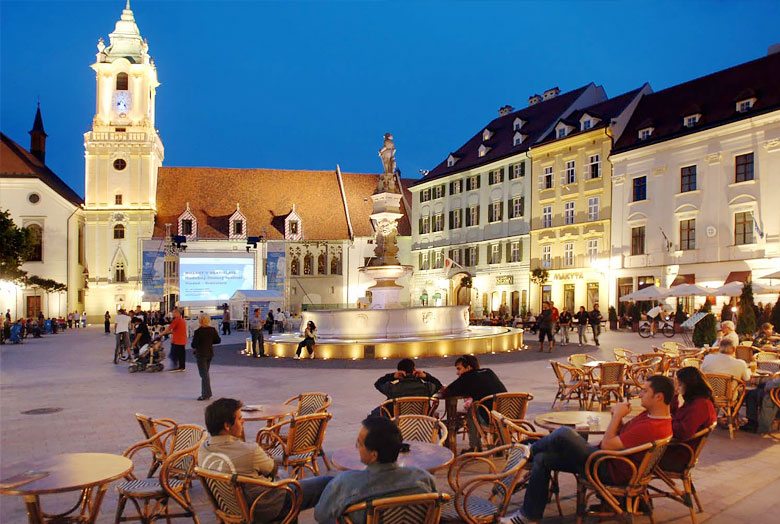 DAY 6: Bratislava
Today you have three choices to experience in this lovely city. You may enjoy walking to explore the Mirbach Palace, the Old Town Hall and St Martin's Cathedral. Your second choice is the Slovakian Specialties Tasting tour where you will enjoy wine, local soups and prepare stuffed potato ravioli. Finally you can also join a hike up to Bratislava Castle and the Court of Honor. The remainder of the day is on your own!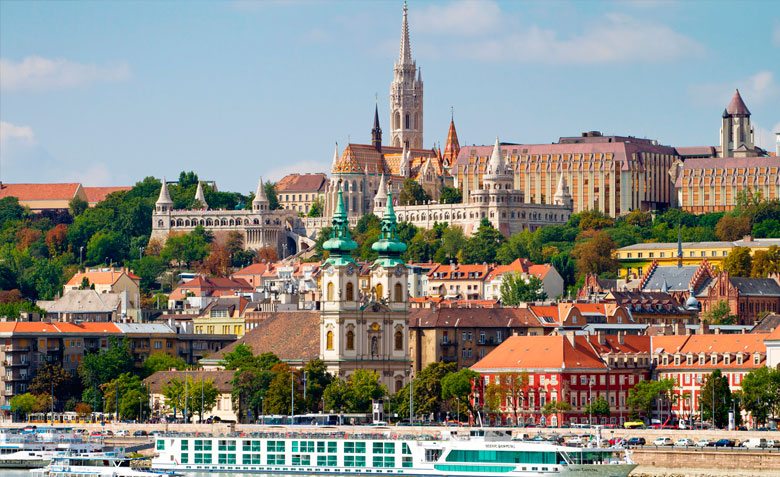 DAY 7: Budapest
Your morning excursion includes sightseeing in the cities of Buda and Pest spread over both banks of the river. You will see famed Heroes' Square and Castle Hill, as well as so many other lovely sites of this magnificent city. Alternatively you may also opt for a hike up to Castle Hill where the viewing of the Danube is just perfect. After dinner this evening, the shp will sail a special Illuminations Cruise past the glittering riverfront of Budapest.
DAY 8: DISEMBARKATION
or Continue for the 2nd Week Cruise –
Blue Danube Discovery Cruise also on the AmaCerto!
Today you may disembark in Budapest, or you and your guests may elect to stay onboard for another lovely 7 day adventure on the Danube. Your second cruise also includes lovely stops and tours in the medieval city of Regensburg with its Roman Fortress dating back to AD 179, as well as the chance to take part in even more delightful tours including Bavarian and Franconian Foodie Tours. You also have the chance to experience some of the magnificent sites and tours you did not get to see on the way from Vilshofen to Budapest during the previous week!
SPECIAL AGENT RATES
Agent Rates for "Romantic Danube":
(One guest in your stateroom pays same rate) 
Category C French Balcony pp $1595
Category BB TWIN Balcony pp $1795
(Twin balcony staterooms have full Outdoor Balcony plus French balcony, too!)
Category BA TWIN Balcony pp $1895
Category AB TWIN Balcony pp $1995
Category AA TWIN Balcony pp $2095
Port Taxes are $168 pp additional
• This is more than 50% discount off of the lowest rate available!
Special Friends and Family Rate
(For additional guest staterooms on the same cruise as long as agent is also booked through FAMTrips.travel)
Category C French Balcony pp $1995
Category BB TWIN Balcony pp $2095
Category BA TWIN Balcony pp $2195
Category AB TWIN Balcony pp $2295
Category AA TWIN Balcony pp $2395
Port taxes $168 pp additional
• This is an approximate savings of $1800 per person for Friends and Family to join you!
To BOOK this "ROMANTIC DANUBE" Itinerary,
click on the first button below and complete the application online.
You can also check out the day to day itinerary for the second voyage, "Blue Danube Discovery", March 31-April 7, which FAMTrips.travel is also hosting an agent group, by clicking on the second button below labeled "BLUE DANUBE DISCOVERY." You may combine the two cruises into a 14 day adventure!
After you are confirmed to attend either of these two FAMTrips.travel fams, then you are eligible to book additional friends and family rate for added staterooms by contacting FAMTrips.travel at 941 322 1800 or emai melody@famtrips.travel. Or you may complete a 2nd application for Friends and Family booking, and simply indicate in the COMMENTS BOX at the end of the application form that the application is for "Friends and Family." We will contact you to reconfirm all information.
To Book this FAMTrips.travel "Romantic Danube" FAM


www.FAMTrips.travel | 888 909 FAMS or 941 322 1800 | Email: info@famtrips.travel