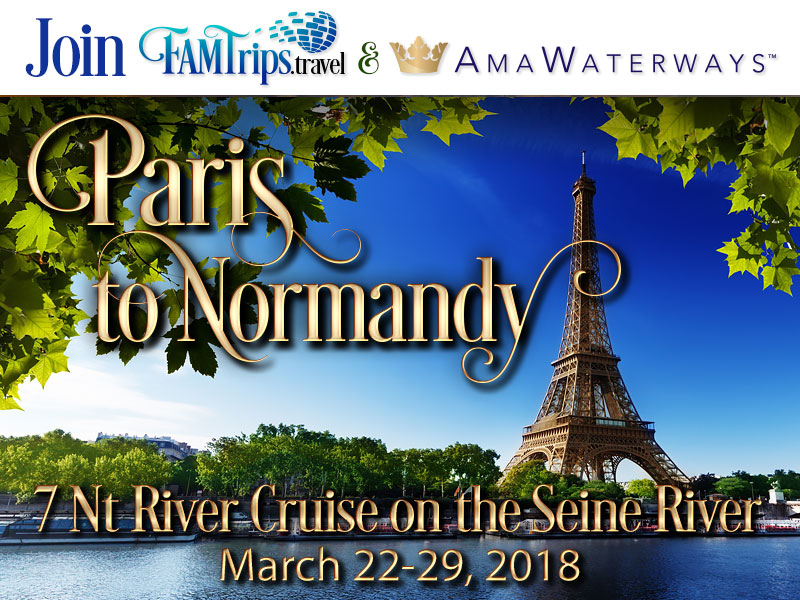 Join FAMTrips.travel and AmaWaterways in Paris and Normandy for one of their most historical and also romantic river cruise itineraries. Experience the romance of beautiful villages of Giverny, home to Monet's beautiful gardens and his inspiration for his water lilies works of art and lovely picturesque ports such Honfleur, as well as Rouen, the city were Joan of Arc was martyred. Join us as we take part in the amazing WW II historical tours to the famous beaches where our Allied Forces waged the battles that won the WW II on the cliffs of Normandy. You may want to climb up to the ramparts of the former castle of Richard the Lionheart, or visit the final home of Napoleon Bonaparte and his wife Josephine, or tour the former home of Vincent van Gogh during your artist walks! And with all excursions included in this fam cost, as well as so many excellent amenities offered by AMA Waterways, it is the perfect time to discover river cruising at its finest! This cruise ends in Paris where you can also elect to book an optional stay with us in the magical city of lights!

This special March 22 departure is a "Wine Cruise" which also offers guests a perfect blend of wine-related experiences and excursions in these grand capitals and charming towns. Discover how wine is made and, of course, partake in tastings – all at no additional cost. Join Sabrine Rodems, Winemaker at Wrath Wines, on this voyage down the Seine, visiting the beautiful historic villages and seaports that inspired Monet, Cezanne and Renoir as she leads insightful discussions and wine tastings.
Along with all of the amazing options for touring, AmaWaterways has added a wonderful Wellness Program on many of their cruise itineraries! So in addition to the many guided hiking and biking tours, you will also have the services of a qualified Wellness Host who will lead stretches, jogging, yoga, circuit training, cardio and core strengthening classes during the week, as well as discussion groups on healthy eating and relaxation techniques, both onboard the ship and on shore. This voyage is one of the most incredible opportunities you will get to combine so many aspects of what makes cruising with AmaWaterways the best experience you will have in 2018!


March 22: EMBARKATION – PARIS, FRANCE
Arrive in Paris, one of world's most romantic cities, and board your luxurious ship, the AmaLyra. This evening we will enjoy a special dinner together in the lovely specialty alternate dining room, The Chef's Table as we enjoy the special presentation of a uniquely prepared menu just for us! The Eiffel Tower will sparkle and bid us farewell as we depart on this wonderful journey on the Seine! Prepare to be pampered by AmaWaterways' service and attention to detail throughout a week of special ports and experiences you will never forget.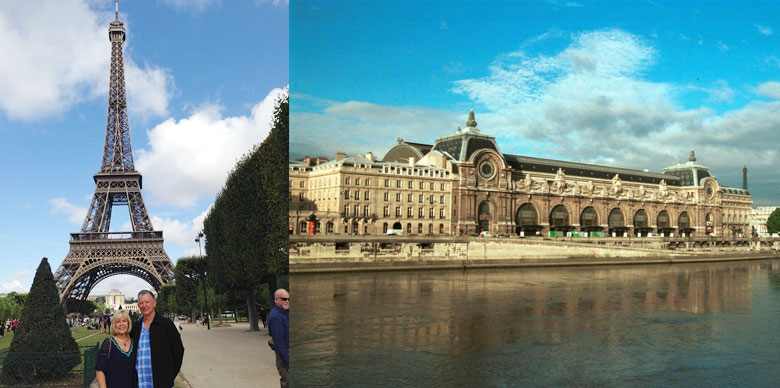 March 23: Day 2 – LES ANDELYS
Uncover the history of Château Gaillard, the former stronghold of Richard the Lionheart, situated on the chalk cliffs high above the Seine, on a tour. Or, if you prefer a more active adventure, you can hike there from the banks of the Seine, admiring the scenic views along the way. For those who wish to explore the area on two wheels, join a guided bike tour through the charming town of Les Andelys. After your adventures, set sail along the meandering Seine, enjoying the beautiful views of the Seine Valley's dramatic white cliffs and centuries-old half-timbered houses. (B,L,D)

March 24: Day 3 – LE HAVRE
One of todays lovely excursions will take you to visit the most lovely seaside town of Honfleur, renowned for its picturesque harbor, and for being an inspirational site for Impressionist painters. It is a wonderful mix of medieval architecture, with just the right opportunity for wonderful shopping and dining while you are there, too! If you wish to experience a different kind of inspiration, the Romanesque Normandy Abbey Route will take you to the magnificent Abbaye de Montivilliers and Abbaye du Valasse. For a more active adventure, you can bike through Normandy's picturesque landscape. (B,L,D)

March 25: Day 4 – CAUDEBEC-EN-CAUX – NORMANDY BEACHES
Today is going to be an amazing and moving excursion that you will never forget. Together we will experience the Normandy region with one of three tours. For those wishing to go to the American sector of the historic Normandy Beaches, you will visit the cemetery at Colleville-sur-Mer, Omaha Beach, the artillery battery at Longues-sur-Mer and the village of Arromanches, where the remains of the floating harbor used during the WWII landings can be seen. If you prefer, you can tour the Gold and Juno beaches in the British and Canadian sectors, where you will visit Ranville Cemetery, Pegasus Bridge, the Canadian cemetery at Beny-sur-Mer, the WWII museum in Courseulle and finally Arromanches. We can truly say from experience that this day will be one of the most moving experiences of your life! However, if you have already experienced the Normandy tours, there are also added excursions for your to appreciate. As an alternative experience, travel through beautiful countryside of Pays d'Auge, surrounded by the apple orchards of the famed Cider Route. Visit the 17th-century Château du Breuil, one of the most prestigious Calvados distilleries and taste a broad range of ciders and Calvados, before visiting Cambremer and Beuvron-en-Auge, voted one of the most beautiful towns in France. (B,L,D)

March 26: Day 5 – ROUEN
Spend the morning enjoying medieval Rouen with a choice of three excursions. This city is such a treasure to explore and it is also a lovely place to shop on your own after your tours. In the morning you can join a walking tour past the imposing Notre Dame Cathedral, painted numerous times by Monet, and see the square where Joan of Arc was martyred, as well as the Medieval Quarter and Great Clock. For those who wish to be more active, you can join a biking or hiking tour around the city. Later in the day, you can explore the Jewish area of Rouen; or go on the "Tastes of Normandy" tour, where you'll be treated to the delicious flavors of the region, including chocolate, cheese and cider. (B,L,D)

March 27 Day 6 – VERNON
Sail along picturesque Seine to Vernon, where you will have a choice of three exciting excursions. Art lovers who choose to visit Claude Monet's gardens in Giverny will immediately recognize images immortalized in Monet's most beloved paintings—such as water lilies, Japanese bridges and graceful willow trees. Wander around his famous gardens and home where he lived for more than four decades. No matter what season you go to Giverny, it is still just as inspiring as it might be in summer. From early spring to late fall, Monet's gardens display unique beauty not to be missed. You also have the choice to explore the 18th-century Château de Bizy, inspired by the opulence of Versailles. Or for those who wish a more active adventure, you can go on a guided bike tour, taking in the enchanting beauty of the region. (B,L,D)

March 28: Day 7 – CONFLANS – PARIS

Visit Château Malmaison, the former home of Napoleon and Josephine Bonaparte. You'll learn what life was like for the Bonapartes and how Josephine endeavored to transform the large estate into "the most beautiful and curious garden in Europe." Alternatively, travel to Auberge Ravoux in the heart of Auvers-sur-Oise, the last home of artist Vincent van Gogh. His spirit still lingers in his former attic rooms at the Ravoux Inn. The mere 70 days Van Gogh spent in Auvers-sur-Oise were astonishingly prolific as he painted more than 70 works here before his death. Later in the day, set sail for Paris. (B,L,D)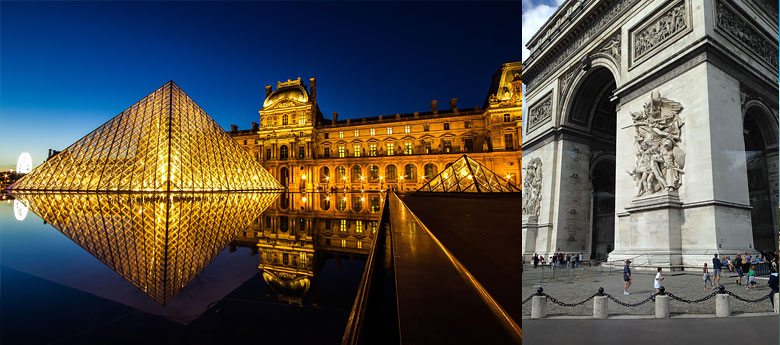 March 29: Day 8 – PARIS – DISEMBARKATION
Today you disembark your cruise in Paris and you are welcome to add on a two night post stay with AmaWaterways or simply explore Paris on your own! This is a city of lights that never sleeps. After disembarking the ship this morning, agents and guests who are participating in the optional post stay Paris extension will enjoy a panoramic tour of Paris on which they will see many fantastic sights, such as the Pantheon, Champs de Mars, Eiffel Tower and Arc du Triumph. Afterwards, you will visit one of the city's most renowned museums, the Musée d'Orsay, built in a former railway station on the Left Bank. Its collection of Impressionist and Post-Impressionist masterpieces is the largest in the world and includes well-known works by Monet, Manet, Degas, Renoir, Cézanne, Seurat, Sisley, Gauguin and Van Gogh. After touring the museum, you will be transferred to your hotel. (B)
All Shore excursions described above are INCLUDED throughout the entire cruise, in addition to a lovely choice of complimentary local wines and beers each day during lunch and dinner. Also included are the special features of this wine theme cruise and all wellness activities which are an wonderful new feature being offered on many of AmaWaterways' fleet! This is a wonderful savings for an amazing itinerary that is truly a once in a lifetime experience with AmaWaterways and FAMTrips.travel.
Don't delay. Book Now by clicking on the link below and completing the application form to reserve your stateroom. You may indicate what category of stateroom you requesting in the COMMENT AREA at the bottom of the application form that is linked below. For questions, you may also call FAMTrips.travel at 941-322-1800 or email melody@famtrips.travel or call 800-909-FAMS. Space is limited..
Cost of FAM



Agent Rate for Category C French Balcony Staterooms: $1695 pp
Agent Rate for Category B French Balcony staterooms: $1895 pp
Agent Rate for Category A French Balcony staterooms: $1995 pp
Port tax is additional $168 pp
Non Industry Guests add $200 pp
To Book this FAMTrips.travel "Paris to Normandy" FAM…

www.FAMTrips.travel | 888 909 FAMS or 941 322 1800 | Email: info@famtrips.travel