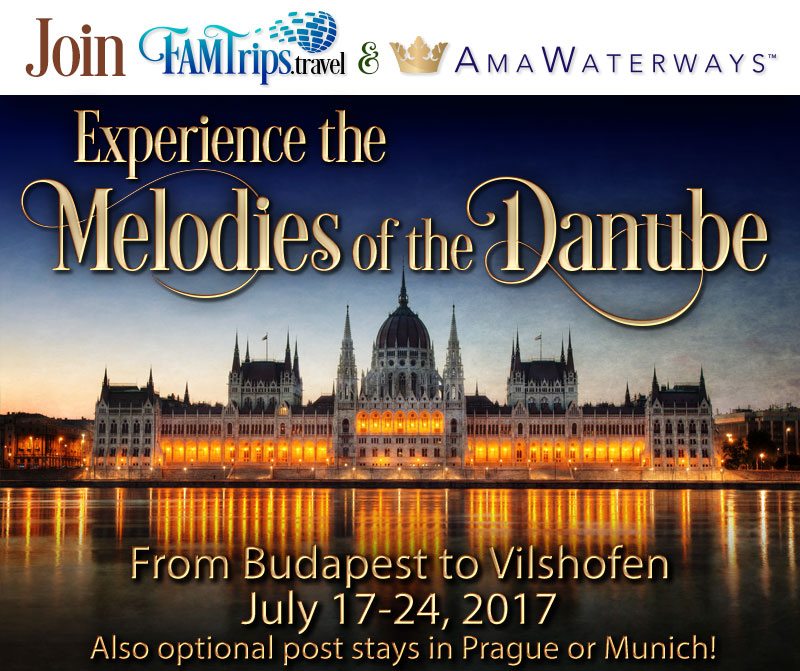 Join FAMTrips.travel and AmaWaterways as we travel on the beautiful Danube through four European countries, Austria, Germany, Hungary and Slovakia. Together we will experience the sights and sounds that have long inspired musicians, poets and artists. Begin your cruise in Budapest, continuing on to Bratislava and Vienna, the romantic birthplace of the waltz. Cruise through the scenic wine-growing region of the Wachau Valley, and explore charming medieval towns and UNESCO world heritage sites! This cruise can be combined with the previous cruise, also on the AMA Serena, during which FAMTrips.travel is also hosting an agent group on the same ship. The previous itinerary called Legendary Danube, sails one week earlier from Nuremberg to Budapest, July 10-17, and although a few of the port cities repeat on this 2nd voyage, (Melodies of the Danube) it is still a unique and different voyage because many very new shore excursions are offered during from Budapest to Vilshofen! You may also add an optional Post stay in either Prague or Munich from July 24-27.
Agents can also book additional staterooms through FAMTrips.travel at a special discounted "FRIENDS AND FAMILY RATE" on either itinerary which will allow you to bring other friends, family or clients at a very special discount in a separate stateroom. Find out more in the day to day itinerary below!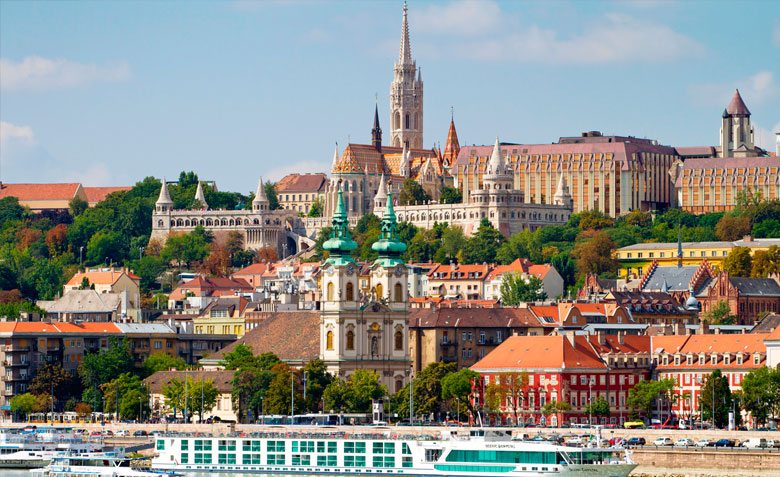 DAY 1: JULY 17
Today you arrive in Budapest and board your luxurious river cruise ship, AMA Serena. This evening, meet your fellow travelers at the Welcome Dinner. Tonight, the ship will sail a special Illuminations Cruise past Budapest's glittering river front. If you have taken the voyage the week before with FAMTrips from Nuremberg to Budapest, (Legendary Danube from July 10-17) then you have toured a bit of this amazing city, famous for its spas and so much more! Budapest isn't called the 'City of Baths' for nothing. Hungary is a land of thermal springs, and Budapest remains the only capital city in the world that is rich in thermal waters with healing qualities. Budapest is also one of the few places where you can experience traditional Turkish baths dating back to 16th and 17th centuries.

DAY 2: JULY 18
Your morning excursion includes sightseeing in the cities of Buda and Pest spread over both banks of the river. You will see famed Heroes' Square and Castle Hill, home to Fisherman's Bastion, Matthias Church and spectacular views of the Danube. Budapest is cited as one of the most beautiful cities in Europe, ranked also as "the world's second best city" by Condé Nast Traveler, and "Europe's 7th most idyllic place to live" by Forbes. It also has the second largest synagogue, and third largest Parliament building which is truly one of the most beautiful architectural sites in this magnificent European city and beyond!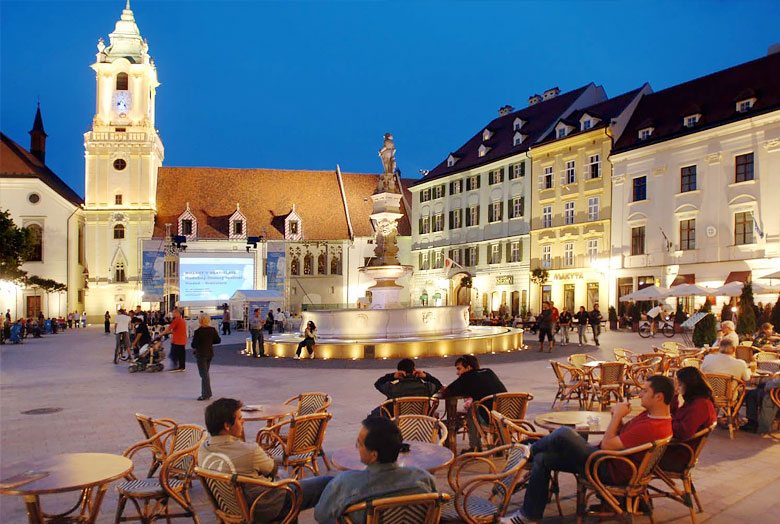 DAY 3: JULY 19 – Bratislava and Vienna
Today we wake up this morning in Bratislava, the capital of Slovakia. Enjoy a walking tour of the city's top sights, including the Old Town Hall, Mirbach Palace and St. Martin's Cathedral. Later, you will have some free time before the ship cruises to Vienna, the music capital of the world. After dinner, experience a traditional "Viennese Wine and Music" evening in a Viennese wine tavern outside the city, where you can enjoy a glass of newly pressed, locally grown wine and Austrian music and hospitality.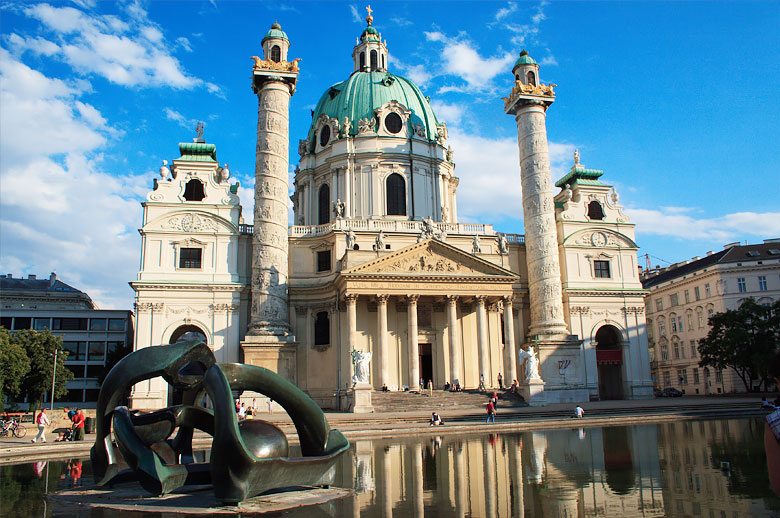 DAY 4: JULY 20 – Vienna
This morning, you will have a chance to savor the Baroque elegance of romantic Vienna through your choice of one of three different excursions. The first option is a panoramic tour of Vienna that guides you past the majestic Opera House, the former Imperial Palace of the Habsburg Emperors, Parliament, the Royal Spanish Riding School where the world famous Lipizzaner Stallions live and perform, Town Hall and Vienna University. Afterwards, you will visit Vienna's historic city center, a UNESCO World Heritage Site, and see St. Stephen's Cathedral. The second option is a walking tour of Vienna's Hidden Treasures that takes you to secret places and sights like Ankeruhr, a whimsical Art Nouveau clock and even past ancient Greek and Roman ruins which stand inconspicuous within the amazing city of Vienna. Your third option is a guided bike tour along the Danube and through the Donaupark a lovely public meeting park where many of Vienna's social events take place during the summer. This afternoon, you can join a guided bike ride to Klosterneuburg Monastery, or explore at your leisure. Be sure to sample some Viennese coffee and pastries.

DAY 5: JULY 21 – Weissenkirchen- Durnstein-Emmersdorf-Grein
After reaching the Wachau Valley early this morning, you will have three tour options: A walking tour along charming Dürnstein's cobblestone streets followed by a wine tasting, a hike up to the fortress where Richard the Lionheart was once held for ransom, or an Apricots and Sweets tasting. Return to the ship and continue onwards cruising through the gorgeous scenery of the Wachau Valley, a UNESCO World Heritage Site. This afternoon you will visit the spectacular Benedictine Abbey in Melk, one of Europe's largest and most revered monasteries and a UNESCO World Heritage Site. You will see jewel-encrusted crosses containing religious relics, frescoes and richly embroidered vestments, as well as the abbey's priceless collection of medieval manuscripts. Tonight the ship arrives in Grein, where you may enjoy some free time to explore this charming town, as well!
DAY 6: JULY 22
The ship arrives this morning in Linz. Today in the afternoon you have some of the most amazing excursions you could imagine to choose! These afternoon excursions are completely different than the previous week's cruise. In the morning, you will also enjoy a walking tour of the second largest city in Austria or choose a guided bike tour that will show you around the Old City Center, along the Danube River, and past the ultra-modern Ars Electronica Center. Later, you will have a choice of three different and each amazing excursions. The first option is an excursion to Salzburg, Mozart's birthplace, where you will take a walking tour of the historic center made famous by "The Sound of Music." The second option is an excursion to the Czech town of Cesky Krumlov, a wonderfully preserved medieval town nestled in the hills just over the Austrian-Czech border. The third option is a visit to the Austrian Lake District, the scenic Salzkammergut region. All three options are UNESCO World Heritage Sites and agents on past educational fams with FAMTrips.travel RAVED about all three of these excursions!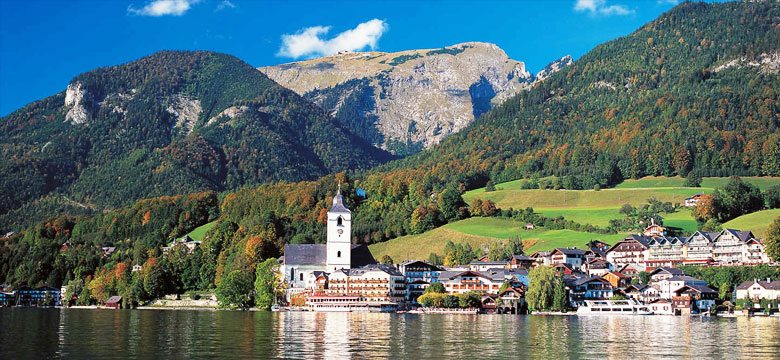 DAY 7: JULY 23 – Passau and Vilshofen

Early this morning, cruise through Upper Austria to Passau in Germany, where the rivers Inn and Ilz join the Danube. Passau can trace its roots past the 2nd century BC and was first founded by the Celts and then was also a Roman town for over 400 years. Enjoy a walking tour of this 2,000-year-old city, noted for its Gothic and Italian Baroque architecture, cobblestone streets and squares like Rathaus, Domplatz and Residenzplatz, as well as St. Stephen's Cathedral. One of Passau's most notable inhabitants was Napoleon Bonaparte who used the fortress, Veste Oberhaus in his campaign to take Austria. Guests looking for a more active morning can choose between a guided bike tour along the Danube from Passau to Erlau, or a guided hike up to the Veste Oberhaus fortress overlooking Passau. This afternoon, the ship cruises to the medieval town of Vilshofen, where you will enjoy a festive Oktoberfest celebration with local beer and Bavarian folk music and dancing.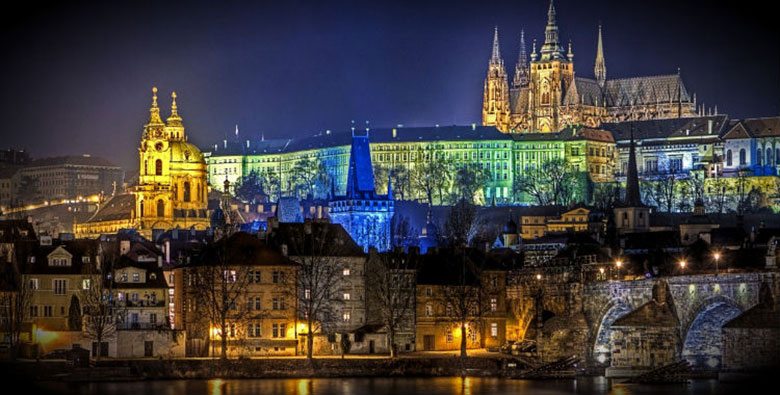 DAY 8: JULY 24
Disembarkation and Optional Post Stays in Munich or Prague. If you elect to add the 3 nt Prague post stay, you will tour the medieval city of Regensburg, a Unesco World heritage site on the way to Prague. Your stay will also include a half day city tour of Prague which will reveal why Prague is considered one of Europe's most attractive cities, with a historic city center that's recognized as a UNESCO World Heritage Site. You will see Rudolfinum, the National Museum, Wenceslas Square and the Hundertwasser Dancing House. Next, visit the 1,000 year-old Prague Castle and St. Vitus before walking over the romantic Charles Bridge to the Old Market Square, where you will find the capital's famous Astronomical Clock, Tyn Church and the statue of Jan Husek. The rest of the day is at your leisure, perhaps to enjoy yourself in one of the city's many charming cafés. Breakfast each morning at your hotel is included during these optional stays.
If you elect to add a post stay in Munich, you will also disembark in Vilshofen and depart for the BMW Welt and Museum tour in the afternoon on your way to Munich. Those looking for an alternative can instead visit Nymphenburg Palace and enjoy its Baroque splendor. Later, transfer to your hotel in Munich. On day two, you will also enjoy a panoramic tour of Munich, which includes a photo stop at BMW World, followed by a walking tour of the Old Town. On your walking tour you will see such iconic sights as the 15th-century Frauenkirche, the "Cathedral of Our Lady, " with its typical domes, Viktualienmarkt, the famous outdoor market of Munich and the Rathaus-Glockenspiel at Munich's New Town Hall. During either post stay in Munich or Prague, you will also have a full day of free time to enjoy the magnificent city of your choice!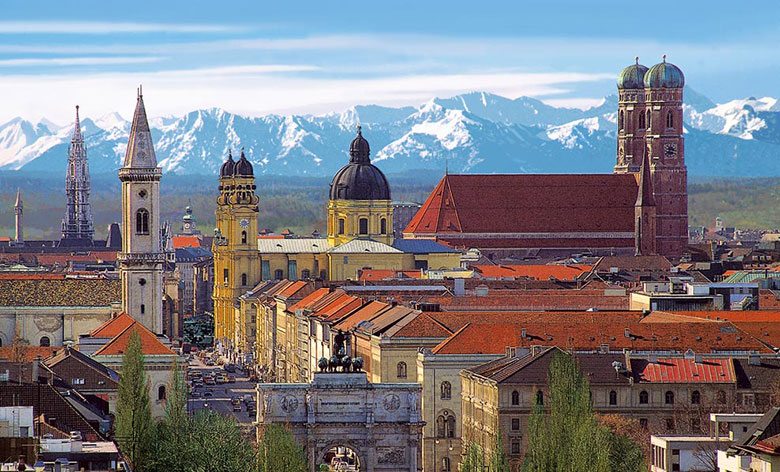 SPECIAL AGENT RATES
Agent Rates for "Melodies of the Danube":
(One guest in your stateroom pays same rate)
Category C French Balcony pp $1595
Category BB TWIN Balcony pp $1795
(Twin balcony staterooms have full Outdoor Balcony plus French balcony, too!)
Category BA TWIN Balcony pp $1895
Category AB TWIN Balcony pp $1995
Category AA TWIN Balcony pp $2095
Port Taxes are $168 pp additional
• This is more than 50% discount off of the lowest rate available!
Special Friends and Family Rate
(For additional guest staterooms on the same cruise as long as agent is also booked through FAMTrips.travel)
Category C French Balcony pp $1995
Category BB TWIN Balcony pp $2095
Category BA TWIN Balcony pp $2195
Category AB TWIN Balcony pp $2295
Category AA TWIN Balcony pp $2395
Port taxes $168 pp additional
• This is an approximate savings of $1800 per person for Friends and Family to join you!
To BOOK this "MELODIES of the DANUBE" Itinerary,
click on the first button below.
You can also check out the day to day itinerary for the earlier voyage, "Legendary Danube", July 10-17, which FAMTrips.travel is also hosting an agent group, by clicking on the second button below labeled "Cruising Legendary Danube." You may combine the two cruises into a 14 day adventure!
After you are confirmed to attend either of these two FAMTrips.travel fams, then you are eligible to book additional friends and family rate for added staterooms by contacting FAMTrips.travel at 941 322 1800 or email melody@famtrips.travel
To Book this FAMTrips.travel Legendary Danube FAM…


www.FAMTrips.travel | 888 909 FAMS or 941 322 1800 | Email: info@famtrips.travel