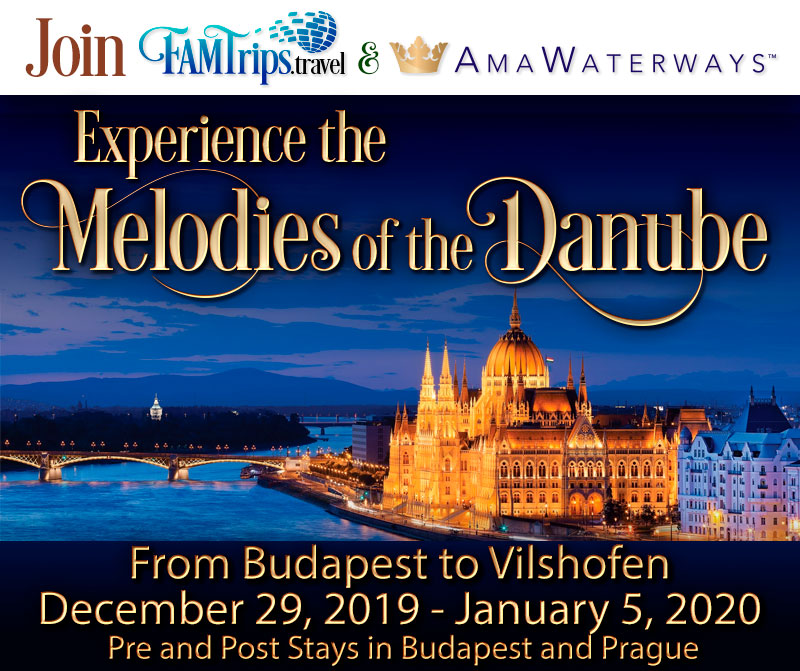 During your river cruise journey along the Danube, you will visit the countries of Austria, Germany, Hungary and Slovakia and see firsthand why this storied river, the Danube, has inspired generations of artists, poets and musicians. Indulge your passion for timeless architecture and art in four magnificent capitals: Budapest, Bratislava, Vienna and Prague. Let the hills come alive with the sounds of music in Salzburg and the Austrian Lake District. Cruise through the enchanting Strudengau Valley and let the melodies of the Danube carry you from one gem to another on a regal journey through time. On this AmaWaterways cruise, you will enjoy an extensive lineup of INCLUDED tours. In many cases, you will have a choice of excursions, such as standard tours, bike tours, hikes and Special Interest Tours. This wonderful cruise line always includes a large variety of activities so that you can choose how you want to explore. No matter your preference, your days on this amazing Danube cruise itinerary will be full of discovery and wonder! You may also elect to join the group for a 2 night pre stay in Budapest or a 3 night post stay in magnificent Prague! Both cities are so enticing to explore! And if you feel like bringing other friends or family, FAMTrips.travel can offer you very special rates for additional staterooms to bring those non industry traveling guests who would like to have their own stateroom and bring in the New Year with you on the Danube! Throughout the cruise you will also be offered complimentary selections of local beer and wine at each lunch and dinner! We look forward to introducing you to AmaWaterways and their excellent staff and award winning level of service!
ITINERARY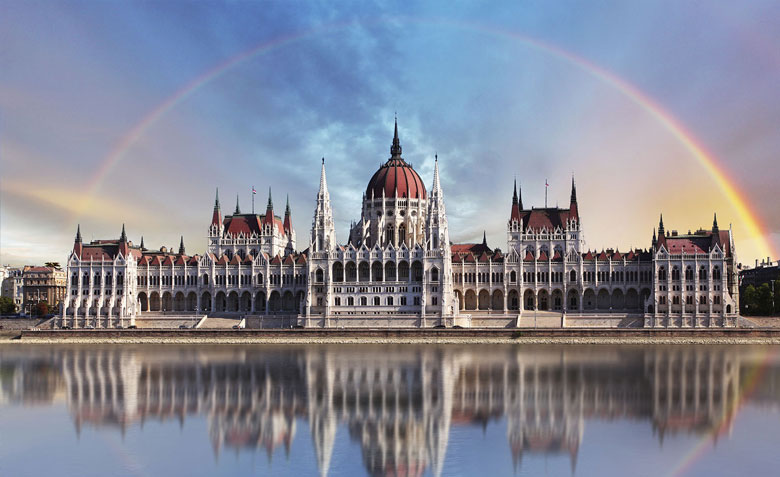 DAY 1 – EMBARKATION – BUDAPEST, HUNGARY
Arrive in Budapest and board your luxurious river cruise ship, the AMAViola!  During the evening, be treated to a special Illuminations cruise past the capital's glittering riverfront as you prepare to enjoy a lovely dinner and also meet the wonderful staff onboard who are excited to greet you! If you have elected to participate in the Pre Stay in Budapest, your guide will transfer with you to your lovely ship this afternoon. (D)

DAY 2 – BUDAPEST
Budapest offers an unmatched combination of culture, tradition and even a secret labyrinth of caves under the city. Your city tour begins with a visit to the Great Market Hall before going to both the Buda (hilly) and the Pest (flat) sides of the river. You'll see Heroes' Square and Castle Hill, home to the Fisherman's Bastion and Mattias Church.
This evening our group will be hosted at the excellent alternative dining room, The Chef's Kitchen, as we have a unique dining experience together, tasting some of the specialties that are particular to this dining venue! (B,L,D)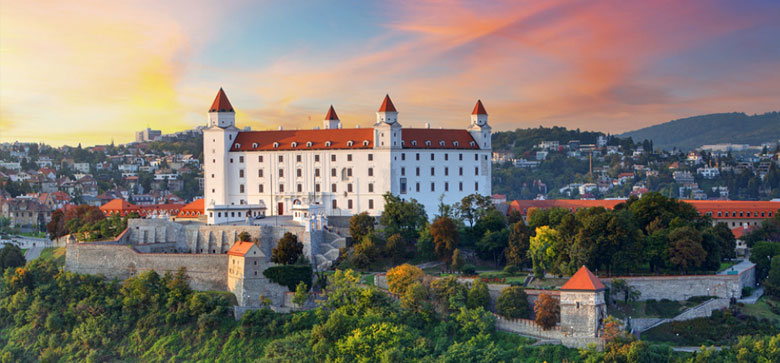 DAY 3 – BRATISLAVA, SLOVAKIA
Host to the crowning ceremonies of 11 Hungarian kings and queens between 1536 and 1830, Bratislava certainly has earned the title "Coronation City of Kings," as you'll discover during your walking tour. Or you may prefer to join a special "Tastes of Slovakia" tour. For a more active adventure, hike up to Bratislava Castle, offering magnificent views of the city. Onboard this evening, we will certainly enjoy a lovely New Year's Eve celebration together and bring in the new year as we sail to Vienna, Austria! (B,L,D)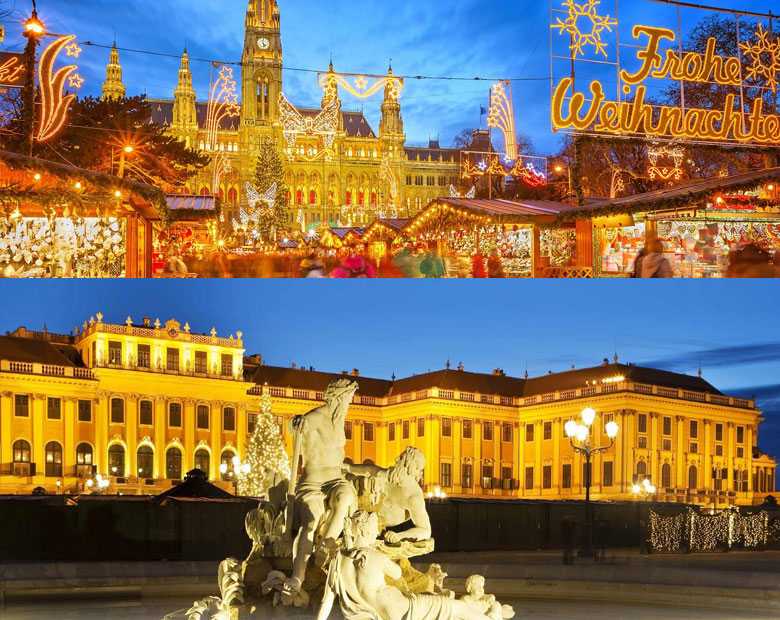 DAY 4 – VIENNA, AUSTRIA
Start the new year in one of the most beautiful European cities, Vienna!  The "City of Waltzes" offers a wealth of gems and your city tour showcases its regal splendors, including the majestic Opera House and the former Imperial Palace of the Habsburgs. Conclude your tour in Vienna's historic city center and then visit St. Stephen's Cathedral. For a more active exploration of the area, take a guided bike ride that includes opportunities to see all the sites listed above as well as the majestic Ringstrasse, Vienna's famed ring road, lined with grand buildings, monuments and parks. During the afternoon, enjoy leisure time to further explore this iconic city. (B,L,D)
Home of the Royal Spanish Riding School and the famous Lipizzaner Stallions, you may see them as they host their daily work outs in the famed arena that is just across the road from their lovely and majestic stables.  Even today on New Year's day you can still visit The Old Viennese Christmas Market on Freyung in the city center! A Christmas market was held here as early as 1772 and today, it is a place to buy handicrafts, glass decorations, traditional mangers and ceramics.  Also still open will be the Christmas Market in front of beautiful Schönbrunn Palace as it  is converted into a New Year's through New Years day!  This is easily one of the most enchanting ways to spend a New Year's Day in Vienna!

DAY 5 – WEISSENKIRCHEN – GREIN
After reaching Weissenkirchen, you'll be treated to several choices of excursions. Take a walking tour of Weissenkirchen followed by an abbey visit. If you prefer a more active adventure, join a guided bike tour from Melk to Pochlarn. For a more culinary-focused experience, join a walking tour in Dürnstein, then enjoy a wine tasting hosted by a local vintner and sample special apricot treats from a local boutique or hike up to the fortress where Richard the Lionheart was once held. Later in the day, sail through the Strudengau Valley to medieval Grein for an exclusive visit to the more than 500-year-old Greinburg Castle, looming regally from above. While here, enjoy a folklore show and wine reception. (B,L,D)

DAY 6 – LINZ
The ship arrives in Linz where you'll have several choices of excursions. Opt for a full-day excursion to Salzburg where you'll tour the historic center, Mirabell Gardens, Residenz Square and the Old Market. En route to Salzburg, stop at Mondsee, home of the Basilica St. Michael. Or go on a bike tour of the city's famed "Cultural Mile" and the Danube. During the afternoon, you have three more options. Choose a half-day excursion to Salzburg or take a scenic drive through the Austrian Lake District with a stop in St. Wolfgang. You can also choose to visit charming ?eský Krumlov, located just over the Czech-Austrian border. Each of these three excursions are just magnificent and are also all included at no additional charge.  (B,L,D)


DAY 7 – PASSAU, GERMANY – VILSHOFEN
For your final day of this wonderful river cruise, you will discover the city of Passau in one of three ways. Enjoy a walking tour and marvel at Gothic and Italian Baroque architecture and St. Stephen's Cathedral. Or choose between a guided bike tour along the Danube River, or a guided hike up to the Veste Oberhaus fortress. Later, cruise to Vilshofen, where you will be treated to a festive "Oktoberfest" celebration— an AmaWaterways exclusive.  (B,L,D)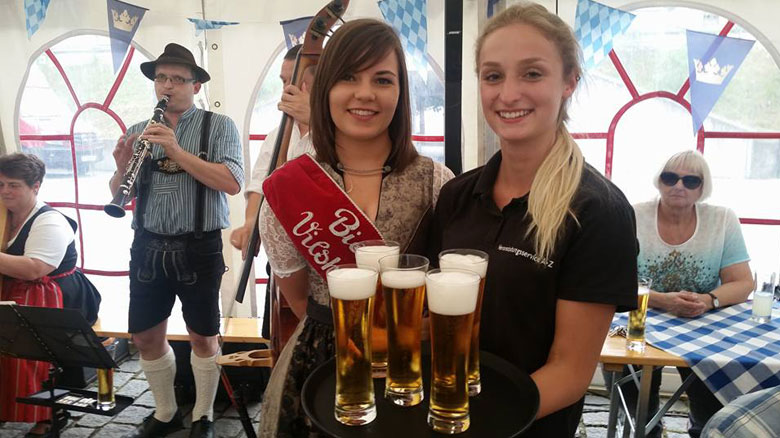 DAY 8 – VILSHOFEN – DISEMBARKATION

Bid farewell to Vilshofen and prepare for your flight home. Or if you prefer, stay with others who are also transfering into Prague where you will also enjoy lovely accommodations, a half day city tour of this amazing destination. Discover Prague with a choice of a city tour or a castle hike. Both will reveal why Prague is considered one of Europe's most attractive cities, with a historic city center that's recognized as a UNESCO World Heritage Site. See all the key highlights, including the National Museum, Wenceslas Square, the 1,000 year-old Prague Castle and Old Market Square, where you will find the famous Astronomical Clock.   Beer has a long and illustrious history in the Czech Republic with the first brewery known to have existed in 993. Pilsner Urquell was created in 1842, being the first pilsner ever made, whilst Budweiser came into being in the city of Budweis. Beer is a core part of the country's national identity, so much so the Czechs are the biggest consumers of beer in the world. The country is home to more than 100 breweries with a combination of big names and micro establishments offering a huge range of styles, so you also have the chance to join a complimentary Czech beer tasting and discover for yourself what makes the Czech's beer some of the very best in the world. Of course, you'll have ample free time on your days in Prague to do exactly what you would enjoy most. Breakfast is included at your lovely hotel each day during your optional post stay.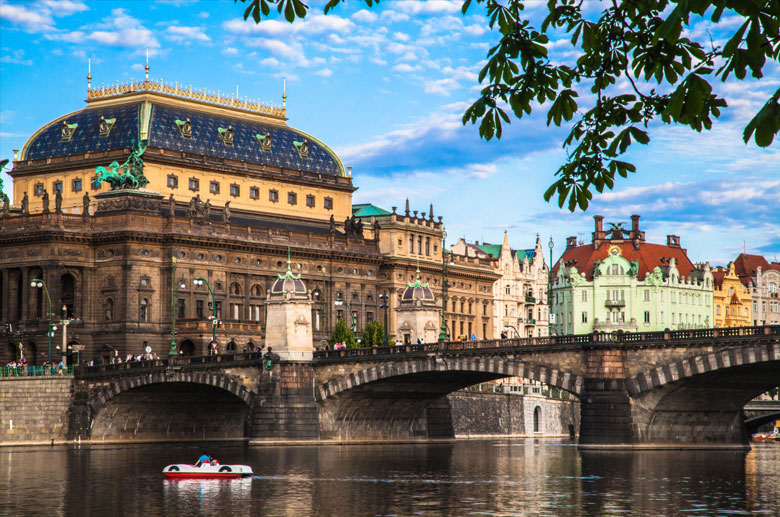 Special Rates for "Melodies of the Danube" 7 Night Cruise"
Category D Picture Window Stateroom: $1595. pp
Category CC French Balcony pp $1795.pp
Category CB French Balcony pp $1895. pp
(Twin Balcony Staterooms have Full Outdoor Balcony plus French Balcony, too!) 
Category BB TWIN Balcony pp $1995. pp
Category BA TWIN Balcony pp $2095. pp
Category AB TWIN Balcony pp $2295. pp
Category AA TWIN Balcony pp $2395.pp
(Non Industry guest in your stateroom pays $200 additional)
Port Taxes are $182. pp additional
Port Taxes are $182. pp additional
• This is a savings of over $4000 per stateroom in all Twin Balcony categories!
Special Friends and Family Rate
(For additional guest staterooms on the same cruise as long as the booking agent is cruising with FAMTrips.travel) 
Category CB French Balcony pp $2195
Category CA French Balcony pp $2295
Category BB TWIN Balcony pp $2395
Category BA TWIN Balcony pp $2495
Category AB TWIN Balcony pp $2595
Category AA TWIN Balcony pp $2695
Port taxes $182. pp additional
• This is an additional net savings of between $1000 to $2000 discount Per Person below the lowest retail rate for your "Friends and Family" to join you based upon availability! It is only available to those guests you might want to bring, IF you are also sailing with the group and are booked through FAMTrips.travel fam trip.
To BOOK this "MELODIES of the DANUBE" Itinerary,
click below.
To Book this FAMTrips.travel "Melodies of the Danube" FAM

www.FAMTrips.travel | 888 909 FAMS or 941 322 1800 | Email: info@famtrips.travel