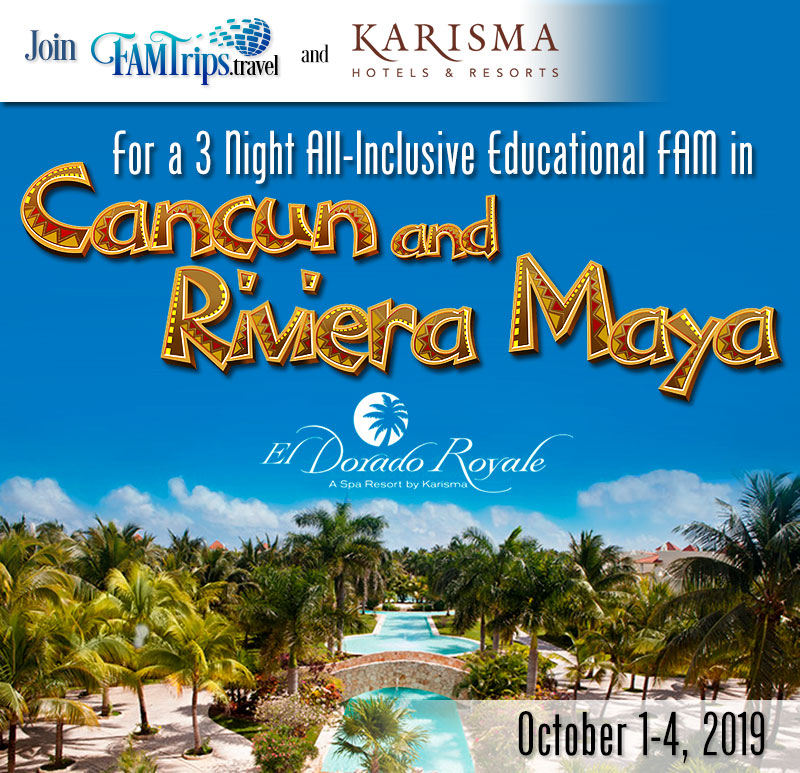 Join FAMTrips for a three night fam to explore all of the wonderful ways you can exceed your clients' expectations by partnering with Karisma Resorts in 2019 and beyond!

You will be hosted by FAMTrips.travel and Lomas Travel as you explore many of the amazing resorts that make up this excellent group of All-Inclusive properties. Lomas Travel and Karisma Hotels and Resorts are just waiting to meet your group and individual clients! We will be hosted at the El Dorado Royale, a Spa Resort by Karisma. During this fam, you will enjoy all of the lovely amenities that El Dorado Royale Spa Resort has to offer including 24 hour room service, all gourmet dining and specialty bites, minibar stocked with beer, water and soft drinks. You will also enjoy unlimited alcoholic drinks from a selection of local and international premium brands, wireless internet, sauna and steam room, and so much more!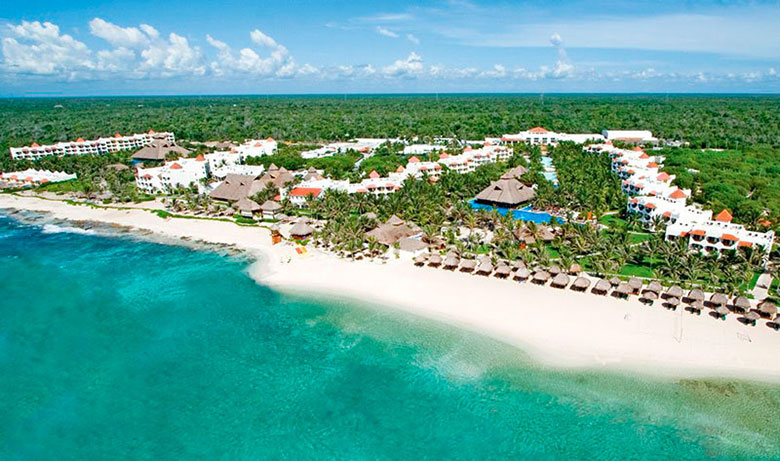 Day 1 – October 1:

Upon your arrival to Cancun International airport,  Lomas Travel representative will be waiting for you at the airport to be transferred to your host hotel and assist with your casual check in, including a sparkling wine toast to celebrate your arrival! During your afternoon you can relax and enjoy the five sparkling swimming pools including a salt water pool, swim-up bars, and a lazy river connecting to the resprt's main pool.
4:30pm
Meet at main lobby and prepare to be wowed during your inspection of the El Dorado Royale and El Dorado Casitas Royale, by Karisma.  We will slip right next door to check out the amazing Generations Riviera Maya, by Karisma, as we prepare for our welcome dinner! The evening is yours to take in the night life and gorgeous ambiance of these three very distinct but equally luxurious resorts!

Day 2 – October 2
Breakfast is at leisure. You should try the Gourmet Inclusive® Restaurants or enjoy breakfast in your suite!
9:00am 
Meet at main lobby. Join us for our Karisma Gourmet Inclusive® Experience training which will help to set you apart from your competition and leave your clients spellbound when you book them at each of the Karisma Hotels and Resorts.
11:00am
Depart to Azul Beach Resort Riviera Cancun, by Karisma and enjoy learning about this multigenerational property.
12:30pm
Depart to Azul Beach Resort Riviera Maya, by Karisma to enjoy a delicious lunch at this boutique property.
2:45pm
Transfer back to El Dorado Royale and enjoy your afternoon and evening as you select your own choice of dining venue! You may be in the mood to indulge in decadent Italian dishes at the romantic D'Itlaia Villas or enjoy one of  the most innovative culinary experiences imaginable featuring  a full cooking show under one of the repsort's beautiful Palapas as the head Chef and Sommelier take the entire audience through the melding of textures, flavors, and aromas of the finest ingredients of their very own greenhouse, and pair them for you with a premier selection of wines during your five course meal all to meet your appetite's delight!  The choices are yours in which to indulge! Or you may just prefer the quiet ambiance of Jo Jo's Caribbean Seaside Grill to savor the night in a completely different fashion. Of course, you may even be up for a perfect margarita at Rincon Mexicano.

Day 3 – October 3
Today you are free to enjoy breakfast and lunch on your own.  Of course, we feel you should experience the Gourmet Inclusive® Restaurants, or breakfast in your suite might also be the perfect fit.
1:15pm
We will meet at main lobby and depart to the incredible El Dorado Maroma, by Karisma
1:45pm
Site inspection at this boutique property featuring the first Over-Water Bungalows in Mexico
3:00pm
Depart to The Fives Azul Beach Resort, by Karisma to check out this multi-generational property perfect for the family market!
4:15pm
Depart to El Dorado Seaside Suites, by Karisma where we will enjoy an incredible farewell dinner
8:00pm
Transfer back to host hotel and relax as you take in all that you have experienced today.  These resorts are amazing and you will be so prepared to tell your clients just which one is perfect for them!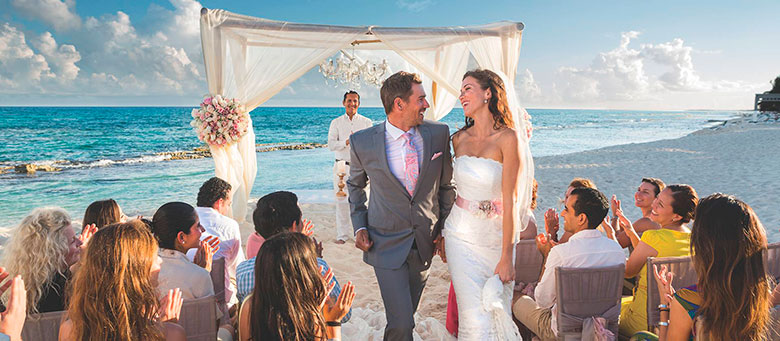 Day 4 – October 4
Breakfast on your own. Try the Karisma Gourmet Inclusive® Experience restaurants or enjoy breakfast in your suite.
Later in the morning you will meet in the main lobby. Be checked out and ready to be transferred either to the airport OR  to your next Karisma host hotel!
For a few more optional days of ultimate luxury, FAMtrips.travel will give you details about applying for added days at the other Karisma Hotel and Resort Properties.
After you complete the application form by clicking the link below, we will send you a brief list of questions to help Karisma qualify you for the fam.
You will be notified within 4 days of your confirmation.
Room categories are not confirmed for this fam but will be based upon availability 
at time of check in.
All Inclusive Agent Rate $499
You may bring a 2nd eligible agent in same room for $499 additional
Agents Only
To Book this FAMTrips.travel Karisma – Cancun/Cosumel FAM…

www.FAMTrips.travel | 888 909 FAMS or 941 322 1800 | Email: info@famtrips.travel