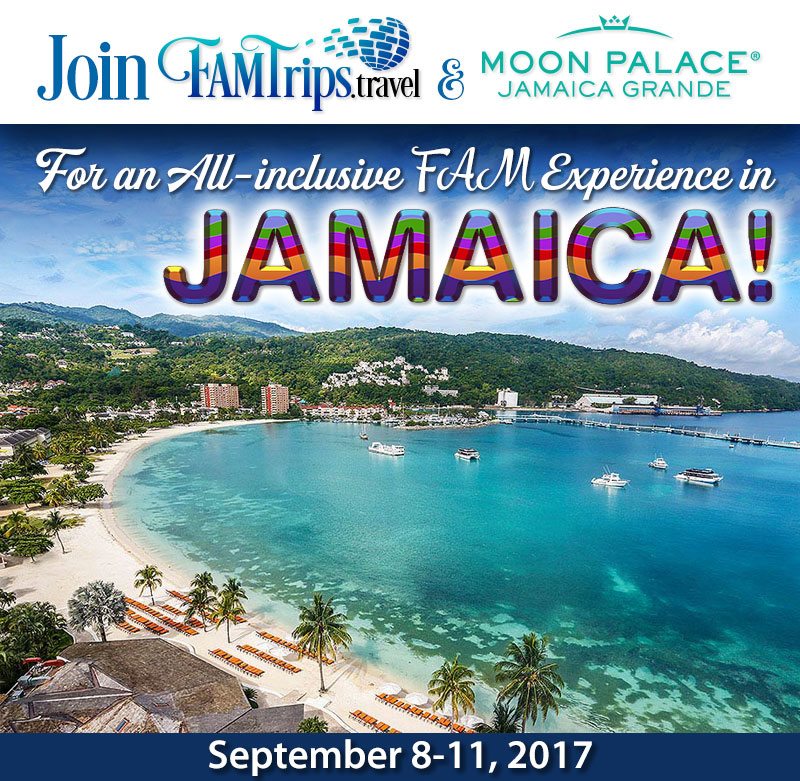 Join FAMTrips.travel as we experience the Moon Palace Jamaica Grande, an all-inclusive, beachfront resort in Ocho Rios! Our three night FAM stay at the Moon Palace Jamaica Grande includes luxurious accommodations, a complimentary full body massage at the Awe Spa® fine dining, delicious snacks, top-shelf drinks, 24-hour room service, wireless Internet throughout the property, complimentary Internet service when using the resort's computers, sensational entertainment, non-motorized water sports and more! We will also be treated to a special complimentary day of fun and activities at Jamaica's own Mystic Mountain- an iconic landmark of Jamaica offering top attractions including zip lining on the Canopy Tour, Jamaica Bobsledding through the tree tops, and relaxing aerial views on the Sky Explorer chairlift!

During your stay at Moon Palace Jamaica Grande, you can choose from five different restaurants and six different bars with amazing cuisine and craft cocktails. In addition, we will share a bit of time in agent networking to learn more about Palace Resorts, and we are sure to have plenty of time to relax and enjoy the resort, as there are five pools, which include waterfalls, plunge pools, the Flow Rider Double Wave Simulator and swim-up bars. You can also take advantage of 2 tennis courts, and the fitness center that features a wide variety of equipment. Based upon availability, agents can book an additional pre or post night stay at special rates, as well.
The atmosphere at Moon Palace Jamaica Grande positively crackles with possibility. Outside in the sun, or inside with comfort and elegance, there's never any shortage of unforgettable activities, attractions and experiences. If you are selling this market of All Inclusive properties, this FAM is a special opportunity to make Palace Resorts one of your preferred suppliers, then find yourself a poolside lounge chair and an attentive waiter. Let FAMTrips.travel and Palace Resorts welcome you to Jamaica in September 2017!
ITINERARY

Friday, Sept 8, 2017
Meet your arrival transfer at the airport in Montego Bay, Jamaica (Donald Sangster Airport). Get settled into your lovely accommodations and start enjoying the wonderful venues of Moon Palace Jamaica Grande Resort! Tonight we will meet you for a meet and greet hour and a welcome drink. Later you may want to experience the traditional Italian Flavors of La Gondola, Moon Palace's a la Carte Restaurant! The night is yours to enjoy!

Saturday, Sept 9. 2017
This morning, you can experience breakfast with our 24 hour room service that allows you to enjoy an array of dishes while you lounge in the luxury of your room. At 11:30 AM we will meet in lobby for Mystic Mountain- an iconic landmark of Jamaica offering top Canopy Tour attractions. You may just elect to enjoy the facilities at your leisure including indulging in your complimentary massage in the Awe Spa ( trade mark) which will be lined up in advance through FAMTrips.travel and Moon Palace Jamaica Grande. This evening you can experience dinner at your leisure and maybe try out MOMO's which is an oriental cuisine! The evening is yours for fun and exploration of this lovely resort!

Sunday, Sept 10, 2017
Experience breakfast with our 24 hour room service that allows you to enjoy an array of dishes while you lounge in the luxury of your room. This afternoon you can dine at your leisure; try our Buccaneers Reef Buffet, snack bar, or food court. Enjoy the ocean side activities, endulge in your complimentary massage, or try your expertise on the Flowrider! This evening we invite you to dine at Pier 8 restaurant with its a-la-carte seafood menu and overlooking a shimmering pool or choose your personal favorite dining venue for your final night in paradise!

Monday, Sept 11, 2017
Today after your relaxing breakfast, your transfers will take you to the airport or if you have elected to stay an additional night based upon availability, let the fun and relaxation continue!
Special Agent Only All Inclusive Rate
$399.pp based on double
To Book this FAMTrips.travel Jamiaca FAM…

www.FAMTrips.travel | 888 909 FAMS or 941 322 1800 | Email: info@famtrips.travel