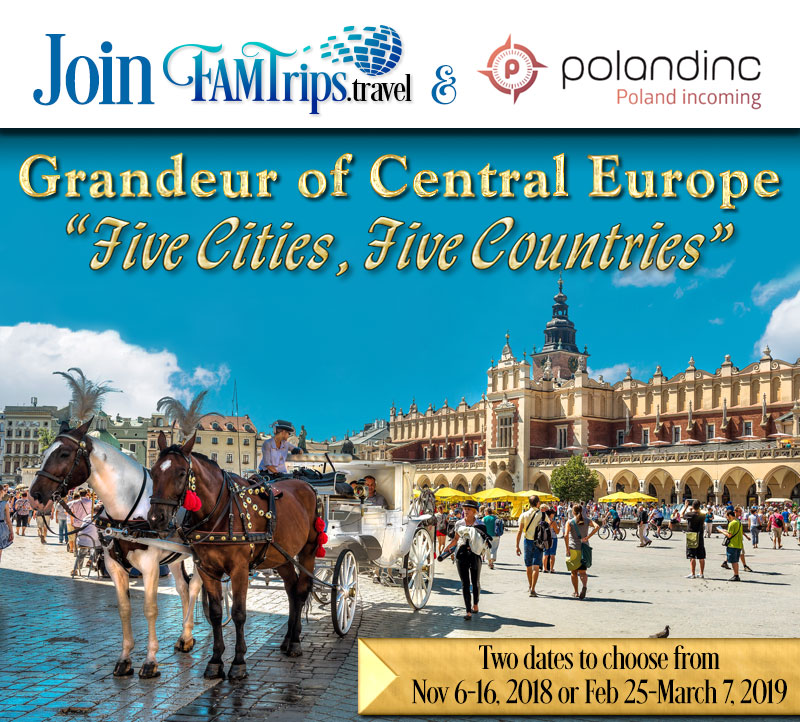 Join FAMTrips.travel and PolandInc.com for a five-city land based adventure through Central Europe.
Together we take in the finest sites in the cities of Prague, Vienna, Budapest, Bratislava and Krakow! All five of these dynamic cities are cultural centers that have many shared histories including the rise and fall of some of Europe's largest dynasties and empires. Central Europe is not only defined by physical location, but rather by this shared history and cultural change they endured through the ages. Each city, with its elegance and impressive history, also has a story of the struggle of war and their dependence on the strength of their people to recover and shine again. This fam will be a photographer's delight, as well. For agents who are hoping to learn more about marketing and selling some of the most amazing countries and many of their capital cities here in Central Europe, this fam offers you that great opportunity.
Day By Day Itinerary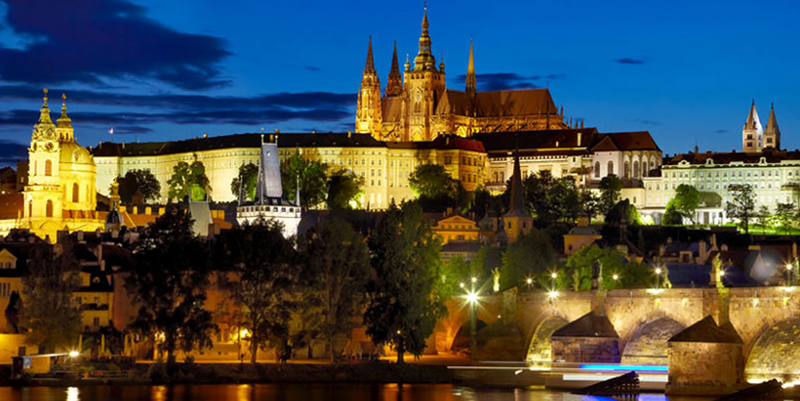 DAY 1: November 6, 2018 / February 25, 2019

Upon your arrival into Prague International Airport, you will be met and greeted by your representative from PolandInc.com, our special host for this fabulous 5-country famtrip. After you are all checked in, you have time to relax and enjoy some free time before our included group dinner in the four star hotel we have selected to be our host. ( See all four star hotels listed below at the bottom of this complete itinerary.) Prague, capital city of the Czech Republic, is bisected by the Vltava River. Nicknamed "the City of a Hundred Spires," it's known for its Old Town Square, the heart of its historic core, with colorful baroque buildings, Gothic churches and the medieval Astronomical Clock, which gives a very animated hourly show. Completed in 1402, pedestrian Charles Bridge is lined with statues of Catholic saints. No matter the season, Prague never fails to delight its visitors! The flavors of Prague are those of old world delicacies! You surely must try the Trdelnik, a Slovak rolled pastry originating from the Hungarian speaking region of Transylvania! It is one of our favorites from our past visits here!

DAY 2: November 7. 2018 / February 26, 2019
Prague – Sightseeing the gorgeous capital of the Czech Republic

After breakfast we will begin our guided tour, which will surely impress you with the amazing centuries old buildings, quirky arts, and the chance to indulge in wonderful street food along with their famously delicious beers. Today's tour will include incredible Prague Castle, the current office of the president to the Czech Republic. You'll also visit the Golden Lane, one of the most popular attractions in Prague's castle complex whose name came from the goldsmiths who moved into these tiny houses to serve the king in the seventeenth century. We also stroll through the Mala Strana region at the base of Prague castle hill with its many shops and restaurants. It's the perfect place to meander and try the local specialties including those delicious local beers! And of course no visit is complete in Prague without a walk across the Charles Bridge, lined with larger than life statues of the saints. Later that night we will have an amazing dinner cruise on the River Veltava, before returning to our hotel.

DAY 3: November 8, 2018 / February 27, 2019
Prague continued City Tour- Vienna
Prague continued City Tour- Vienna
Following breakfast, we will finish off the our city tour of beautiful Prague by visiting Wenceslas Square, Old Town Square, founded in the 12th century, the Old Town Hall and the amazing and entertaining Prague astronomical clock. Old town square is truly where the heart of Prague beats! From springtime through winter, you will always find the spirit of Prague's citizens here. Whether it be during local festivities of the season or the magnificent wonderland that is created here during Christmas markets between Thanksgiving through the new year, there is never a wrong season for visiting Old Town Square in Prague. We will enjoy lunch on our own during site seeing. Later we are on our way to Austria's exquisite capital, Vienna, for our next adventure. This evening we arrive and will have dinner in a traditional Austrian restaurant and then check into our four star hotel.
DAY 4: November 9, 2018 / February 28, 2019
Discovering Vienna
Today after breakfast, we will be exploring the most gorgeous and the most populous city in Austria in a guided tour. The artistic and intellectual reputation of Vienna was inspired from its famous residents including Beethoven, Mozart and Sigmund Freud. Our tour will include the Old Town, the beautiful St. Stephen's Cathedral, a fabulous stroll by Graben and Kaertner Streets – the most elegant passages of Vienna. During the tour, you'll have time to relax and enjoy lunch on your own.
We continue our tour with a walk around the Ring Road, the Stadtpark with a gold monument of Johann Strauss, the Opera, the Parliament and Hofburg Palace, home of the magnificent Royal Spanish Riding School and the magnificent Lipizzaner stallions. You might get lucky and see them as they pass back and forth between their elegant barn structure and cross the road with their riders as they enter their magnificent performing arena, the oldest and most beautiful riding academy in the world, complete with crystal chandeliers, and located right next door to the famous Hofburg Palace. This spectacular breed of horse became nearly extinct during World War II. But because of their impressive performances, General George Patton carried out a daring rescue named Operation Cowboy behind German enemy lines and placed the horses under the protection of the United States until the end of the war, with only 250 Lipizzaners surviving. This evening we enjoy a tasty group dinner at a traditional Austrian restaurant followed by a transfer back to the hotel.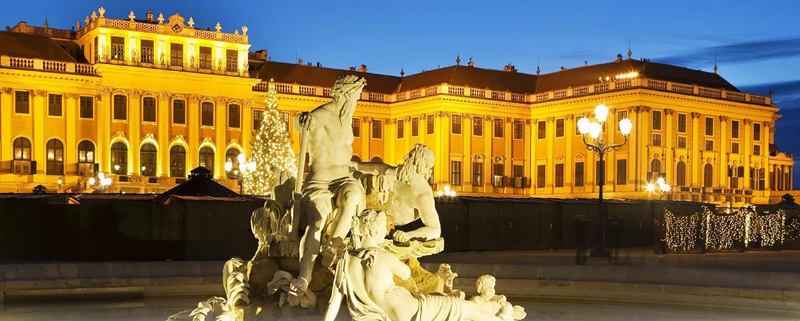 DAY 5: November 10, 2018 / March 1, 2019
Vienna -Budapest / 4-Star Hotel tbd
Today after breakfast and before we transfer to Budapest, we will visit the huge 1,441 room Baroque Imperial Schonbrunn Palace and see the beautiful vast gardens of successive Habsburg monarchs. The House of Habsburg, also called House of Austria was one of the most influential and distinguished royal houses of Europe from the 12th century through the early 1900's. The historic mansion was the home and summer palace of several kings and empresses during the seventeenth century and beyond.
This lovely palace is also one of the most exquisite sites where the Vienna Christmas market celebrations are held each year between late November through the new year festivities. After this visit to the palace, we will continue in our luxury coach to Budapest where we check into our four star hotel. Dinner is on your own this evening and we will give you several nice suggestions of places to dine at your leisure while you meander a bit on your own in lovely Budapest. Cited as one of the most beautiful cities in Europe, the city's central area on the Danube River is also classified as a UNESCO World Heritage Site with many of the sites you will visit tomorrow during your tour. Attracting more than 4 million tourists per year, Budapest also was voted to be the world's second best city by Conde Nast Traveler in 2013.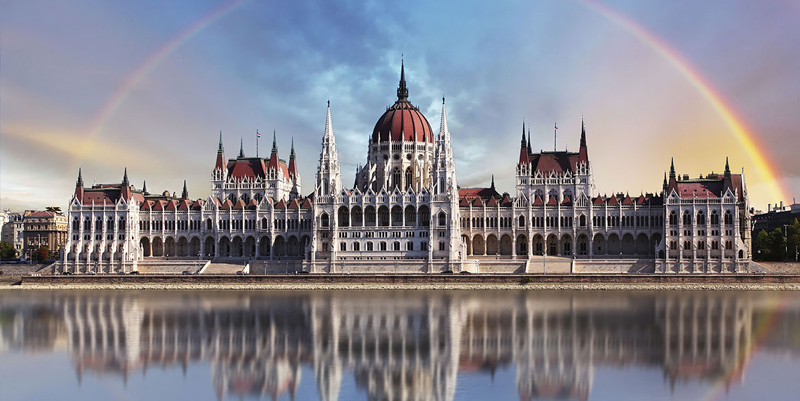 DAY 6: November 11, 2018 / March 2, 2019
Budapest
After breakfast, we depart for a full day tour of the wonders of Budapest. We will see Heroes' Square, wonderful Budapest Opera, and the Basilica of St. Stefan. Then we will move on to the magnificent views of Castle Hill, as we enjoy seeing the beautiful Cathedral of Our Lady and Fisherman's Bastion region. Lunch will be on your own today. You will have the opportunity to stroll down the streets of Old Town, along the Royal Palace and take in the incredible panorama of Budapest from Gellert Hill. This capital city of Hungary is known as the "city of baths" due to Hungary's abundance of thermal springs which has allowed for the creation of many baths and health spas rich in thermal waters with healing qualities. You may have the ability to see depending on our schedule during the tour is the world-famous Gellért Baths, located in the same building as the Hotel Gellért, which was built between 1912 and 1918 in Art Nouveau style. Ever since its opening in 1918, Gellért Baths remains one of the most beautiful baths in Budapest. References to healing waters in this region can be found from as early as the 15th century. The hot springs that feed the thermal baths rise from deep within Gellért Hill, and the Turks used them during the 16th and 17th centuries during their stay in Hungary. Today, Gellért Baths shines in its former glory after recent renovations and restorations carried out in 2006 and 2007. Dinner will be included at a local venue for us to enjoy as a group.

DAY 7: November 12, 2018 / March 3, 2019
Bratislava
Today we transfer to Bratislava, the capital of Slovakia, set along the Danube River by the border with Austria and Hungary. It is the only national capital that borders two sovereign states. In 2017, Bratislava was ranked as the third richest region of the European Union by GDP per capita following only after Hamburg and Luxembourg City. This lovely city is surrounded by vineyards and the Little Carpathian mountains, crisscrossed with forested hiking and cycling trails. The pedestrian-only, 18th-century old town is known for its lively bars and cafes. Perched atop a hill, the reconstructed Bratislava Castle also overlooks old town and the Danube. During our time here we will stroll through the beautiful Old Town, Main Square, Old Town's Town Hall and the Bridge of the Slovak National. You can enjoy lunch on your own during our sightseeing. This evening we will enjoy a sunset cruise on the famous Danube River and then return to our four star hotel for dinner.

DAY 8: November 13, 2018 / March 4, 2019
Krakow 
Today after breakfast, we will transfer to Krakow. Arriving early afternoon, we will check in to our four star hotel and grab a bit of lunch on our own before our afternoon tour taking us to Wieliczka, the famous Polish Salt Mine, which is so interesting to see. This world class monument, features twelve objects on the UNESCO's World Cultural and Natural Heritage List since 1978. With a history of over 700 years, this salt mine is Poland's oldest business venture. It is visited annually by more than a million tourists from all over the world. The mine is the work of over tens of generations of miners, and is truly a monument to the history of Poland. The mine also provides a venue for splendid underground concerts and theater shows. Dinner will be offered at our hotel upon our return.

DAY 9: November 14, 2018 / March 5, 2019
Krakow / 4-Star Hotel tbd
After breakfast, we enjoy a full day sightseeing tour of Krakow including the Main Square, the Cloth Hall, and so many beautiful historic churches around the UNESCO attested Old City. It is filled with life in the summer and is a veritable winter wonderland during the colder months. We will also see the Jagiellonin University, Collegium Maius, and Wawel Cathedral, arguably the most important church in all of Poland. The medley of Gothic, Renaissance and Romanesque architecture, the great Wawel Castle can be seen towering over the whole city. It was once the home of the Polish kings and queens, and still has great museums and court rooms as a testimony to its former glory. Lunch is on our own during our touring and later, our dinner will be held in a delicious traditional polish restaurant.

DAY 10: November 15, 2018 / March 6, 2019
Krakow-Auschwitz-Oswiecim
To close out our last historical tour, after breakfast, we will transfer to Oswiecim to view one of the largest, former German Nazi concentration camps, Auschwitz Birkenau.
Dark, emotional, moving, and sobering in the extreme, there's really nowhere in Europe quite like Auschwitz-Birkenau. It remains one of the top activities to do in Krakow, offering an informative and sensitive insight into the horrors of the Holocaust and the destruction wrought by the Nazis on the Jews and minorities of the continent. The memorial and museum are around an hour from the city center. Afterwards, we will return to Krakow for lunch on our own and then some free time to enjoy and explore Krakow. Our farewell dinner will be enjoyed at a regional restaurant.. As we say good bye to our new friends at Poland Inc, we also say thank you for a tour of five countries and five amazing cities. Our thanks go out to so many of the suppliers who offered their time to PolandInc.com and our Famtrips.travel travel agents and guests.
Prague: Park Inn 4* or similar 
Vienna: Hotel Exe 4* or similar 
Budapest: Novotel 4* or similar 
Bratislava: Hotel Tatra 4* or similar 
Krakow: Golden Tulip 4* or similar 
Non Industry Guest Add $10
Agent Rate: $1899.00 pp on twin share
Non Industry Guest Add $100
To Book this FAMTrips.travel Central Europe FAM…

OR

www.FAMTrips.travel | 888 909 FAMS or 941 322 1800 | Email: info@famtrips.travel