Join FAMTrips.travel and our hosts, Turismo dos Azores, representing also VisitAzores.com for our 2nd amazing educational FAM to the Azores!
This program includes extensive touring of Terceira Island, Faial, Pico, and Sao Miguel Islands and is in conjunction with Azores Promotion Board. Included are lovely and unique four-star accommodations on each island, all tours as per the day to day itinerary below, as well as local dining each day to include all meals during the eight day program.
FAMTrips.travel will assist agents in their air schedule bookings so that they are booking themselves on the correct flights using Azores Airlines. From Boston, the present rate which will INCLUDE the international round trip and three domestic flights within the Azores was prices at $625 USD total. The same itinerary from Chicago including international flights connecting through Boston on Azores Airlines, and including all three domestic flights in Azores is approximately $750 pp, for example. There are other gateways you can select to use from the USA but all will connect through Boston.
The Azores, an archipelago composed of nine volcanic islands in the North Atlantic Ocean about 850 miles west of continental Portugal has become an uncovered treasure for tourism, particularly for those who love the natural beauty of these volcanic lakes and surrounding terrain. With their main industries being agriculture, dairy farming, livestock, fishing, and now, certainly tourism, the Azores are becoming a wonderful choice for vacationers who love beautiful terrain and great weather year round. Since 1976, the Azores is an autonomous region integrated within the framework of the Portuguese Republic. Since becoming an autonomous region, the executive branch of the regional authority has been located in Ponta Delgada, (Sao Miguel) the legislative branch in Horta, (Faial) and the judicial branch in Angra do Heroísmo (Terceira), all three cities which you will visit during this FAM program and so much more! This beautiful country is awaiting your arrival!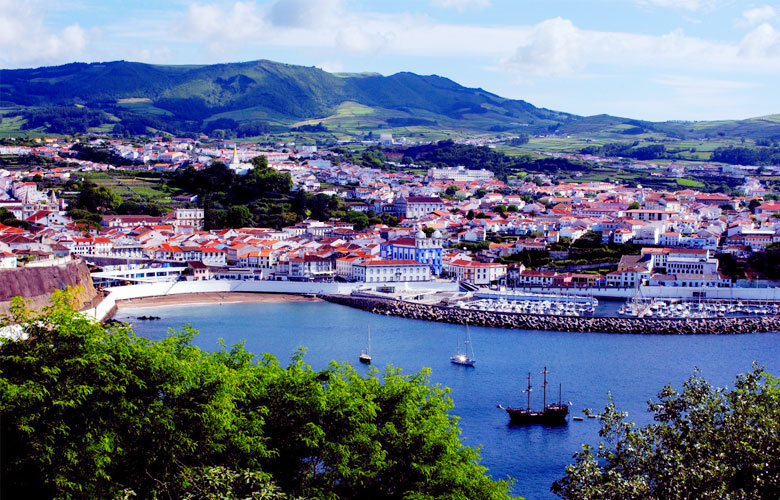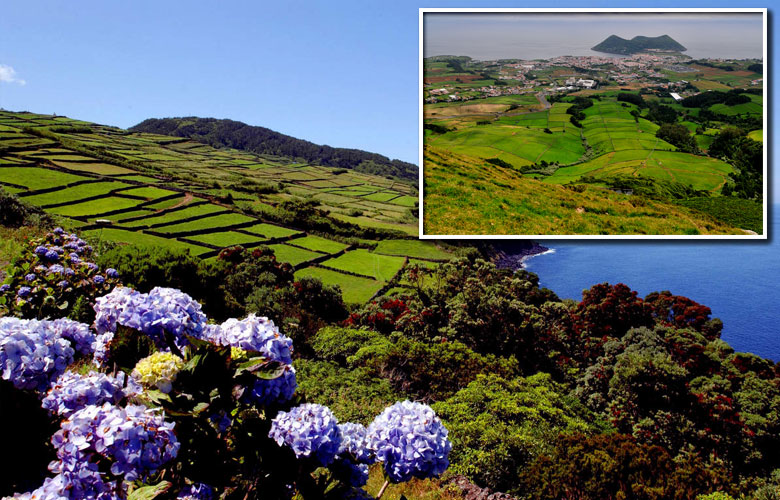 April 2: Tuesday
This morning we arrive on Terceira Island, the second most inhabited island of the Azores, with 56,437 inhabitants. Your guide will be waiting for you with a sign with "Fam Trip TIES" identification and Azores logo and you will transfer from the airport to your four star hotel accommodation. After a bit of relaxation, we will meet our guide at 1 PM at the hotel reception and depart for a half day tour to Terceira Island including lunch at a local restaurant. After lunch, we will enjoy a walking city tour to Angra do Heroismo, the only city of the archipelago that has been classified as a World Heritage Site by UNESCO. This special town was established in the 15th century and is one of the three regional capitols of the Azores. With its picturesque streets, palaces, manor houses, monuments, and churches, it is easy to understand how the citizens through the last many centuries made such an effort to preserve this lovely historic city.We will also visit Monte Brasil, an extinct volcano which is three square kilometers in size, surrounded by four km long walls of the Sao Joao Baptista Fort, now days the oldest fortress that has been continuously occupied by the Portuguese army. Later we return to our hotel to get ready for dinner. This evening we will meet again and walk to our local restaurant for a lovely welcome dinner. Overnight in Terceira Island
April 3: Wednesday
After breakfast at the hotel, we will meet our guide at 9 AM at the reception area and depart for a full day tour to Terceira Island to include a visit to the Cheese Factory, Biscoitos, Praia da Vitória, Algar do Carvão and Serra do Cume . Lunch is included at local restaurant. After relaxing this afternoon for a bit, we will again meet up with our guide at the hotel reception and transfer/walk to our specially selected restaurant for another wonderful hosted dinner. Overnight in Terceira Island.


April 4: Thursday
This morning we depart early to the airport to fly from Terceira Island to Faial Island. Faial is the third most populous island of the Archipelago with 14,994 inhabitants. The island is part of the Central Group and is the westernmost corner of the so-called "Triangle Islands", which also include São Jorge and Pico, the latter just 6 km away from Faial. The island's highest point is the Cabeço Gordo (1,043 m of altitude).
After your check in to the hotel, we will enjoy a walking tour to visit Monte da Guia, Porto Pim Aquarium – Live Fish Station, The Dabney's House, Azores Sea Observatory – Sea Centre, Porto Pim, Horta Harhbor, Scrimshaw museum, Peter's Café Sport, and enjoy lunch at local restaurant. We will take some time to relax before we meet up again to enjoy dinner at a local restaurant and overnight in Faial Island in our four star accommodations.


April 5: Friday
This morning after breakfast at the hotel we meet with our guide at the hotel reception and transfer to the harbor. This morning, weather permitting, we will enjoy a whale watching trip followed by lunch at a local restaurant. After lunch, it is time to visit Espalamaca Lookout, Caldeira, Capelinhos Volcano and Interpretation Center and Varadouro. We have time to relax before meeting our guide to go to dinner at a local restaurant. Overnight in Faial Island.


April 6: Saturday
After breakfast at the hotel we meet with our guide at the hotel reception and transfer to the harbor for our boat trip from Horta to Madalena, arrival to Pico Island around 9 AM. Pico is the second largest island of the Azores, with 444.9 sq. km. It is dominated by the Volcano of Pico on its western half, it is 6 km away from the neighboring island of Faial and is populated by 14.148 inhabitants. It is the most southerly island of the Central Group of the Azores Archipelago and part of the "triangle islands." The highest point of the island, at 2350 m altitude, is also the highest point of Portugal! After our arrival we will be ready for a full day tour to Pico Island where we will visit Madalena Village, Wine Museum, Criação Velha Vineyards, Gruta das Torres, Lajes do Pico, Whalers Museum, São Roque do Pico, Santa Luzia, Lajido e Cachorro , including lunch at local restaurant. Later we will transfer to the airport for our flight from Pico Island to Sao Miguel Island. We check into our hotel, enjoy another included dinner and overnight. São Miguel is the biggest island of the archipelago with more than half of the Azorean population (137.856 inhabitants in 2011) occupying an area of 744.7 sq. km. Together with Santa Maria, located 81 km away, São Miguel is part of the Eastern Group of the Azores Archipelago.

April 7: Sunday
After breakfast in our hotel, we meet our guide at hotel reception and depart for a full day tour to São Miguel Island. We will drive to Furnas, following by the north road and visit the Tea Plantation also. Discover Furnas Lake, where we will also watch a typical meal called Cozido das Furnas being cooked underground. Lunch is included at a local restaurant before we visit Terra Nostra Park and Furnas Village. One of the most beautiful and interesting things about the island of São Miguel is the ever changing terrain and foliage. The island seems to be many places at once- the rolling green hills of Ireland, the dense woods of Northern California, and the tropical landscape of Costa Rica. For a concentrated glimpse, we will need not look any further than the beauty that surrounds Furnas Lake! After lunch, we return to Ponta Delgada. This evening we meet our guide and again depart to a special local restaurant for lovely group dining experience. Overnight in São Miguel Island.

April 8: Monday
After breakfast at the hotel, we depart for a full day tour to São Miguel Island. We will visit the Pineapple Plantation, Fire Lake and Caldeira Velha, a waterfall of warm where you can take a dip. After our included lunch, we will visit the landscape of the Sete Cidades Lake, Mosteiros and Ferraria. This evening we will share our farewell dinner at local restaurant. Overnight in São Miguel Island.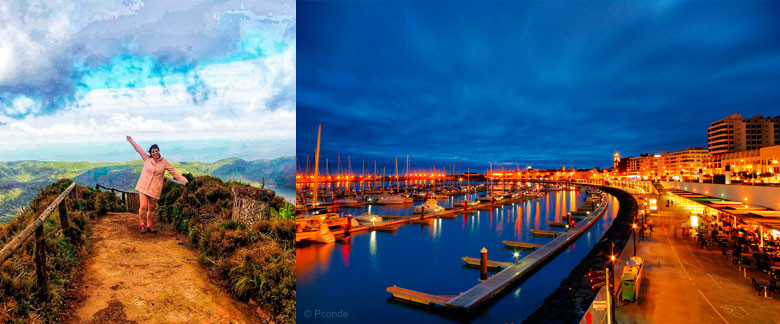 April 9: Tuesday
It is our final day in the Azores and after breakfast at the hotel we will meet with our guide at the hotel reception to enjoy our walking city tour in Ponta Delgada, visit the local market, Portas do Mar, Portas da Cidade, Igreja de São Sebastião, Forte de São Brás, Campo de São Francisco, and Convento de Nossa Senhora da Esperança. We will enjoy lunch at local restaurant, and then transfer to the airport to check in for our return flight to Boston. We depart as we thank VisitAzores.com and their partners throughout our fam program for their amazing hospitality. Now it is time for us to return and begin our own marketing to bring our clients back to this incredible destination!
THIS 8-Night All Inclusive LAND FAM of the Azores INCLUDES
Four Star Accommodations throughout program ( final hotel selections to be determined)
All touring of the sites on each island, as outlined in the above day to day itinerary
Airport transfers throughout program
Seven breakfasts, seven lunches and seven dinners, including lovely local dining on each island
Individual rooms for each agent, so agents will not need to be matched up
Professional escort and tour guide throughout the program
FAMTrips.travel will personally walk you through the airfare booking process to help facilitate the booking of your combination of International and domestic flights in the Azores since the following flights must be included in your Azores Domestic Flights
The following Azores Airlines flights MUST BE INCLUDED in that itinerary and can be booked on Azoresairlines.pt/en site:
SP 460 02APR PDLTER 07h15 07h55
SP 482 04APR TERHOR 08h35 09h10
SP 479 06APR PIXPDL 17h45 19h30
This is an AGENT ONLY FAM and Only 16 agents will be confirmed.
Price $699. Per Agent Only
To Book this FAMTrips.travel "Azores" FAM

www.FAMTrips.travel | 888 909 FAMS or 941 322 1800 | Email: info@famtrips.travel
Fla. Seller of Travel Ref. No. ST40116