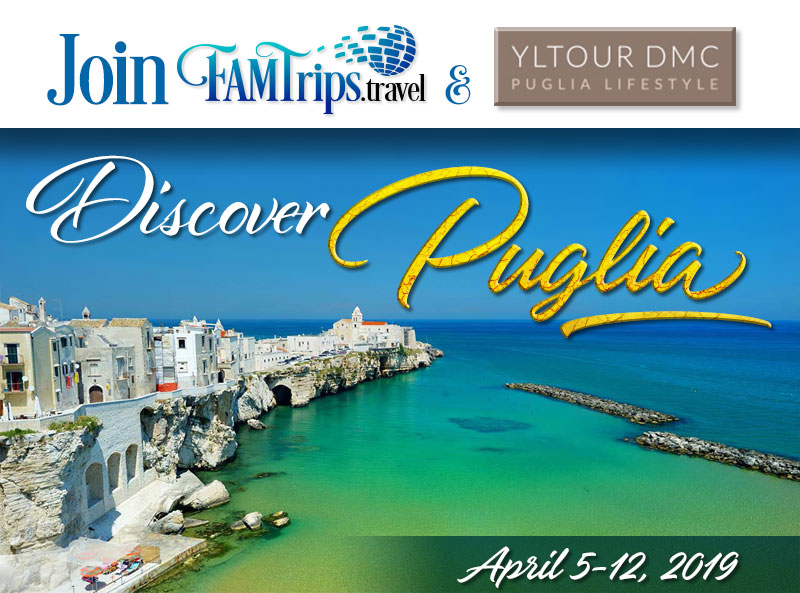 Join FAMTrips.travel and YLTOUR DMC as we return once again to amazing Puglia!
This southern region of Italy, forming the heel of Italy's boot, is known for its whitewashed hill towns, centuries-old farmland and hundreds of kilometers of Mediterranean coastline. Lecce, the Florence of the South is one of our most featured cities in this Fam and is known as "the city of Barocco" for its unique architecture while one of our last stops on the fam, Alberobello is home to the trulli- stone huts with distinctive conical roofs.
These cone-shaped houses huddle together as if gathering for a gnome convention. This region of Italy is also becoming very popular for family-based travel! Added to this, you will enjoy cooking with the Mums of the famous cooking school Cookinpuglia. Together we willvisit UNESCO World Cultural sites. Food, wine and music festivals are so very popular throughout every year in Puglia! Of course no trip to Puglia would be complete without a visit to the amazing seaside villages of Polignano a Mare and Monopoli The art, the culture, the food, AND the wines- all will be highlighted during our educational FAM program to the beautiful Puglia region. Destination Specialist Ylenia Sambati and her team from YLTOUR DMC have also arranged a unique set of hotel inspections in several unique regions you will be touring to will help you to create the perfect travel programs for your clients!
Day By Day Itinerary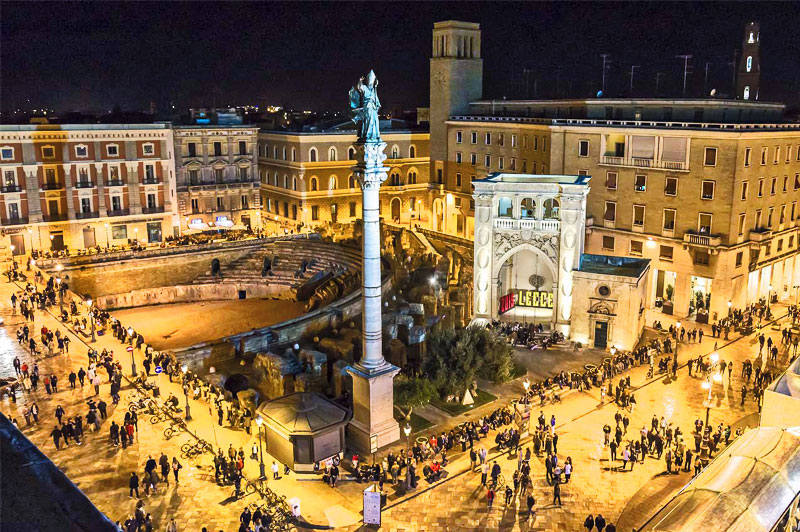 Day One: April 5 – WELCOME TO PUGLIA
Upon arrival you will be transferred from Brindisi airport to your Hotel in Lecce, the fashionable Hilton Garden Inn, a 4-star Lecce hotel located 10 minutes from historic city center attractions with its lovely contemporary design. At 7 PM join us for our welcome reception with Puglia Destination Specialist Ylenia Sambati followed by dinner at the unique Cube Restaurant.
(D)


Day Two: April 6 – COOKINPUGLIA + LECCE
This morning after our breakfast, we will have a brief site inspection of our host hotel before we depart for our fun morning with the "Mums of Puglia" for a real authentic Italian cooking experience! At 10:30, we will meet our guide in lobby to depart. This morning we grab our apron and immerse in the local cuisine, as we make Focaccia and Orecchiette with the mums of the cooking schoo, COOKINPUGLIA. During the class we also taste wines, get to know some interesting information about the Salento wine region. We will taste some local great foods together with our wine tasting and maybe even do a bit of dancing to Pizzica Pizzica folk music in a picturesque Piazzetta di Paese (the square of the village). If you appreciate Italian culture, art, cuisine, wine, lifestyle, the dolce vita, then this is the right place for you.
Later we return to our hotel for a bit of leisure time before discovering Lecce, city of Barocco and dinner together. At 4 PM, we depart the hotel for our LECCE WALKING TOUR.  Lecce enchants us with its timeless architecture and ancient exuberance! Lecce is the heart of Salento, a place where time constraints do not exist, or rather, a city in which time seems to have stopped. Lecce's lovely baroque character creates a masterpiece with everything glistening in shades of honey and cream. We will also check out a lovely hotel property in Lecce during our evening out prior to our local included dinner.  At 7:30 we will relax and enjoy a typical Trattoria style dinner in Lecce!
(B/L/D)

Day 3: April 7 – THE SALENTO PENINSULA OF GALATINA, GALLIPOLI AND WINE
After breakfast we will meet our guide in the lobby and depart the hotel at 9:30 to visit the Cartapesta Paper maché Studio.
Discover the charming southern area of Salento, south of Lecce on the Ionian coast. Galatina, with its Basilica of Santa Caterina d'Alessandria also known as the Assisi of the South because of its wondrous frescoes. We will also have the opportunity to check out a wonderful property during a brief hotel site inspection and light lunch.
We will experience Gallipoli and enjoy a walk in its fascinating old town. This beautiful seaside fishing village is a real gem with its labyrinth of alleys, a few century-old churches, the beauty of turquoise water and scenic views of its fishermen hard at work.  On the way back to Lecce you'll stop at a Boutique Winery for a glass of wine.
Dinner is on your own this evening in Lecce so you can experience those romantic dining spots that appeal to you the most.
(B/L)

Day Four: April 8 – OTRANTO-UNESCO
World Cultural Site and Cheese Factory Visit
At 9: 30 AM we meet our guide in the lobby of our hotel and depart for Otranto, stopping briefly to see a lovely hotel property in this gorgeous region of Italy.
On the way to Otranto we will stop at a Cheese Factory discovering the real taste of great local cheeses. Just before our light lunch, we will stop to visit a final property in the region.   Otranto is a natural bridge between East and West one of the very important maritime centers of Italy and the natural point of trade with Greece. While walking around the town, the ancient walls and the Aragonese Castle can be admired. The Cathedral of S. Maria Assunta, consecrated in 1088, has a huge rose window. The interior of this cathedral has columns which are said to come from a temple of Minerva and a fine mosaic pavement of 1166. It is one of the largest mosaics in the world and depicts the "tree of life" with interesting representations Old Testament subjects. The Cathedral has a crypt supported by 42 marble columns. It holds the bones of 800 martyrs (later proclaimed saints ) who were killed by the Turks in 1480 in an attempt to conquer the town. Bones are kept on massive shelves inside the cathedral. Our lunch will be enjoyed at a nearby rural agriturismo. Later we return to Lecce to relax and enjoy dinner at our own leisure.
(B/L)

Day 5: April 9 – OLIVE OIL FARM + OSTUNI
After breakfast we check out of our hotel and depart at 10: AM.   This morning, we travel to the white-washed town of Ostuni and for an epicurean experience of olive oil tasting at a wonderful local farm. Having more than 50 million olive trees, this region is the number one area for olive and olive oil production. The residents of Ostuni first arrived during the Stone Age and it was later rebuilt by the Greeks. You will tour this town over a beautiful walk discovering its narrow white alleyways and magical labyrinth, the low archways and the dramatic flights of stairs which lead only to someone's front porch. Ostuni is an architectural jewel, commonly referred to as the White Town or La Citta Bianca in Italian. The brightness of its whitewashed houses, a series of levels, staircases, small roads, alleys, arches, make Ostuni a truly special intimate town.
Lunch will be included in a local trattoria. Tonight we check into our new home for the final three nights of our adventure in Puglia, experiencing the Grand Albergo Internationale in Brindisi, right by the sea, nestled in the beautiful harbor with lovely trattorias and cafes all around! You may choose to dine in our hotel on your own or explore the quaint charm and wonderful cuisine of nearby restaurants! We will be sure to get some excellent recommendations from our host, YL Tours DMC!
(B/L)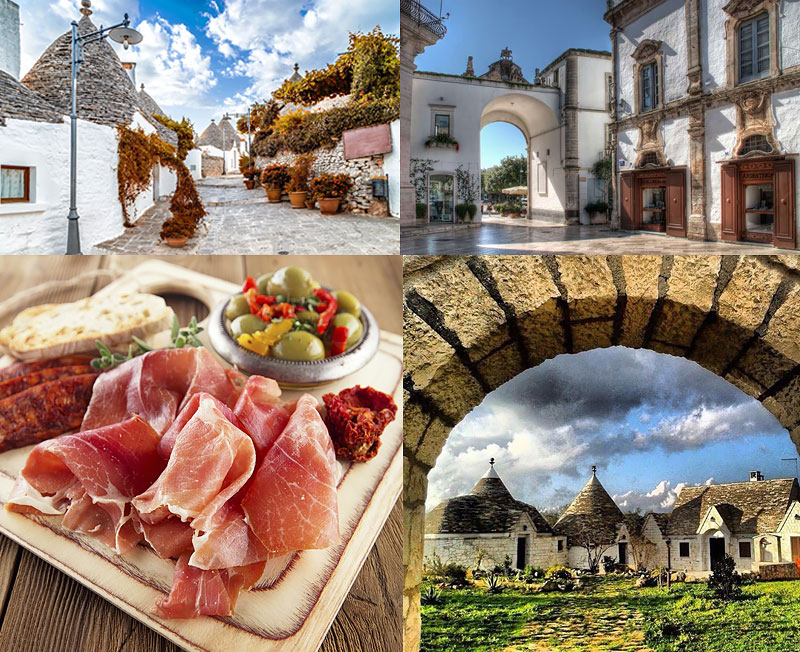 Day Six: April 10 – MARTINA FRANCA + ALBEROBELLO
After breakfast we depart our hotel at 9:30 AM.  Today we visit the iconic Itria Valley towns of Martina Franca and Alberobello located in central Puglia.
Martina Franca is the second most beloved baroque city gem in the region with its elegant old town and artful palazzi. Until the reunification of Italy in 1861, Martina Franca was a fully walled town, with 24 towers and four gates. As it evolved to cater for more modern requirements, however, some of these towers were removed and other access roads punched into the walls. However, the four Renaissance and Baroque gates still exist, effectively delineating the old town from the more modern 19th century part of town, which also has some lovely architecture and parks.
Our stroll through Martina Franca will be even more special with stops for tastings: mozzarella, bocconotto and capocollo, three specialties that one cannot miss tasting here. Lunch will be casual style tasting fabulous local specialties.  After lunch you'll transfer to a fairy-tale town, Alberobello, the UNESCO Heritage and Cultural town of Trulli. The town is divided into 2 parts: the New Town and the UNESCO World Heritage site of the famous Old Town, the Trulli Town.
The Aia Piccola is less visited by tourists and comprises mainly small trulli, which are still the residential homes of local inhabitants. Rione Monti is filled with activity and tourists. Designated World Heritage site, it is characterized by ancient Apulian small, round white-washed homes of dry stone with conical roofs. We return to our hotel late afternoon.  Tonight you may explore the wonderful options to dine on your own in Brindisi at leisure. Our host, YLTours DMC will once again give us some wonderful suggestions!
(B/L)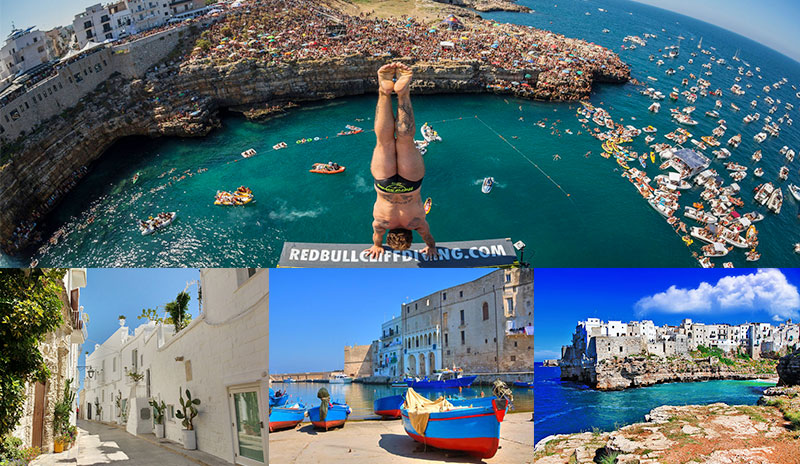 Day 7: April 11 – MONOPOLI AND POLIGNANO A MARE
Today after breakfast we depart our hotel to visit the picturesque coastal towns of Polignano a Mare and Monopoli, two gems on the Adriatic sea with characteristic old towns to be discovered. The area has been settled since prehistoric times, evidenced by archaeological excavations in the locality of Santa Barbara. It is believed to be the site of the ancient Greek city of Neapolis of Apulia, not mentioned by any extant records but attested by many coins. Remains of the Roman domination include the bridge on the Via Traiana.  The town is thought to be one of the most important ancient settlements in Puglia and was later inhabited by successive invaders ranging from the Huns to the Normans.  The former cathedral includes works by the sculptor Stefano of Putignano. In the frazione of San Vito is a massive Benedictine abbey.  On Sundays, the logge (balconies on the seaside) are crowded with Italian day trippers from Bari and tourists who come here to view the crashing waves, visit the caves and enjoy the amazing cornetterias (shops specializing in Italian croissants) in the atmospheric centro storico. We return to Brindisi in the late afternoon. This evening, as you prepare to depart Puglia, you are invited to enjoy a final special farewell dinner hosted by YL Tours DMC.
(B/D)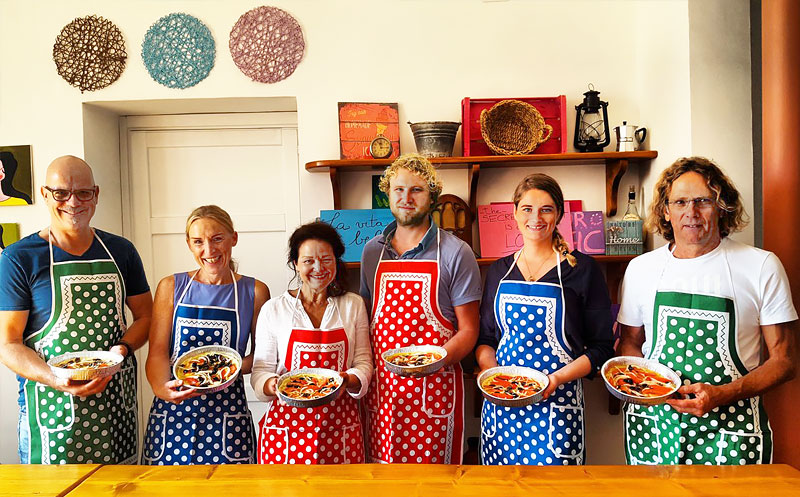 Day 8: April 12 – Arrivederci Puglia!

It has been a week filled with the delicacies and delights of Puglia. Now we can plan to return and bring our groups back with us so that YLTOUR DMC can show them the same special welcome and excellent service that we received during our visit to Puglia.
Transfer is included to Brindisi airport if you are departing on the same day. Other transfers can be arranged at an added cost if needed.
Agent Rate: $1699 pp
Non Industry Guest Add $150pp
Single supplement: $500
To Book this FAMTrips.travel Puglia FAM…

www.FAMTrips.travel | 888 909 FAMS or 941 322 1800 | Email: info@famtrips.travel