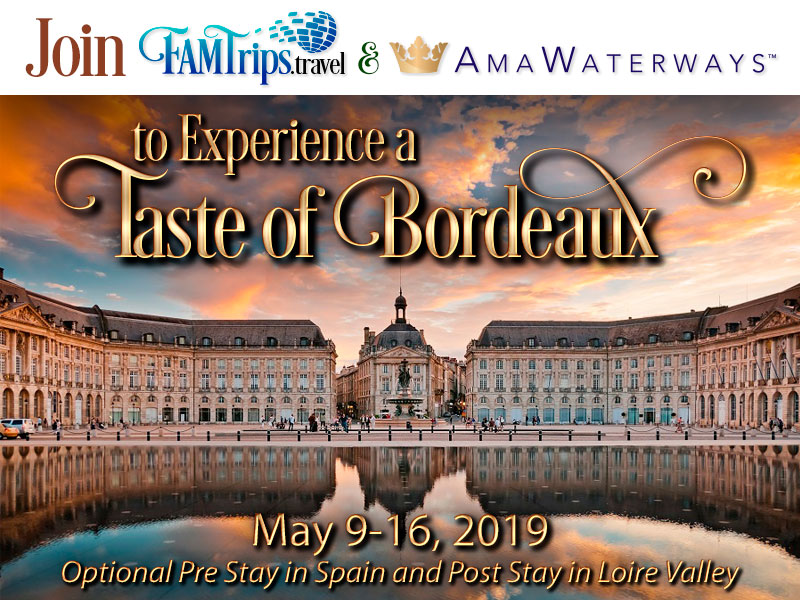 Join FAMTrips.travel and AmaWaterways as we delight in the most amazing region of France-Bordeaux! Together we will explore this thriving tourist destination and mecca for wine enthusiasts. In one week together we will discover vineyards and amazing landscapes in the Bordeaux region and meet those famous people that make the wine! This itinerary is truly magical each day! Many of the motorcoach and walking tours will take you throughout the most beautiful vineyards and inside of so many amazing Chateau properties that have been in the winemaking industry for generations! For those who are interested to do some biking tours, Bordeaux provides a background canvas of countryside not to be missed as your group winds its way from chateau to chateau!

You may elect to begin this cruise with an option four night stay in the Basque region of Spain with two nights in Bilbao and two nights in San Sebastian! Continue on to Bordeaux, the capital of Aquitaine in Southwestern France and one of the world's undisputed wine capitals. Or if you prefer to begin your journey in Bordeaux, AmaWaterways can fly you directly to Bordeaux to begin this lovely cruise. You'll revel in the beauty of so many stately chateaux, abundant vineyards and stunning scenery as you sail along the Garonne River and its surrounding natural estuaries, as your ship, the AmaDolce calls upon unforgettable port cities including Cadillac, Pauillac, Bourg and Libourne. Enjoy tastings of some of the region's most distinguished wines and visit notable sights before concluding your journey in the Loire Valley.
Join FAMTrips.travel to experience the finest service available on the rivers of Europe, lovely accommodations, exceptional tours and so much more! During your cruise, AmaWaterways also includes wonderful complimentary white and red Bordeaux wines each day at lunch and dinner! Agents may bring one guest in their own stateroom, and also may book additional staterooms through FAMTrips.travel at a special "Friends and Family Rate" based upon availability!
ITINERARY

DAY 1 – May 9: PARIS – BORDEAUX – EMBARKATION

If you have enjoyed the optional pre stay in Paris, today you will transfer from Paris and board a TGV high-speed train that will take you straight to the legendary land of wine blends and monumental architecture – Bordeaux. Bordeaux, an amazing city which has the highest number of preserved historical buildings in France, except for Paris, is the world's major wine industry capital. It is home to the world's main wine fair, Vinexpo. Bordeaux wine has been produced in the region since the 8th century. The historic part of the city is on the UNESCO World Heritage List as "an outstanding urban and architectural ensemble" of the 18th century. You will arrive at your luxurious AmaDolce, where you will gather this evening for a Welcome Dinner. (B,D)

DAY 2 – May 10: BORDEAUX – LIBOURNE
Take in the romance of Bordeaux as you pass iconic sights on a scenic morning cruise. Later in the day, dock in Libourne, a gateway to one of Bordeaux's most elite wine regions. Join an excursion to Saint Émilion, known for its celebrated vineyards, and while here, explore the monolithic church carved out of one piece of limestone rock, and then go under the church to discover its catacombs and caves. Afterwards, enjoy a Grand Cru Classé wine tasting at either Château de Ferrand or Château de Pressac. If you prefer a more active adventure, pedal through the vineyard-rich countryside to Saint-Émilion and then to Château Soutard for a Grand Cru Classé wine tasting. You can also choose to tour the magnificent Château Vayres, one of the most prestigious historic buildings of Aquitaine. (B,L,D)

DAY 3 – May 11: LIBOURNE – BLAYE
Stroll through Libourne's colorful, open-air market, tasting some of the region's specialties. Alternatively, tour the magnificent Château de Montaigne, a stunning 19th-century castle where you will enjoy a tasting of the wines of the Mahler-Besse family during your visit to this historic property. You can also choose to visit the place where the first vines in the Libourne wine region were planted 2,000 years ago, Fronsac, and taste local wines from a cellar at a beautiful wine estate. Or, you can get your heart pumping by hiking through one of Libourne's renowned vineyards and rewarding yourself with a wine and tapas tasting. Later in the day, set sail for Blaye, where you'll enjoy an evening at your leisure. (B,L,D)

DAY 4 – May 12: BLAYE – BOURG
Once in Blaye, you can join a tour of its 17th-century citadel, a UNESCO World Heritage Site. For a more active excursion, take a bike ride from Blaye through the idyllic French countryside. While in the ancient village of Bourg, take a walking tour and visit the Carriage Museum, which houses a wonderful collection of horse-drawn vehicles. Later in the day, experience the hospitality of this charming medieval village with an exclusive wine festival. Meet the local wine growers and taste the fruits of their labors as well as enjoy live French music and dancing. (B,L,D)

DAY 5 – May 13: PAUILLAC
Pauillac, a lovely village on the Left Bank of the Gironde Estuary, is gateway to the famed Médoc region, renowned for producing some of the world's finest Bordeaux wines. You will see some of the most beautiful and famous wine estates, including Château Latour, Château Mouton Rothschild, Château Lafite Rothschild and Château Pichon Longueville. You'll then visit either Château Gruaud Larose or Château Léoville Poyferré for a tasting of Grand Cru wines. (B,L,D)

DAY 6 – May 14: CADILLAC
Today we will visit the impressive Castle of Roquetaillade, an amazingly preserved masterpiece of medieval military architecture owned by the same noble family for 700 years. Next, travel to the Sauternes wine region to either Chateau de Rayne Vigneau or Chateau Guiraud to taste the highly prized golden-hued sweet wines produced here. In the evening, enjoy a spectacular illumination cruise, gazing at the iconic structures of Bordeaux as they glow against the night sky. (B,L,D)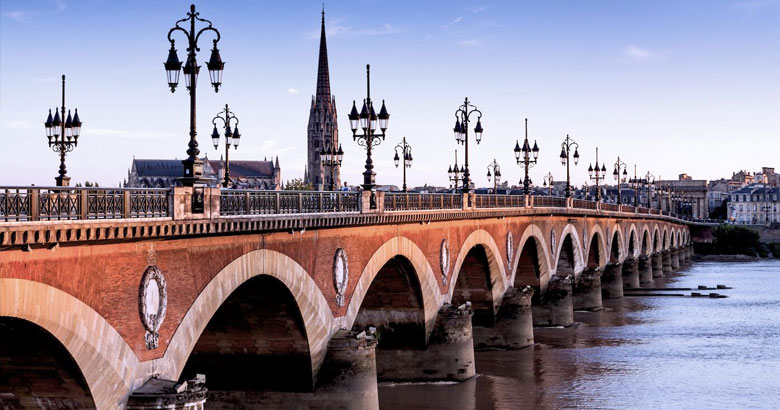 DAY 7 – May 15: BORDEAUX
The breathtaking capital of the wine world, Bordeaux is a UNESCO World Heritage Site and classified as a "City of Art and History." You'll have an opportunity to experience much of the rich culture and architecture on a city tour. Bike enthusiasts will wish to join a tour along the city's amazing network of bicycle paths. Both the city tour and bicycle tour will be followed by a visit to the immersive and interactive Bordeaux Wine Museum, housed in an awe-inspiring building. Bordeaux is truly a lovely walking city with so many lovely neighborhoods to discover! With its abundance of medieval architecture, mixed with great dining all around, and unique shopping, you can enjoy strolling right from the ship this evening in one of the most beautiful small cities in France! (B,L,D)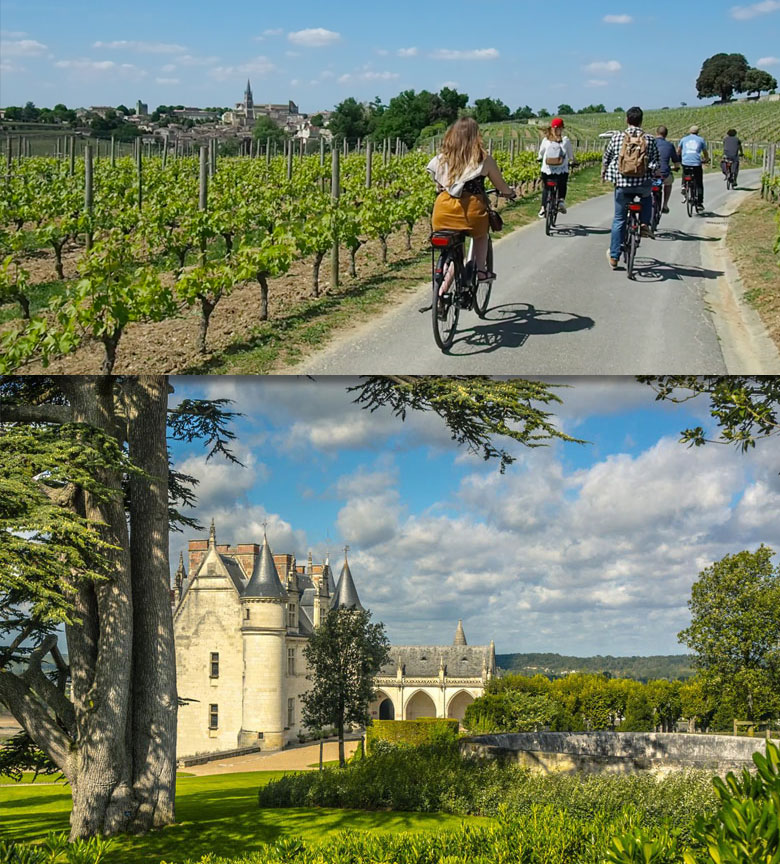 DAY 8 – May 16: BORDEAUX – DISEMBARKATION
Disembark the ship and prepare for your flight home. (B) Our amazing cruise experience ends here. You may choose to extend your stay for and optional post stay of  three nights, with the first two nights being in the lovely Loire Valley while touring, enjoying more wine tastings and overnight stays in Amboise on May 16 and 17, returning to Paris for one final evening of May 19.  If so, you will disembark your ship in Bordeaux and continue your journey to Amboise and begin your experience of this charming city in the Loire Valley, which offers the best of French lifestyle with medieval streets teeming with art, history, lovely gardens and tasty cuisine. You'll have free time to stop at a lively restaurant or market for lunch on your own, and also join a walking tour. Transfer to your hotel in Amboise to check in this afternoon and then have dinner. (B,D)
DAY 9 – May 17: (POST STAY ITINERARY ONLY) AMBOISE
Today, you'll tour the spectacular Renaissance style Chateau d'Amboise. Its extravagant residences, gardens and Gothic chapel belonged to several French kings in the past. You'll also discover Chateau du Close Luce, Leonardo da Vinci's last home. This is where he completed some of his most famous works, like The Mona Lisa, The Virgin and Child with Saint Anne, and the Saint John the Baptist. You'll have free time to use as you please and have lunch, followed by an afternoon tour of the stunning, river-crossing Chateau de Chenonceau. (B)
DAY 10 – May 18: PARIS
Check out of your hotel this morning before you visit the astoundingly massive Chateau de Chambord. Located at the heart of Europe's largest enclosed wooded park, its 156-meter façade, 426 rooms, 77 staircases and 282 fireplaces make this the largest castle in Loire Valley. Next, marvel at the residence of seven kings and ten queens of France during your tour of the famous Chateau de Blois. Enjoy free time for lunch this afternoon, and then transfer by bus to your hotel, located at Charles De Gaulle Airport. (B)
FAM Agent Pricing
Agent Rate for Category D picture window stateroom: $1795 PP + tax
(To compare, the regular retail rate is $3698 pp + tax)
Agent Rate for Category C French Balcony stateroom: $1995 PP + port tax
To compare, the regular retail rate is $4298 pp + tax)
Agent Rate for Category B French Balcony staterooms: $2295 pp + port tax
(To Compare, the regular retail rate is $4498 pp +tax)
Agent Rate for Category A French Balcony staterooms: $2395 pp + port tax
(To Compare, the regular retail rate is $4598 pp + tax)
Non Industry Guests in same stateroom, add $200.
Port tax is $182 pp
Special Offer through FAMTrips.travel!
Agents are also invited to bring other friends and family guests in separate staterooms
at the rate of $200 additional added on to the Non Industry Guest Rate.
These additional staterooms are also booked through FAMTrips.travel
and are a great savings for your friends, family or group leaders!
To Book this FAMTrips.travel Bordeaux FAM…

www.FAMTrips.travel | 888 909 FAMS or 941 322 1800 | Email: info@famtrips.travel