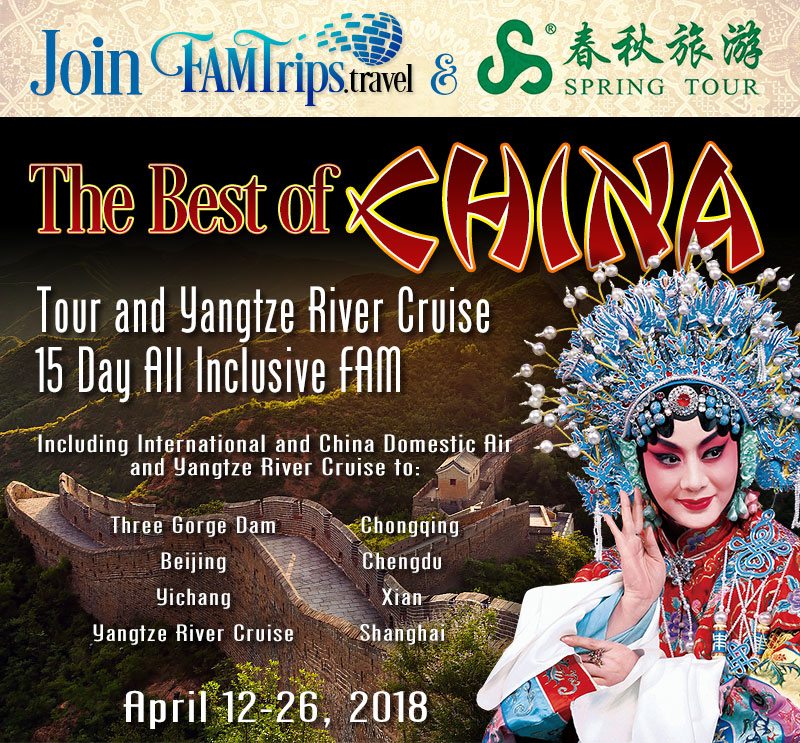 This amazing journey through China is one of the most all-inclusive fam programs we have offered! All air from two international gateways, JFK and LAX, is included. Also included is most dining throughout the entire program, comprehensive touring and special features, along with luxurious outside staterooms on the elegant Yangtze river cruise, as well. Discover China, from terracotta warriors to fluffy pandas and to modern skylines and ancient history!
China expert Spring Tours will become your best partner to promote and sell China to your most discerning clients in the future! Join us in the exotic orient and find out why! 
ITINERARY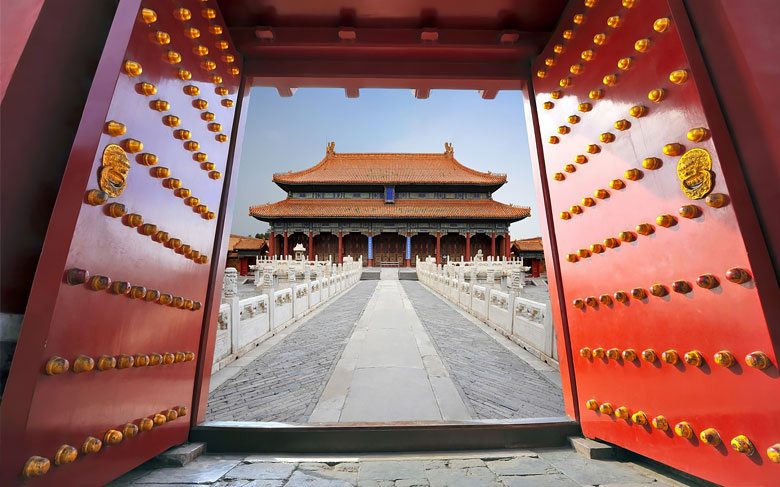 April 12/April 13: LAX – Beijing by Flight
Depart from LAX and JFK in the same day today aboard your Air China flight for your transpacific journey. When you cross the international dateline from east to west, you lose a day and you will "gain" the lost day back when you fly back to US.
LAX – Beijing CA984 01:40am/05:30am + 1 OR
JFK – Beijing CA990 02:30am/05:20am + 1
April 13 – Both flights will arrive at Beijing in almost same time, and you will be met by the tour guide of Spring Tour at the airport arrival. We will then go to have the breakfast at our hotel. After breakfast, we will go to visit the Temple of Heaven and check into the hotel after lunch. The rest of the afternoon will be on your own to take a rest or explore Beijing on your own. ( B/L)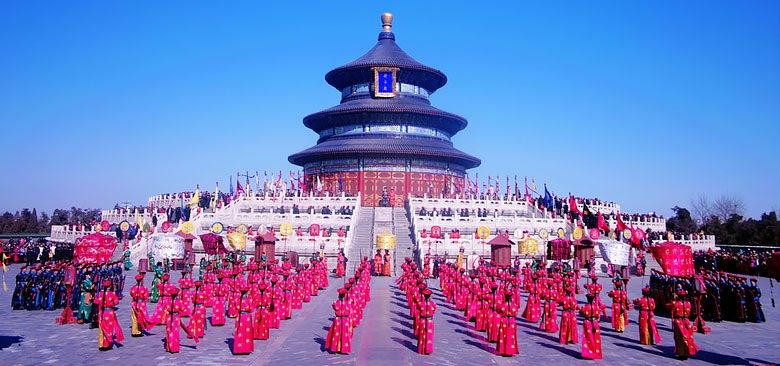 April 14: Beijing – Hotel in Beijing
This morning after breakfast we will begin our special tours in and around Beijing! Beijing is the capital of China and the 2008 Olympics was successfully held here! Although the city and her citizens have embraced modernity, especially after the country opens itself to the rest of the world about 50 years ago, it has beautifully preserved not only its ancient buildings but also its long-standing culture and heritage. A trip to Beijing, therefore, is a comprehensive look of its past, present, and even future. For a lot of experts, Beijing's history began even before the first dynasty existed. As early as more than 25,000 years ago, some of the world's first Homo erectus lived among the caves of Fangshan. There's no doubt, however, the city is more connected to the different dynasties that ruled the land. One of the earliest and well-known dynasties in Beijing was Qin, which started in 226BC. Emperor Qin was able to conquer Jin and reunited the rural areas. By 1215, a Mongolian leader named Genghis Khan spread his kingdom within China, including Zhongdu. By 1368, the Ming Dynasty flourished in the city; and the emperor, his family, and some elected officials chose the Forbidden City to be their official complex. Around this time, the name of the city was changed to Beijing.
A tour coach will pick us up at the hotel, with the first stop visiting the Temple of Heaven, then continue the visit to Tiananmen Square, a famous landmark and the world's largest public square. Next we enter and tour the Forbidden City – the royal palace of ancient Chinese emperors. During our touring, lunch is included and this evening dinner is included also. (B/L/D)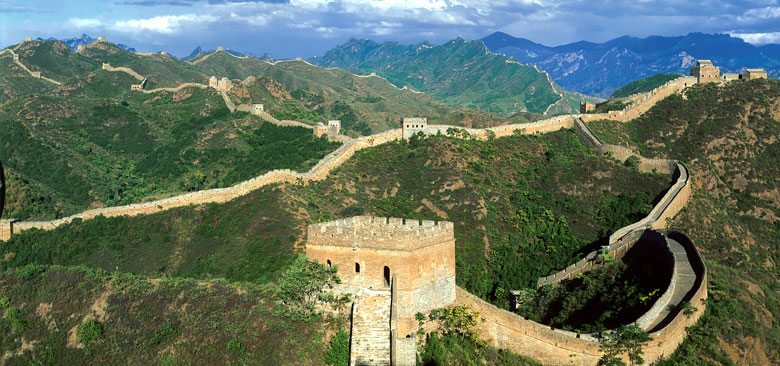 April 15: Beijing – Hotel in Beijing
A visit to China is not complete without setting foot on the Great Wall. The Great Wall of China is a series of stone and earthen fortifications in northern China, built originally to protect the northern borders of the Chinese Empire against intrusions by various nomadic groups. Plan to bring comfortable walking shoes if you want to scale the Great Wall and its magnificent history. (Souvenir store visit: Jade factory and Cloisonné Factory). This evening you are free to enjoy dinner on your own. This is one of the few days when all dining is not included, and it will give you a chance to enjoy some of the many varieties of cuisine available. (B/L)

April 16: Beijing – Yichang– Yangtze River Cruise
After breakfast, you will visit the royal garden – Summer Palace today. The Summer Palace is the largest and most well-preserved royal park in China, it greatly influences Chinese horticulture and landscape with its famous natural views and cultural interests, which also has long since been recognized as 'The Museum of Royal Gardens'.
In the afternoon, you will fly to Yichang from Beijing, board on the "Presidente 8" River Cruise boat for your Yangtze River cruise. The Yangtze River is the longest river in Asia, and the third longest in the world. It flows over 3,915 miles from the glaciers of the Tibetan Plateau in Qinghai eastward across southwest, central and eastern China before emptying into the East China Sea in Shanghai. Late this afternoon you will fly on Air China CA1823 departing at 5:05pm and arriving at 7:40pm in Yichang to board your ship. (B/D)

April 17: Yangtze River Cruise – President Cruise No.8
Buffet Breakfast is served beginning at 7:00 AM. Today you will pass though the 1st Gorge – XILING GORGE between 8:00-10:30 AM and there is one optional shore excursion, the "Tribe of Three Gorges" and also after lunch there is an included shore excursion to the worksite of The Three Gorges Project. Later tjos afternoon and early eveing we will pass though the "5-steps" ship lock. The evening will also include the Captain's Welcoming Banquet & Party. (B/L/D)

April 18: Yangtze River Cruise – President Cruise No.8
Buffet breakfast is served beginning at 7:00 AM and then you will enjoy a very unique excursion to Shennong Stream where you will board a smaller boat going further upstream and then transfer to sampan boat drifting on the river, enjoying how the trackers pull the boat against the river current, weather permitting.
After lunch we will pass though the 2nd gorge – WU GORGE and then at approximately 3:00 pm we will pass though the 3rd gorge- QUTANG GORGE. (ab 30mins)
There is one final optional shore excursion to the White Emperor City visit which lasts about two and a half hours before we enjoy our dinner and evening party.
April 19: Yangtze River Cruise – President Cruise No.8
Buffet Breakfast is served from 8:00-10:00 AM. You can take part in an included shore excursion to Shi Bao Zhai at 11:30. Afterwards the "Presidente 8" sails to CHONGQIN as we enjoy lunch and this afternoon you can take part in an optional excursion in FENGDU called "Ghost City." The cost is $48 per person.
This evening you will enjoy the Captain's final farewell banquet and party onboard the ship. (B/L/D)
April 20: Chongqing – Chengdu by Bullet Train

06:00-08:00 Settle any outstanding bills at the Front Desk of your boat.
07:15-08:15 Buffet Breakfast (Put your check-in luggage outside of your cabin)
08:30 Disembarkation in CHONGQING
We will enjoy a city tour in Chongqing in the morning. After lunch we will all ride on the bullet train to Chengdu in the afternoon. (B/L/D)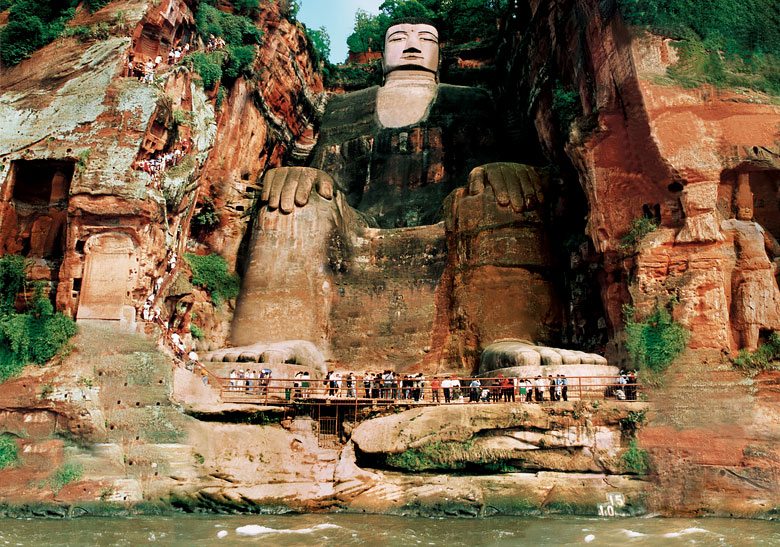 April 21: Visit in Chengdu
Today you will go to visit the Leshan Giant Buddha, a UNESCO World Heritage Site. The Leshan Giant Buddha was built during the Tang Dynasty (618-907). The Buddha is carved out of a cliff and faces the confluence of the three cities in Leshan. It is the world's largest Buddha carved from a stone.
After dinner, you will visit the old downtown of Chengdu. Chengdu is a city brimming with a strong leisurely ambiance. Jinli Street is particularly representative of this city. It is recorded that as early as the Qin Dynasty (221 BC – 206 BC),Jinli Street was the most famous place for baldachin – a rich,ornate cloth. Strolling down the narrow street, you will findyourself surrounded by old-world stores selling Shu Embroidery, lacquer products, folk handicrafts, curios, or calligraphy and paintings of celebrities. Most of the special local products can be found here. (B/L)


April 22: Chengdu-Xian Bullet Train

Today before you go to Xian, you will go to visit the largest Giant Panda Center in the world located just 6 miles away from downtown Chengdu. The Panda Breeding Research Center has been created to imitate the pandas' natural habitat in order for them to have the best possible environment for breeding and rearing their young. It also cares for other rare and endangered wild animals within an area of 92 acres. Giant pandas, lesser pandas, black-necked cranes, white storks as well as over 20 species of rare animals are fed and bred there throughout the year.
You will ride on the newly opened bullet train from Chengdu to Xian, the renowned starting point of the ancient Silk Road. It will be a three hour bullet train ride.
Xian was also the capital of eleven ancient dynasties in Chinese history. During our stay, we will visit the 600 year old City Wall. It's the most complete city wall that has survived in China, as well being one of the largest ancient military defensive systems in the world. Tonight you will enjoy dinner at our hotel. (B/D)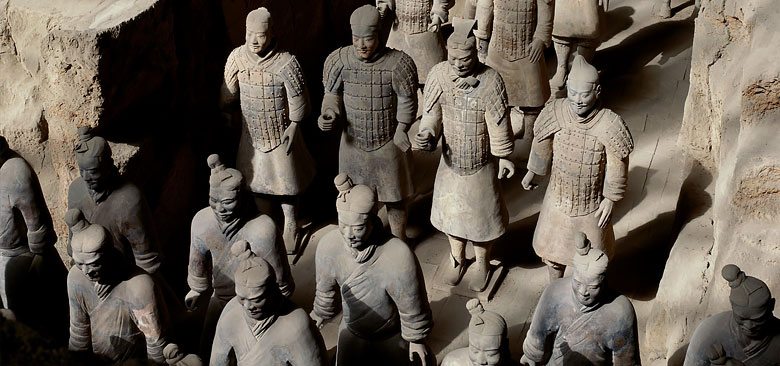 April 23: Xian City Tour – Hotel in Xian
One of the highlights of your tour to China will be today, a memorable day of sightseeing will begin as you view remnants of China's ancient past: the life-sized Terra-Cotta army, buried with the emperor for over 2200 years, the Bronze Chariot and Circle Vision Movie.
You will enjoy the delicious Chinese dumplings banquet and watch one of the best shows in China – Tang Dynasty Dance and Music. A cooking class is arranged for you before dinner to learn to make traditional Chinese dumplings. (B/L/D)

April 24: Xi'an-Shanghai CA1215 12:20pm/02:35pm
In the morning, you will go to visit the 600 year old City Wall. Later we will depart to fly to Shanghai. After we are met by the tour guide in Shanghai, we will go to visit the city's colonial European past at The Bund. You will ride on the Maglev train to downtown – the fastest maglev in operation in the world.
In the evening, we will enjoy a short river cruise on the Huangpu River to enjoy the great night view of Shanghai. (B/D)
April 25: Shanghai – Hotel in Shanghai
Today we will visit Shanghai Museum in the morning, with a tour describing the special features of the museum's permanent collections, and then go to visit the Chenghuang Temple and Yu Garden – the very traditional Chinese ancient garden. After dinner, we head to the old French Concession area to see the night life of Shanghai. This is our final night in China together after taking in so many sites and experiences! We know that you will have so many new memories to share with your clients and friends! (B/L/D)
April 26: Depart Beijing to USA
Shanghai – Beijing CA1590 08:55am/11:10am
After this flight from Shanghai, we connect to the following two international flights:
Beijing – LAX CA987 03:00pm/12:00am
Beijing – JFK CA981 01:00pm/01:30pm
Today we will go to the airport for our return flight back to USA. Our wonderful China FAM tour is over all too soon as we board the home bound flight and bid a fond farewell to China. Today you will gain the lost day back by crossing the international dateline.
Super Inclusive International Air, Land and Cruise Rate for Agents: $2799

Non Industry Guest Add $300 / Single supplement: $1100

Hotel reference for the tour in each city:
Beijing: Holiday Inn Temple of Heaven or better
(great location and very excellent accommodation)
www.holidayinn.com.cn
Xian: Grand Park Xian or same
www.parkhotelgroup.com/xian/default-en.html
Chengdu: Howard Johnson Agile Plaza Chengdu or same
www.howardjohnsoncd.cn
Shanghai: Regal Shanghai East Asia Hotel or same
www.regalshotel.com
Chongqing Yangtze River Cruise President No. 8
http://en.ztcruise.com/gywm/i=2&comContentId=2.html

Price Includes:
Round Trip International Air from JFK or LAX and All China Domestic Air flights with the airport tax and fuel surcharge included
Four and Five Star Hotels with hotel buffet breakfast daily
English speaking tour guide in each city
Air conditioned tour coach
Admission entrance tickets to the places to visit as listed
Most Lunches and dinners (listed in the itinerary)
Special Dinner show in Xian ( DS = dinner show)
Five Star River Cruise with Outside Staterooms

Price Does Not Include:
China Visa: (FAMTrips and Spring Tours can assist with this)
Gratuity tips to the tour guides or drivers throughout the touring and the Yangtze River cruise boat tips
Estimated amounts for tips:
Gratuity to the tour guide and driver in each city:
$10 per day from each customer, (the tour guide and the driver will share this $10.)
Gratuity to the staff on the boat:
$30 pp which is paid to purser at end of cruise.
Gratuity tips to the tour guide/ driver on cruise shore excursion:
Suggested $10 total from each person to the guide and the driver who share this.


To Book this FAMTrips.travel Best of China FAM…

www.FAMTrips.travel | 888 909 FAMS or 941 322 1800 | Email: info@famtrips.travel